How to install vCenter 4.1 and ESX 4.1 best practices KB.
Browsing some KB articles this morning I found a KB with some best practices on how-to install ESX 4.1 and vCenter Server. I can highly recommend this one….It's actually a walk through point after point to be fulfilled to successfully install your vCenter and ESX 4. You'll find all the necessary answers there.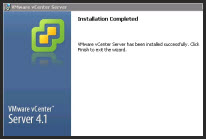 Some of the notes from there I retained I noted here, but make sure to check out the whole KB article:
Preparing the vCenter Server Installation Worksheet – Download and fill out the vCenter Server Installation Worksheet. Microsoft SQL Server 2005 Express is intended for use with small deployments of up to 5 hosts and/or 50 virtual machines.
Memory – 3GB RAM. RAM requirements may be higher if your database runs on the same machine. VMware VirtualCenter Management WebServices requires 128Mb to 1.5GB of memory which is allocated at startup.

Disk storage – 2GB. Disk requirements may be higher if your database runs on the same machine.

vCenter Server 4.1 requires a 64 bit DSN and MUST NOT be a Domain controller. vSphere Compatibility Matrix.
The computer name – no more than 15 characters.
have reliable DNS and Time services.
Recommended, but not mandatory:
separate database for vCenter Server and vCenter Update Manager
vCenter server needs all this:
Apache Tomcat (64 bit)

Java Runtime Environment JRE (64 bit)

Active Directory Application Management (ADAM)

Visual C++ 2005 Runtime Redistributable

.NET 3.0 SP1 or above (optional based on DB selection)
If the machine on which you are installing vCenter Server has a previous version of vCenter installed (if it's on 64 bit hardware), you might want to upgrade instead of performing a fresh installation of vCenter Server.
Best practices for the ESX installations:
Check on the HCL (hardware compatibility list) page…. – I blogged about that earlier too ….
System compatibility
I/O compatibility (Network and HBA cards)
Storage compatibility
Backup software compatibility
32bits installation are no longer supported. VMware ESX 4.1 only installs and runs on servers with 64 bit x86 CPUs.
Check the Enable Intel VT in the BIOS.
If you are installing to the local disks and you have a  SAN with Fiber Channel connected  to the ESX host, make sure and detach the fiber before continuing with the installation. (Do not disable HBA cards in the BIOS)
minimum size of the vmdk where the  /, swap, and all the optional partitions are stored should be set for 8GB.
Make a separate partition for  /var/log.
Source: Installing ESX 4.1 and vCenter Server 4.1 best practices