Simplifity's Omnistack 3.0 hyperconverged platform brings signifficant VDI performance increase over previous release. You could read all the new features, including data protection, introduced in Omnistack 3.0 in my earlier post about Simplifity here.
Simplivity is in the hyper-converged market for some time now. Tightly competing VMware and Nutanix, they did not focused on VDI at first like for example Nutanix did. But they do very well in this space. Just read on.
VDI was always (and sometime still is) problematic where the slow storage has killed many VDI projects even at the very early POC stage.
Login VSI and ESG validated test results shows that Omnistack 3.0 has some awesome performance for 1000 logins (1000 VMs) in 1000 seconds. (each user logs in each second – usually the normal test is 1user each 2.8 sec). A performance unseen up to date today as even during such a login storm the system has acceptable performance well bellow the red line (threshold).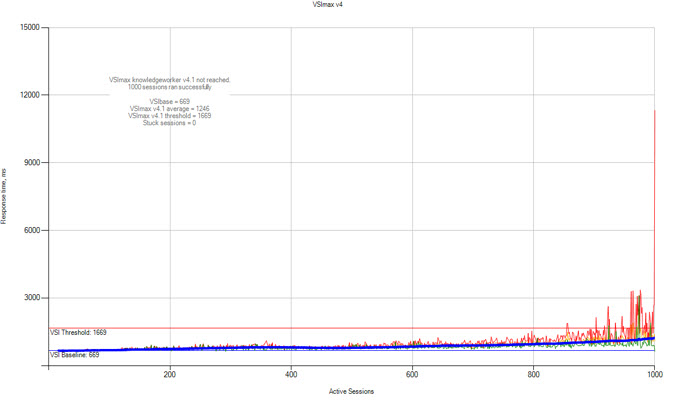 The challenge for VDI today is that IT organizations are forced to compromise between the need for end-user experience and the economic realities of the business. SimpliVity is changing that perception with its hyperconverged infrastructure, delivering VDI without compromise.
Here is how (extract from their press release):
Superior end-user experience – SimpliVity delivers a superior end-user experience at all times–even during peak workloads. Login-VSI-validated test results tell the story: 1,000 logins in 1,000 seconds.  Desktop administrators no longer have to worry about login storms.  And with SimpliVity they can deploy 1,000 linked-clone desktops in just 70 minutes.
Low cost and small footprint – SimpliVity packs more desktops into less hardware, at 250 freshly deployed desktops per node, more than any other hyperconverged vendor, without compromising on performance or availability.
We've also done away with the big upfront costs of VDI by allowing organizations to start small and scale up, using our hyperconverged x86 building blocks to scale as they grow – from Pilot to Production.  They can even leverage any new or existing infrastructure that they have on-hand, by taking advantage of compute nodes.
Enterprise-class protection and resiliency  – SimpliVity provides built-in data protection for the entire virtual desktop infrastructure, and the resiliency to withstand node failures with no loss of desktops and minimal performance degradation.
Some screenshots from a briefing I was able to attend during my busy VMworld Barcelona schedule. Here you can see the initial deployment of 1000 linked cloned desktop graph….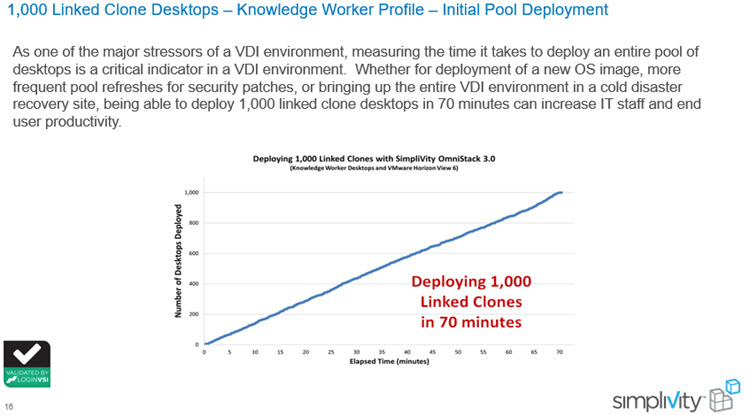 Hardware failures it's something you have to consider. Simplivity can handle it with less hardware as the density of VMs per host is calculated to achieve best possible cost without sacrifying performance in case of a full host failure. Here is a screenshot showing hardware failure of one node: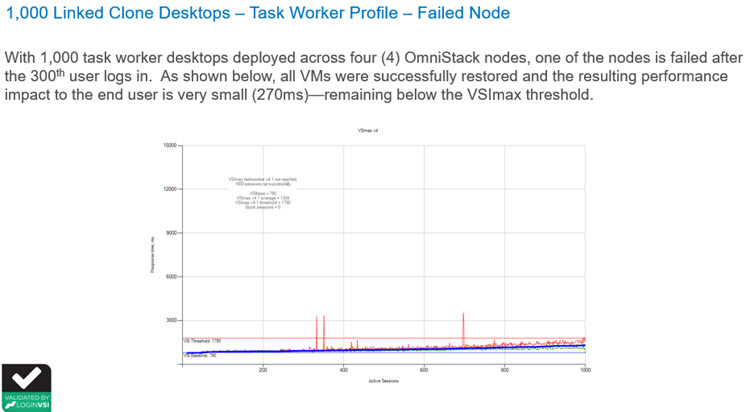 Their newest addition based on Haswell chip allows to place 250 VDI desktops per node without sacrifying performance.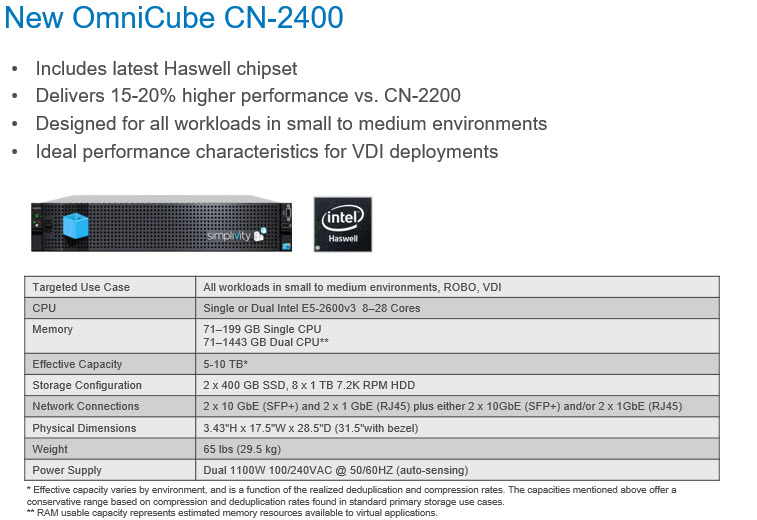 Check Simplivity website here.