Friday post will most likely be more "light" if I can say that as it's the end of a week and I still feel a bit tired from Barcelona. I wanted to shared my thoughts on this piece of free software  I just stumbled through. It's a free junk cleaner for PC called Clean Master. MAC user's don't read further. Windows users are facing usual problems when testing, installing, uninstalling new applications etc. Depending of your usage, in 6 month time you're ready for clean install because the PC slows down!
Well, in case you're using some software like Acronis so you can go back in time, then you're ok, but if you're not, then your PC over the time will get slow. Perhaps cleaning the junk on regular basis is the way to go? I've been long time user the free version of CC cleaner which does a good job, but I also like to test other solutions to see what they have to offer.
So today's freebie hit is Clean Master. It's 5.5 Mb download and it's free. It does not come out with any bloatware and the install is very fast and very fancy (you'll like it).
Clean Master for PC – Install and config
It's very strange to see this kind of installer which executes the program without user intervention and presents you with a scan results immediately (took like 7-8 seconds). I almost had no time to take a screenshot of the scan process so fast was it! The installer has also some kind of animations effects embedded too, but overall the 5.5 Megs installs fairly quick!
Here is the scanning process: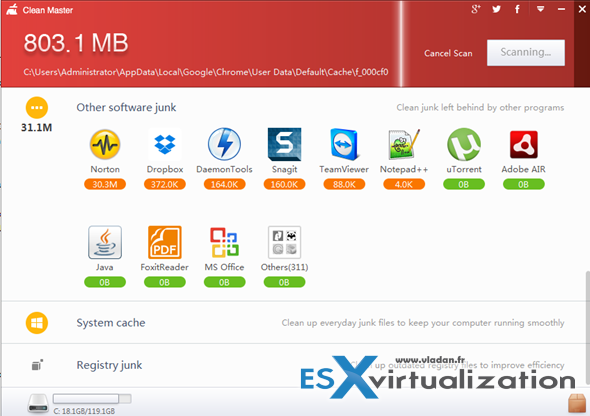 As being said the program is very fast. There is a settings button which allows to tweak few things as well. The settings allows to change the boot settings (boot with Windows) or if you want to clean after boot.
There are also two sliders allowing to set up the reminder for notification settings and also config based on thresholds allowing to setup capacity. When reached, there is a notification.
You mey also want to change the default behavior which adds a context file menu to Recycle bin's context menu but I did not mind on that.

And here is the results screen where you can choose what you want or do not want to clean. On the right hand side there is a slider where you can slide down to see other categories. The program has 4 main categories:
Web Cache
System Cache
Other software junk
Social Network junk
Registry junk (allows restore registry)
video audio junk
Social software junk
Online games junk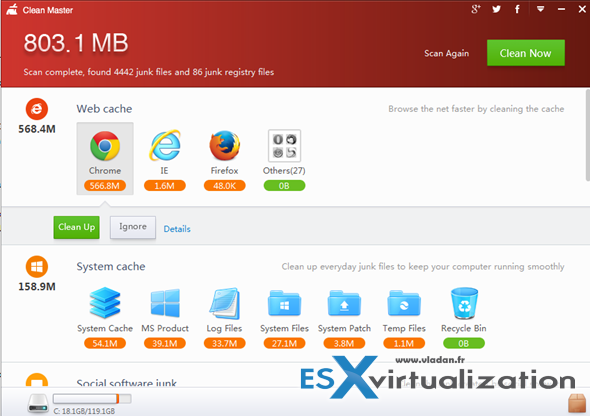 You simply needs to hit the clean button and off you go. Five seconds later the PC is clean presenting you with a results…. Neat. I like this software -:)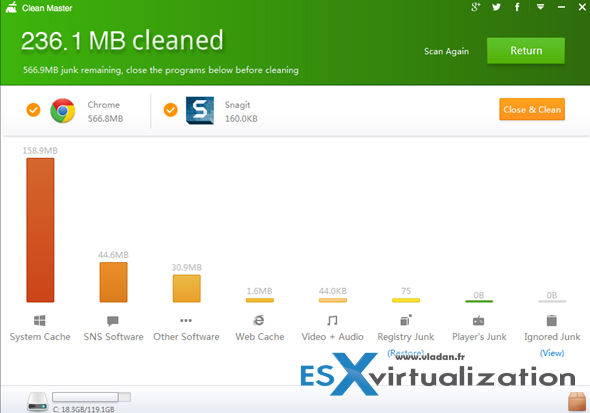 With that said I can only say good things about Clean Master. So far it's been a pleasure to work with. Fast install and scans, no hassle and easy settings. Perhaps not so configurable as CC cleaner but getting the work done!
Stay tuned and have a great WE. After last week's Barcelona VMworld 2014  event I still needs some rest to recover from all those emotions too -:).
Clean Master for PC is work done by Cheetah Mobile. Get your copy of Clean Master for PC here.