I went to see Garry Owen during VMworld Barcelona 2014. Garry who is a EMEA Senior Product Marketing Manager, based at Frimley, to ask him about the latest and hottest VMware technology in the End User Computing (EUC). We were talking about CloudVolumes, Just-in-Times-Desktops, forking and some secred sauce in between all this.
He showed me a quite impressive and detailed demonstration of CloudVolumes. If you have seen the Kit Colbert's keynote (from US or from Barcelona) you can't be 100% sure with the speed of the application assignment via the CloudVolumes.
I'm not saying that it's faked, but live demo is live demo. Right? I'm still in a position that I want to see it how it works even if in this demo we can't see the secret sauce in between… -:).
Apparently when the application assignment is happening, the CloudVolumes software makes thinks a Windows that those apps are actually installed in the normal path (c:program files ). But in reality they're not.

Applications are never installed in the actual OS but rather in a volume which is then assigned to a user which is logged in.
Detach and Virtualize All software above OS
Organize into Volumes
Attach and detach volumes within seconds
I found a graphics on CloudVolumes Website: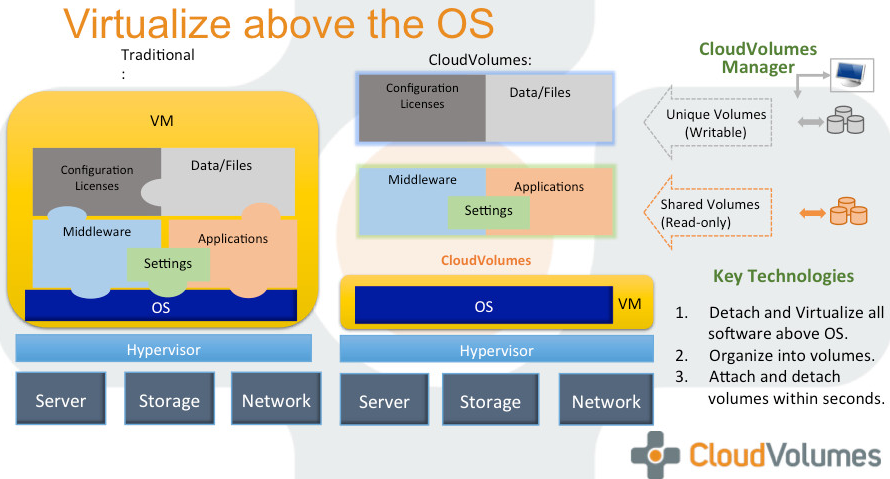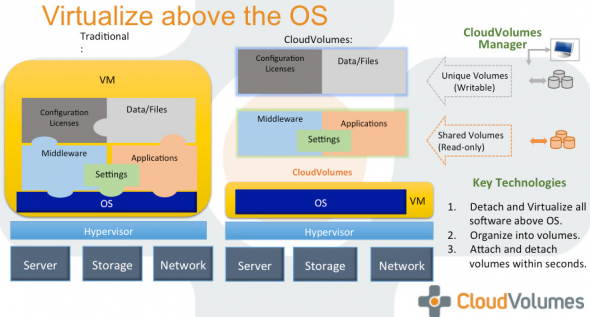 We have also talked the new cloning technology which is also called forking and which allows clone a running VM in seconds (instead of minutes). The process is called forking.
And here is the video interview with Gary:
There is some more information about the technology itself in a post at the Office of the CTO blog. Here is a Quote (link):
CloudVolumes leverages an innovative filesystem filter driver and, on Windows, a registry virtualization driver to make it appear to the guest operating system and other applications as if an application is installed, when in reality it resides on the layer that was added to the desktop. This also adds an extra layer of security, because the layer is read-only, meaning the user (or a virus!) can't modify or corrupt the application.
I hope that you enjoyed our VMworld Barcelona 2014 coverage and you'll subscribed to our media channels.