Some of you might think to buy a NAS for you ESX home lab. There is one cute little device I had a chance to play with recently. It's the iOmega StorCenter Pro iX2. The cool think is that even this little device which you can found in a store for 200 Euros, is on the VMware HCL for ESX 3 and ESX 3.5 infrastructure (Hardware Compatibility List). So this post is about Connecting iOmega 2T to an ESX host.
There is another model from iOmega, which uses iSCSI to connect to Virtual Infrastructure, but this one is more advanced and you can mount it in the rack, but… more expensive. You might also want to use Openfiler as a lowcost NAS for your homelab.
ESX Server 3 and 3.5 can manage NAS storage devices using the NFS protocols. So you can use NFS based devices like the one from Iomega to make shares with NFS and then in VMware Infrastructure add a create Datastores for your VMs.

Here are some screenshots when I was playing around with a iOmega Storcenter iX2 which has capacity 2 Terra bytes, but the available capacity is little less than 1 Terra. Why? Because the 2 disks inside work in Raid 1.
So basically you use the CD rom provided to install a little management application, and then you connect to the NAS via Http through your web browser. Through the web browser you are able to change the Name of the device and also enable the NFS share.
Here is how-to do it:
01.) You click on Settings and you go to Network Services.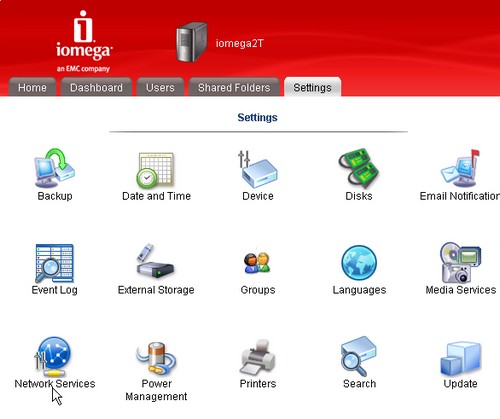 02.) Once you're in Network services you just check the box "Enable NFS Service".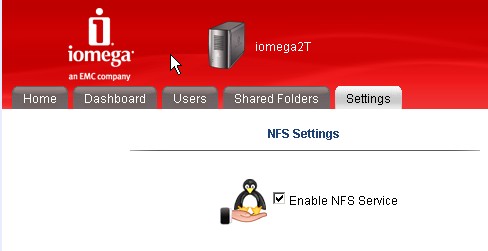 03.) Then you should create a shared folder for your VMs. Make sure you do not check the Enable security check box.

There is a white paper on iOmega's website where you can have a look about how-to configure the ESX Server. It's easy.
Just make sure that you give the correct path ( "/nfs/<name-of-your-shared-folder>" ) when you add the Datastore in your ESX Server, because me I did not and I received error.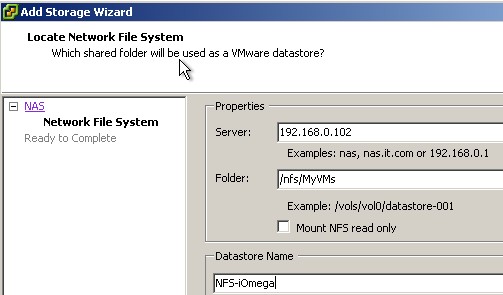 So after you finished with the assistant your datastore looks like this: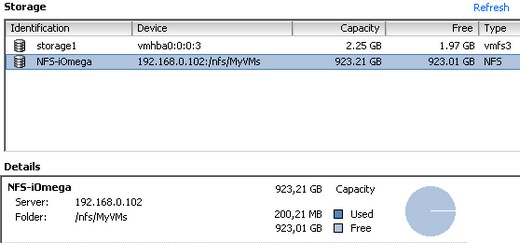 NFS is a compelling option for VMware ESX for many reasons. With NFS, VMWare ESX Server supports advanced features including VMotion, Distributed Resource Scheduler (DRS), high availability (VMHA), and VMware Consolidated Backup (VCB). NFS offers a highly simplified management model that reduces cost and management complexity. VMware encapsulates virtual machines into a small number of .vmdk files. NFS is an optimized file-serving protocol with operational granularity at the file level as opposed to the LUN level.
The IOmega device has been replaced by more powerful one.
More articles from ESX Virtualization:
Stay tuned through RSS, and social media channels (Twitter, FB, YouTube)