There are new training courses for VMware vSphere admins that be your interest. Especially interesting for vSphere admins which aren't very strong in networking. So you can learn about vSphere networking with VSS and VDS but also other VMware products such as NSX-T, AVI Networks, vSphere 7+ …. those are some of the courses available right now but the list is growing and more courses will be added in a near future. The man behind this is a double CCIE and his name is Mike Ghazaleh.
The training courses are Online so you can follow them from anywhere. The most interesting fact right now is that they are super cheap during the March sale. The information I have is that they will not be that cheap for much longer and they won't come back to be sold as low as right now in the future (basically this is the last chance you can get them for that low price).
Right now, the courses are 75% OFF right now ($35.99 instead of $99.99).
Screenshot from Mike's Techbytes website where you can purchase the courses.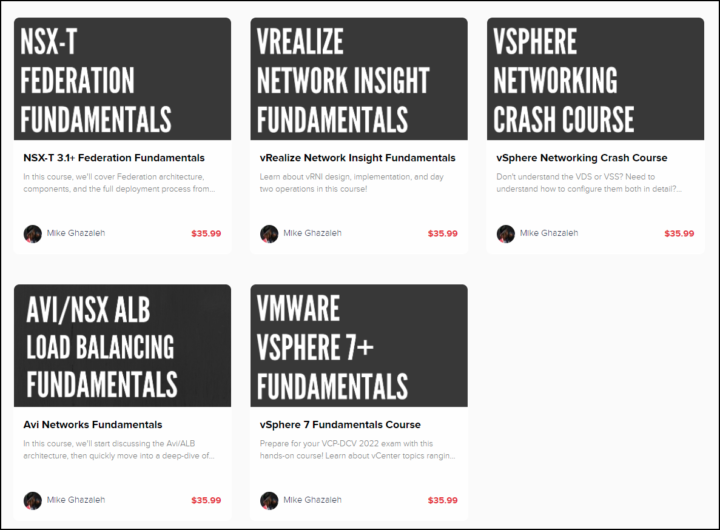 Yes, being VMware admin is not only to work with VMware vSphere but also with other VMware products such as vRealize Network Insight, NSX-T or AV Networks. It's up to everyone to learn new stuff whether it's necessary or not.
Sometimes large companies sent their staff to attend training on-site, but this is quite expensive, so if you're an individual or an SMB shop, you'll probably look for online resources that are either free or at such a friendly price. Don't miss that opportunity. It won't last forever.
VMware Featured Crash Courses
Check out Mike's new training site at Techbytes ! It got me pretty excited, to be honest.
More posts from ESX Virtualization:
Stay tuned through RSS, and social media channels (Twitter, FB, YouTube)