Every quarter, VMware is creating cool content called Multi-Cloud Briefing. This month, April 2022 there is no difference and VMware comes back with some good content. You know that multi-cloud management can be the most complex. VMware is trying to make complex things easier and simpler to manage. In this briefing which is packed with information and some demos too, you'll be able to see the latest development in the multi-cloud area.
You'll be able to hear from some VMware business leaders such as Joel Neeb, Amanda Blevins, Purnima Padmanabhan, and Vittorio Viarengo.
You'll see demos by Francisco Hernandez, Matt Bradford, and Boskey Salva. There are also some special guests, such as Ben Tanner of S&P Global, JP Morgenthal and Rick Sullivan of DXC Technology, and Stephen Elliot of IDC.
They all discuss the rising complexity of multi-cloud environments. You'll be able to find out that abstracting this complexity allows you to choose the right target environment for every app and be able to transform your business with more confidence.
Quote
What is the VMware Multi-Cloud Briefing?

The VMware Multi-Cloud Briefing is a global, online event focused on enabling organizations to accelerate multi-cloud strategies in the face of rapidly evolving business requirements. Each quarter, we feature new speakers, topics, solutions, and customers, all dedicated to informing, engaging, and enabling the cloud community to succeed in a multi-cloud world.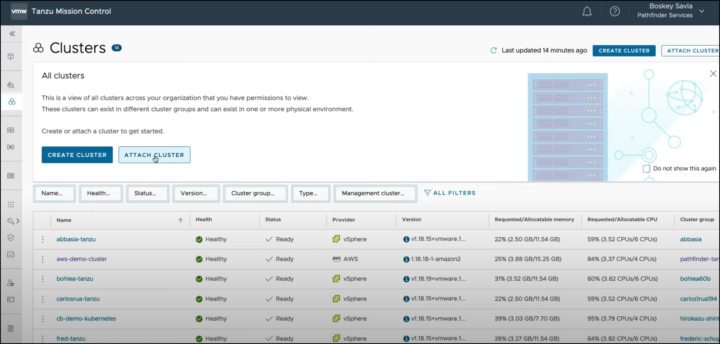 Heere is the whole video you can watch on YouTube.
You'll be able to see in the demos:
Add a new VMware cluster to a hyperscaler, using vRealize Automation. You'll see an on-premises hosted environment, and will be able to scale out by adding up new environments in the cloud. The tools and policies used for this are always the same.
vRealize Operation is a single tool to manage a multi-cloud environment. You'll see In this demo that there is a very simple way, to manage and optimise resources, performance, capacity, and costs.
Another demo will show you and you'll learn how to add Kubernetes clusters in different hyperscalers to a common management plane, via Tanzu Mission Control. There is also a Tanzu Service Mesh which can secure the communication of micro-services between environments and across clouds. Tanzu Service Mesh can automate features like mutual TLS encryption across all services etc.
Link: VMware Multi-cloud
Source: VMware Blog
More posts from ESX Virtualization:
Stay tuned through RSS, and social media channels (Twitter, FB, YouTube)