An interesting concept from a company called ACloudA. Their hardware device replaces spinning media in your server by connecting to remote storage in a public or private cloud, via an iSCSI or SMB3 protocol. The server, which can run any OS, sees it as a local disk.
Spinning media is unreliable, generates heat, consumes electricity. More spinning rust you have, more you spend on electricity and air-conditioning. And most of the time, when using spinning media for archiving or capacity only, you don't need an SSD performance. But you still paying for it when you first buy it and then every day when you use it. It's a known fact. What if one could replace spindles located in your data center by a cloud storage?
The ACloudA hardware card has a size of HDD and hot-plugs into a traditional SATA/SAS HDD slot. Any hardware which accepts that kind of storage can work with ACloudA Cloud Gateway device. AcloudA features a proprietary OS, which is highly resilient to hacking.
You can also set up an iSCSI target locally and use Cloud Gateway from ACloudA which shows the remote volume as a locally attached disk (DAS). The fact that your server sees it as a locally attached disk, you can possibly use it for environments running VMware ESXi or even vSAN. (for Capacity tier). It shows as local storage (DAS).
Basically, it is a hardware card where you have at one side a traditional SATA/SAS connector, and on the other side an RJ45 port for your network. It's a hardware iSCSI initiator which connects via a network to an iSCSI target and shows up within your system as a locally attached disk.
Image courtesy of ACloudA.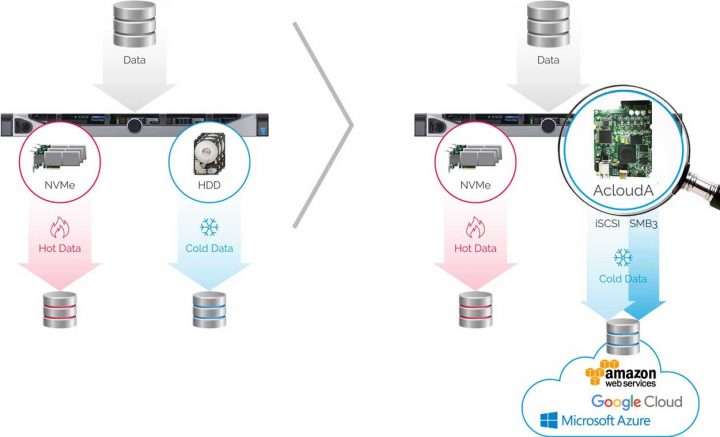 The device is a standard HDD size so it fits into an HDD emplacement via Hot-Plug and picks up an IP address via DHCP. After checking your DHCP server leases for the IP of the device, you can then connect via your web browser and configure for static IP.
After you configure the iSCSI target, security and you're done. The rest is as if you were using local HDD. Check out their step-by-step config for SATA connection.
Connectivity, latency and other network variables
Yes, there is a public network in-between the device and the storage. But with a generalization of high-speed network environments and improved reliability of those connections, this part of the equation is already solved in big cities where fiber connections are available.
So from the public cloud perspective, one could imagine a scenario where at the cloud provider's site you would deploy a virtual appliance (VM) which exposes the storage as iSCSI volumes, via iSCSI target. That's where your iSCSI initiator from ACloudA connects to.
Example from Azure and StorSimple VSA…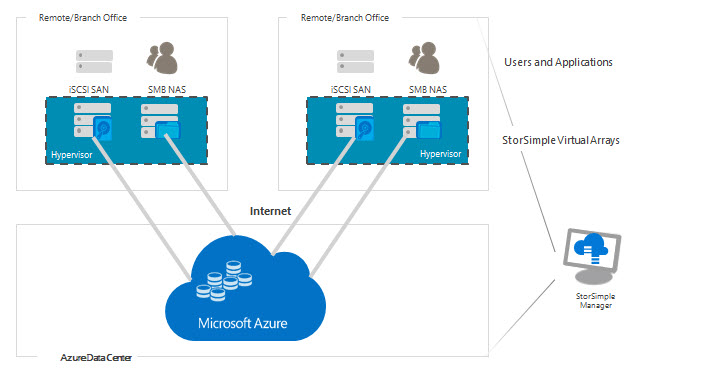 Here is another picture showing the card's user interface within the device management panel. Simply connect to this UI via your web browser and configure IP address, iSCSI target and chang default admin password…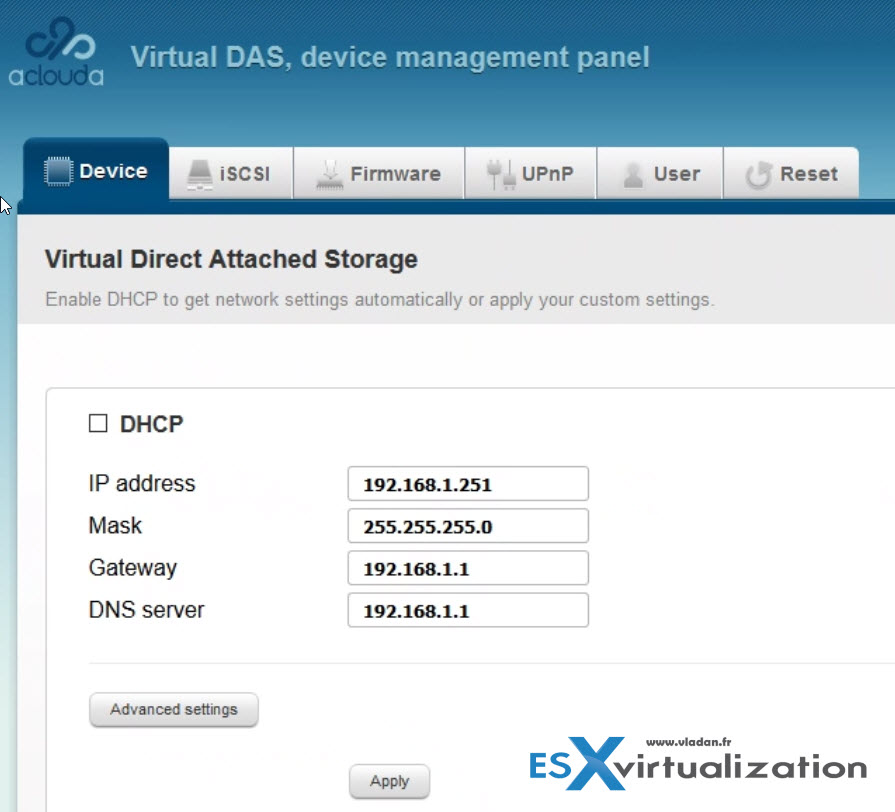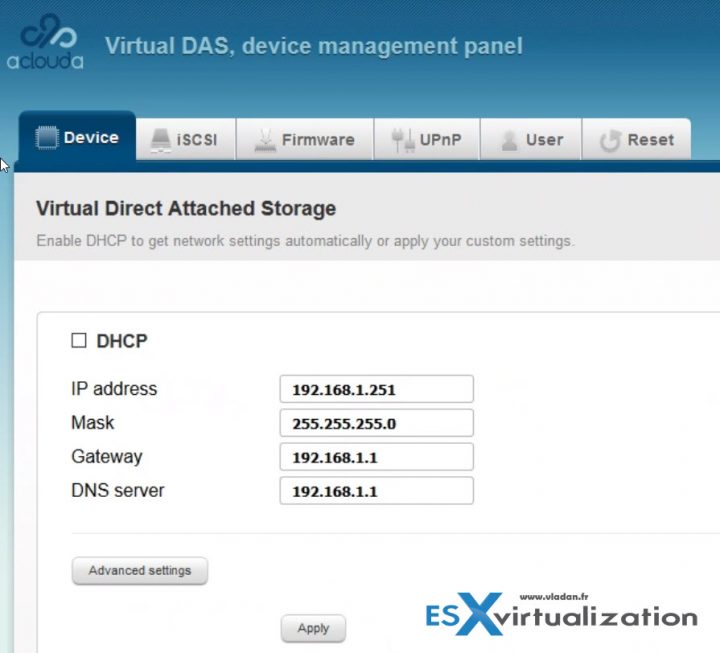 VMware vSAN use case?
As you know VMware vSAN uses caching tier for fast access and capacity tier for cold data. Each host part of a vSAN cluster participates with local storage and this storage is pooled together to form a single datastore visible to all the hosts within the cluster.
The datastore is called vSAN datastore. Screenshot from ACloudA VMware vSAN use case. You can check the detailed VMware vSAN How-To guide here.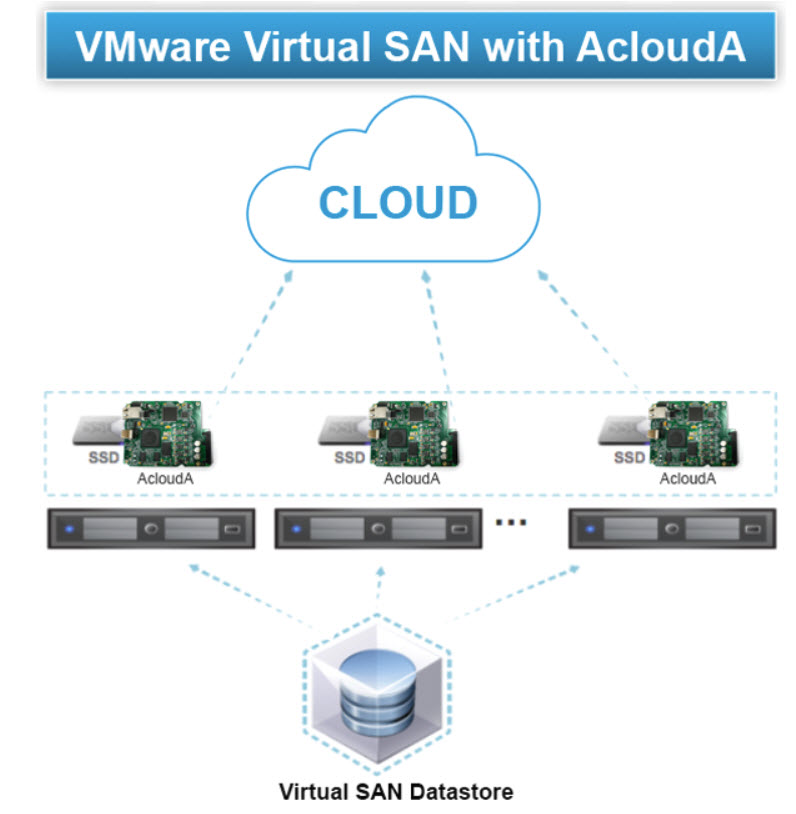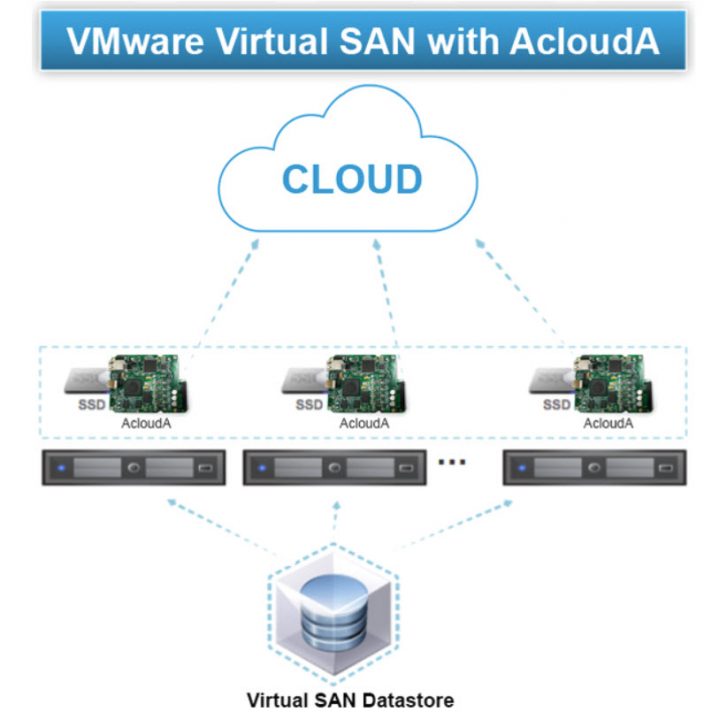 VMware vSAN is not aware whether those are local disks (HDDs) or disks attached via a hardware iSCSI initiator. The view is the same. vSAN cares and is strict with a queue depth of storage controller which needs to be certified for vSAN and provide a certain queue depth.
Imagine a vSAN scenario when you have a server fully populated with disks already but you still need more storage. You can easily setup an iSCSI target somewhere (cloud or local), add ACloudA Gateway to each host and create a second disk group within each host which expand further your vSAN datastore and adds more resiliency and performance.
When claiming local disks for vSAN you'll get this view….


But this does not mean that the solution is certified for VMware vSAN just yet. Remember that you're adding a certain number of other variables to the equations. Variables such as network speed, latency and reliability, and each hop add an additional point or potential failure.
ACloudA is currently in the process to get certified for VMware vSAN.

But VMware vSAN isn't the only possible use case. Basically, any device which has a possibility to carry an HDD drive is able to leverage AClouA Gateway and consume cloud storage.
StarWind Storage Appliance (SA) use case
StarWind has a one-box-solution called StarWind Backup Appliance allowing integration with Veeam Backup and Replication, which leverages 3-2-1 backup rule and cloud storage tier for secure backup copy jobs and data archiving purposes.
Storage appliance from StarWind can be used with ACloudA Gateway attached to StarWind SA, replacing local HDDs and configuring cloud storage at Amazon, Azure or Iron Mountain as a secure tier for backups. StarWind backup appliance is a hardware appliance preinstalled with StarWind Virtual SAN providing iSCSI, SMB3 and NFS and can be packed with ACloudA Gateway.
Wrap Up:
Certainly an interesting technology. It will be wiste to follow how it evolves with v2.0 of their OS which will bring optimizations, asynchronous replication and also SMB v3 protocol. They're already working on v2.0.
Whether it might be the solution to replace spinning media by cloud storage or not, time will show. Cloud storage prices are falling. Instead of investing in your own hardware and high capacity spinning media, it might be wiser to lower the initial costs via cloud storage. Same for adding more capacity to existing servers.
Consumption of cloud storage done at the hardware level is usually more reliable than software-based initiators. The fact that it is a Plug-and-play device (needs to be enabled in BIOS) the operating system thinks of it as a traditional spinning media and as such opens new possibilities which aren't available for software-based solutions leveraged inside the guest OS.
Source: ACloudA
More from ESX Virtualization:
Stay tuned through RSS, and social media channels (Twitter, FB, YouTube)