VMware vSAN, a hyper-converged product from VMware was demoed at VeeamON in New Orleans. I was able to ask few questions Dave Morera from VMware concerning small cluster upgrade options and also about the new protection options for stretched cluster functionality where now it's possible to specify RAID 5/6 (primary level of FTT) or do not replicate VMs to the other side at all (with secondary level of FTT). Useful for VMs which already exists at the other side (DCs, SQL, Exchanges…).
Upgrade scenarios for previous releases of vSAN can be tricky (or rather, you have to make a tradeoff), especially for small clusters. Trade of whether when you want to upgrade the vSAN On-disk format, you'll have to evacuate all the data, wipe the disk group, and then format with a new vSAN on-disk format. However, this is not possible with 3 hosts only.
VCSA 6.5 which has a built-in utility for migrating Windows based vCenter into VCSA 6.5 for vCenter migration seems to be the way to go. As a result, you'll have no problems with the reconfiguration of your existing products which depends on vCenter.
TIP: What is VMware vSAN Disk Group?
The migration of vSAN involves a migration of the whole vSphere infrastructure in few phases:
vCenter Server upgrade
ESXi hosts upgrade
vSAN On-Disk Format upgrade
So you can safely upgrade vCenter server, but putting ESXi host into maintenance mode will require to only partially evacuating the data and exposing your environment to a risk with reduced redundancy. The vSAN disk upgrade would require specifying an additional parameter.
From VMware vSAN 6.6 Releases notes:
During an upgrade of the vSAN on-disk format, a disk group evacuation is performed. The disk group is removed and upgraded to on-disk format version 5.0, and the disk group is added back to the cluster. For two-node or three-node clusters, or clusters without enough capacity to evacuate each disk group, you must use this following RVC command to upgrade the on-disk format: vsan.ondisk_upgrade --allow-reduced-redundancy

When you allow reduced redundancy, your VMs are unprotected for the duration of the upgrade, because this method does not evacuate data to the other hosts in the cluster. It removes each disk group, upgrades the on-disk format, and adds the disk group back to the cluster. All objects remain available, but with reduced redundancy.

If you enable deduplication and compression during the upgrade to vSAN 6.6, you can select Allow Reduced Redundancy from the vSphere Web Client.
As being said, small 3 node cluster upgrade with only single disk group per server, does not allow to evacuate all data from the disk group as there is nowhere to evacuate them (only 3 hosts). One would need 4th host.
The situation would be different with 2 or more disk groups per host. In this case, it would be possible to upgrade the vSAN on disk format by fully evaluating data from a disk group to another place and then perform the upgrade. The On-disk format is wiping the data from the disk group and re-formatting the disk group with a newer version. (Depending on which version you are upgrading, you might or might not need to reformat the disk group).
One thing which isn't known at first is the fact that it is not possible to remove disks from a disk group after deduplication and compression are enabled on the cluster. You should think ahead and add all the capacity that you need before activating the dedupe or have several disk group per host.
Also, if there is a failure of any of the disks in the disk group, a whole disk group will be impacted. (Not only the particular disk).  You will have to wait for the data in the disk group to be rebuilt somewhere else within the cluster.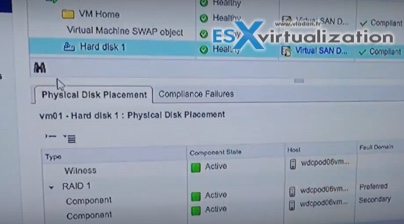 Dave also talks about the new features added to stretch cluster functionality where the client has the option of creating a VM storage policy allowing to pin certain VMs to the primary site (DC, Exchange, SQL …) which are already replicated via inbuilt mechanism within those tools (think of RSFS or DAG for Exchange). You'll find out all the details in the video.
Here is a video from VMware at the VeeamON data center conference in New Orleans.
Enjoy…

I have attended few sessions today which were focusing on best practices for Storage repositories for Veeam Backup and replication v9.5 and the upcoming v10 which brings some interesting storage repository archiving possibilities with object storages, tapes, or VTL.
But I'll report on that in another post.
More posts from ESX Virtualization:
Stay tuned through RSS, and social media channels (Twitter, FB, YouTube)