Drobo Elite is a 8 bay solution for Small Business.
This SAN solution from Data Robotics is destined for Small Business Market. For independent IT professionals which needs reliable storage device to be used as an iSCSI SAN for Windows Servers (with Microsoft's iSCSI initiator), but also for small enterprises which runs smaller virtual environments and needs a shared storage solution for VMware vSphere Essentials, or Essentials Plus in order to implement HA – High Availability. High availability with VMware vSphere 5 brings you the possibility to have your VMs protected against hardware failure. In case that your physical ESXi host has got a material failure, those VMs will be automatically restarted on one of the remaining hosts of the VMware vSphere cluster.
In order to put in place shared storage, usually one has to acquire an expensive SAN storage, or can Implement many popular free solutions like FreeNAS, or Openfiler to keep costs down. But those solutions are not VMware supported solutions. It's ok to install a solution like this for home lab. Me too for my home lab I built my own NAS device from pieces for a bit more than €300 . Those solutions needs some time to be configured and some skills to configure the SAN, the RAID groups, etc…… But importantly, those systems once configured, they're not easy (see impossible) to evolve. You can't add more disks to your RAID 5 spindle without breaking the RAID. Or for example when you find yourself in a situation that you're running out of space.
There is a solution today on the market which makes this possible. In fact Data Robotics and Drobo. There is a full product line at Data Robotics which can be found here. And the model I'm testing isn't available any more, but has been replaced by newer model which name is Drobo B800i and which uses exactly the same firmware. I'll update the article here when Drobo will communicate me the differences between those two models.
But what's more exciting is the BeyondRAID technology which basically permits to have a SAN with disks which differs in capacity and in case you need to expand…. you can …  Drobo does instant expansion, and you can swap from single to dual disk redundancy with one click – without stopping the device.
You can:
–  Hot replace drive with larger capacity and get more storage capacity (without downtime)
– Add more drives to your RAID without downtime.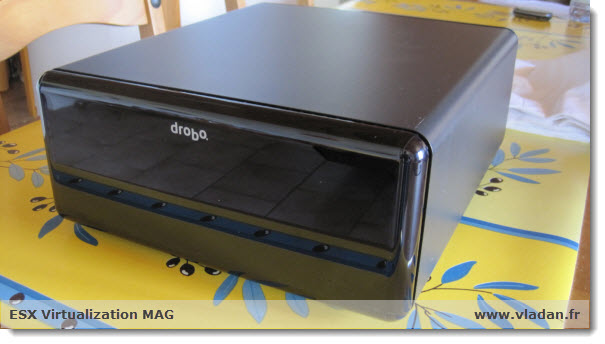 But before I start with the actual setup, let me introduce you to the technology which uses Drobo Elite (and all the Drobo products in general) for the RAID. It's not an ordinary RAID, like RAID 5, 6 or 10 which runs inside of the Drobo. It's BeyondRAID.
A quick quote from Wikipedia concerning this type of RAID:
BeyondRAID is not a true RAID extension, but consolidates up to 10 SATA hard drives into one pool of storage. It has the advantage of supporting multiple disk sizes at once, much like JBOD, while providing redundancy for all disks and allowing a hot-swap upgrade at any time. Internally it uses a mix of techniques similar to RAID 1 and RAID 5. Depending on the fraction of data in relation to capacity, it can survive up to three drive failures, if the "array" can be restored onto the remaining good disks before another drive fails. The amount of usable storage can be approximated by summing the capacities of the disks and subtracting the capacity of the largest disk. For example, if a 500, 400, 200, and 100 GB drive were installed, the approximate usable capacity would be 500+400+200+100+(-500)=700 GB of usable space.
As you can see, the solution is very flexible. A solution to secure store your data, offers redundancy and it's also evolutionary and super easy to setup. So one does not has to be a storage engineer to use it.
With Beyond RAID technology, not only you can hot-add additional drives (if you did not fill the device already at start), but those drives can differ in capacity. It means you can put drives different capacity in Drobo Elite and still keep your drive's redundancy. See more at the Capacity Calculator where you can interactively calculate of which capacity would you get when you would fill in the drives you got at the moment and you wished to use them inside of Drobo.
*********************************************************************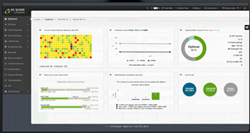 DC Scope for VMware vSphere – optimization, capacity planning, and cost management. Download FREE Trial Here.
Tracks the performance of VMs with a summary view of the resources and metrics in degradation.
Easily improve the performance of your infrastructure.
DC Scope is affordably priced per VM.
*********************************************************************
In addition, you can switch from 1 to 2 drives redundancy with one click and without reboot the device. (Switch from RAID 5 to RAID 6). Two drives can fail and you still don't loose data.
And since the model I'm having in my hands for TT – (testing and torturing.. –:))  is supporting iSCSI with 2 iSCSI ports and also jumbo frames, I'll show you how to do a setup with VMware vSphere Environment. Yes, the device is also VMware Ready certified storage solution.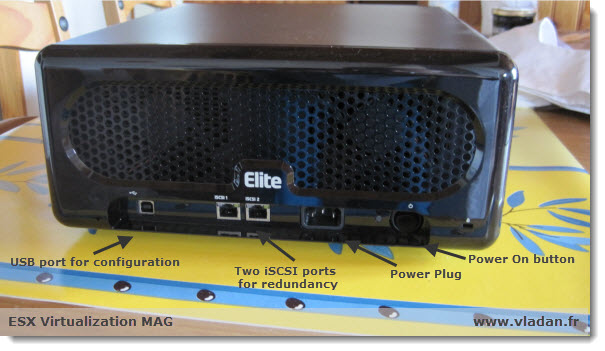 You know that when you put your SATA drives inside usual NAS device, like the one I built by myself for cheap in my lab, you're basically stuck with it. It's not really possible to evolve.
If I would like to grow the capacity of such a device I'd have to destroy the RAID volume, change those disks for larger capacity, and reconfigure again the device. I do have place only for 4 drives in my box anyway…. Of course all my data would be destroyed as well If I would not back them up before that operation.
So in my lab I'm using 2 white-boxes running VMware ESXi and one FreeNAS box as a shared storage. What I'm gonna do is to integrate Drobo Elite as a second shared storage array and I'll try to show you how it's done. The Drobo Elite does have 2 iSCSI ports which supports Jumbo Frames. But if you're not sure that you can configure JF end to end, better don't configure it at all. Because the performance increase you'll get aren't significant, and it's better play safe than having performance issues. Yes, if JF are configured the wrong way, or not supported, it does affect the performances.
I would like you to note that the device does not compete with other SAN/NAS devices when it comes to performance. If you need performance you might need more performant model, like the one which supports SSD's and automated tiering (the B1200i) . The Drobo Elite (Now B8OOi) can easily be used as a backup target when your business grows up.
Data Robotics has recently collaborated with Veeam to deliver a simple and affordable data protection solution for small and medium businesses (SMBs).
For now, I took a bunch of SATA drives which were laying around in my lab. There are two 500 Gigs drives, and five 80Gigs SATA drives which I could find around to put in the Drobo Elite.
On the back of the front cover you can see the explanations on the green, yellow or red lights…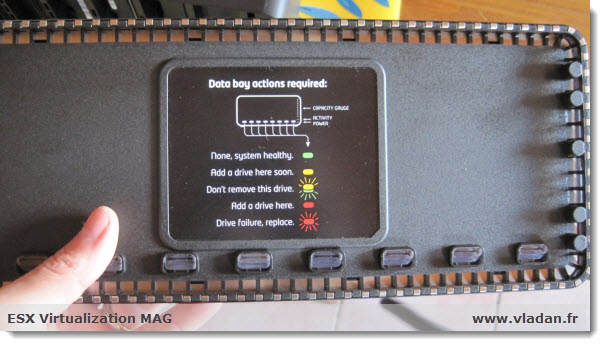 The device itself is very robust and weight over 7 kilograms. Nice…
Stay tuned for more. Feel free to subscribe to my RSS Feed. If you don't know how to use RSS or what is it, you're quite missing out, since using RSS saves tons of time through the day. I have put a special RSS page on my website on explaining What is RSS and how it works. You can also subscribe by e-mail via the form on the right hand side, to receive One weekly newsletter with latest articles.
Drobo Elite – iSCSI SAN which supports multi host environments – This post
.