TrainSignal has released EMC Storage Essentials, which is new training covering EMC's VNX technology. TrainSignal with their latest offering allows to "consume" training courses, as a training-on-demand. It means that you no longer buy an individual courses, but using the whole TrainSignal's online library with massive amount of training courses covering networking, virtualization, compute, or office courses from Microsoft, VMware, Cisco etc……
Latest training available is called EMC Storage Essentials, and it's Joe Kelly who is the instructor. Joe Kelly has been designing and implementing virtualization and storage solutions for large and small corporate environments for over 10 years. As Data Center Practice Lead at Varrow, he brings extensive EMC, VMware and Cisco expertise to the table.
The Lessons of the EMC Storage Essentials course:
Common Storage Environments

Introduction to the VNX Series
VNX Physical Architecture
Common VNX Terminology
VNX Software
Storage Networks and Common Data Center Protocols
Block Protocols
File Protocols
Measuring Performance
Measuring Availability
Workload Profiles and Application Mapping
The Importance of Cache and Flash Drives
Next Steps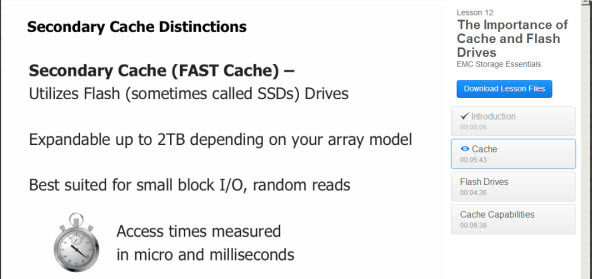 As you can see the lessons are tightened to the EMC VNX storage hardware and software. There is a possibility for anyone interested in VNX, to play with the storage appliance, which is Free. What you have to do is to download and install it in your lab. The VNX storage appliance is meant to be used in lab environments only, not in production. It provides a shared storage which is then presented to your ESXi host(s) as an nfs share or as an iSCSI target.
I'm using intensively the offline player, which allows to download the lessons to your computer. It's some sort of cache. You can play those lessons without interruptions if you have a weak bandwidth, or you play the lessons later.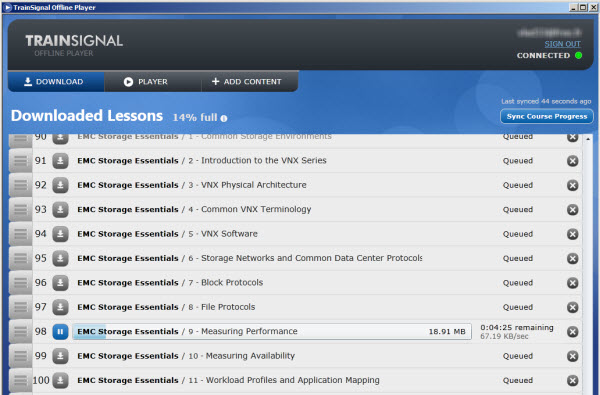 The latest training – EMC Storage Essentials, offers a good way to learn from someone who works with those storage devices on daily basis. In addition, there are a slides in PDF format available in each lessons. Those slides can be downloaded to have a paper support for taking notes during the learning, and to see the different schemas etc. You can see the Download the lessons files button on the first image in this post.
Check out also my post on the latest vCloud Director Essentials course here.