Free Tool to backup multiple configurations of VMware ESXi.  The backup of ESXi can be done several ways. I have detailed the steps of backup configuration of ESXi host in my article here. I have used vMA appliance in those steps. Recently I found a small freeware application from Slym Software, which does that via the GUI.
Update: The tool has been also updated for ESXi 6 and vSphere 6.
Not only you can backup multiple ESXi 4/5 configurations but also the local vcenter server database. There is a default retention policy set up for 2 weeks. You can then have the possibility to create a windows scheduled tasks or do the backup manually.
Requirements:
You'll need to download vCLI for vSphere. The latest vCLI can be downladed from the VMware vCLI page. Log out/log in after the installation.
The local SQL database, which is usually installed for smaller cluster environments, and which can be used for clusters which has up to 5 hosts, can be backed up with this tool as well. The flat backup file of the DB has extention *.BAK.
ESXi Configuration backup – the features
Automatically backup multiple ESXi v4 & v5 or v6 configurations
Backup of any local SQL Databases
Manages basic retention and deletes expired backup (ESXi backup only)
Creates a single archive per backup containing one file per ESXi
Add a file containing exact build numbers of each ESXi in backup archive
Compress backups to save space (ESXi backup only)
Portable software
Encrypt passwords
Easy to configure with the "Configuration Manager.exe
How to use ESXi Configuration backup?
Run "Configuration manager.exe" to configure all the settings
Add your ESXi servers (will not work if a vCenter is provided instead !)
Select SQL databases to backup
Set the backup folder and retention then close the manager
Create a scheduled task in Windows to run "ESXi Configuration Backup.exe" or run it manually
The ESXi Configuration Backup tool creates backups in c:\vSphere-backups folder which gets created automatically.  There you can see the backup of the vCenter database too.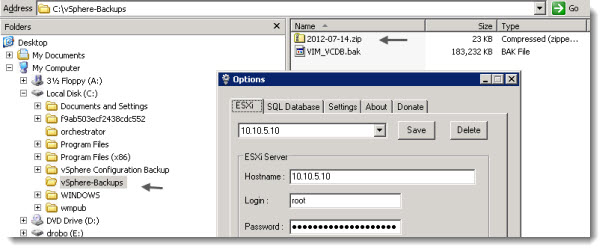 Another screenshot showing the possiblity to include the local SQL database.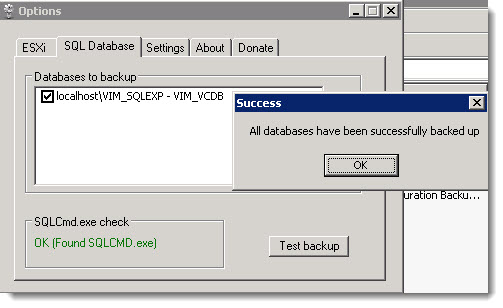 The ESXi Configuration backup (called vSphere configuration backup) in action…..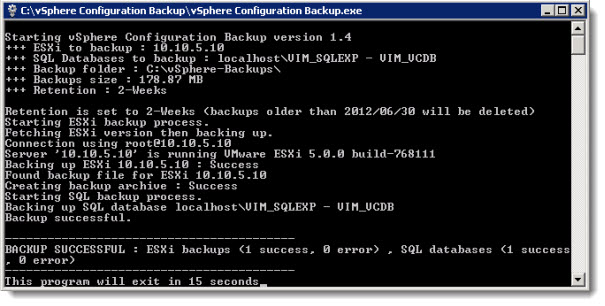 You can download the ESXi Configuration Backup tool from Slym software here.
Source: Slym Software