Today we'll look at StarWind VSAN, which has a simple base configuration of just two nodes without the need for voting or quorum facilities. In fact, It reduces cost requiring less hardware. And for two nodes, you don't even need 10GbE switch. We have also other news from StarWind, and those are related to Free StarWind VTL (Virtual Tape Library).
StarWind VSAN needs only two licensed nodes to handle an infrastructure of as many nodes as needed. The basic configuration supports many features unavailable in similar solutions, such as asynchronous replication, in-line and offline deduplication, Log-Structuring, multi-tiered RAM and flash cache.
Other than VSAN, StarWind as a storage vendor also provides 'shared nothing' architecture without shared backplane and which can tolerate 4 disk failures in the group without losing the uptime. It uses distributed RAID61 where other vendors use only RAID6 (2 disk failures). It can expand and scale up or scale out. You can scale up adding individual disks and flash modules, or JBODs, while adding ready controller nodes allows scaling out.
Worth to note that their pre-configured appliances are build-on-demand. The solutions are bundled with Hypervisor of choice (VMware or Hyper-V), StarWind Virtual SAN, Data protection (Veeam), Management 5Nine Software (for Hyper-V).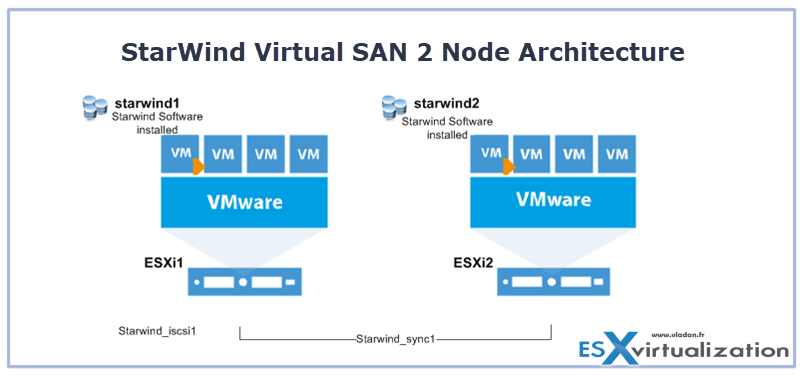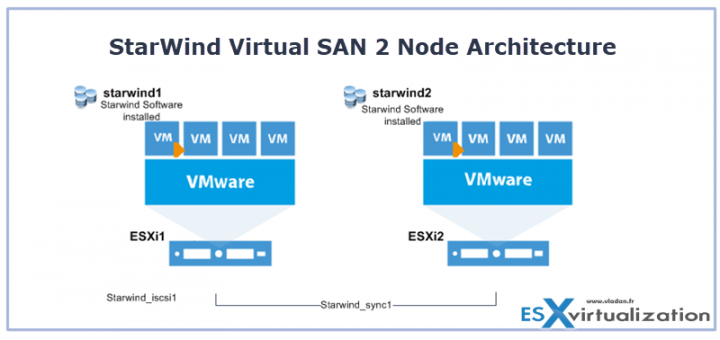 Starwind provides Customized installs for clients depending on the needs they have. Often it is 2-3 nodes, but the largest solution can scale out to 64 nodes. The hardware appliances are pre-assembled at the factory and pre-installed at Starwind. Then shipped to the customer where a StarWind engineer finishes the configuration.
Latest news: StarWind VTL Free
StarWind has released recently (Check the press release here) a Free version of StarWind VTL (Virtual tape library). We have detailed StarWind VTL in our post here and basically, it is a software-based solution, which can be installed side by side to your physical Veeam server for example.
If you want to test it in the lab, StarWind has a good whitepaper with a step-by-step. You'll need this because they give you some details how to configure the local iSCSI initiator in order to connect to the StarWind VTL and there is also a download link for HP Tape drives which StarWind emulates.
For system administrators who can maintain the backup infrastructure on their own, we offer a Free version of StarWind Virtual Tape Library. StarWind VTL Free delivers the unrestricted set of features and a GUI that works only in monitoring mode. Also, the free version is supported only in the open public community forum.
StarWind VSAN Free Version
To recap, they have a fantastic value for their free edition of StarWind VSAN.
Screenshot from the lab – Overview of the standard StarWind Management console.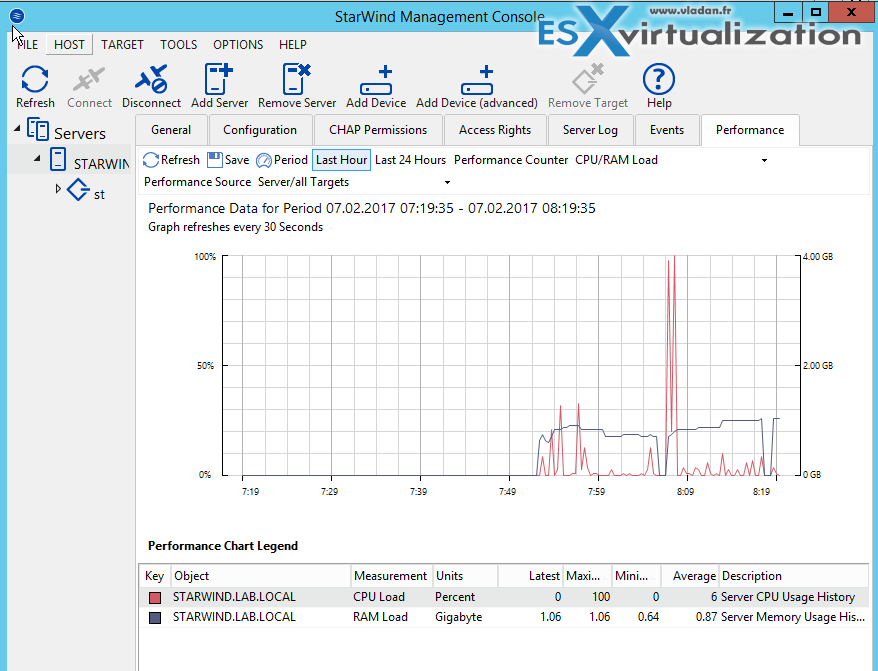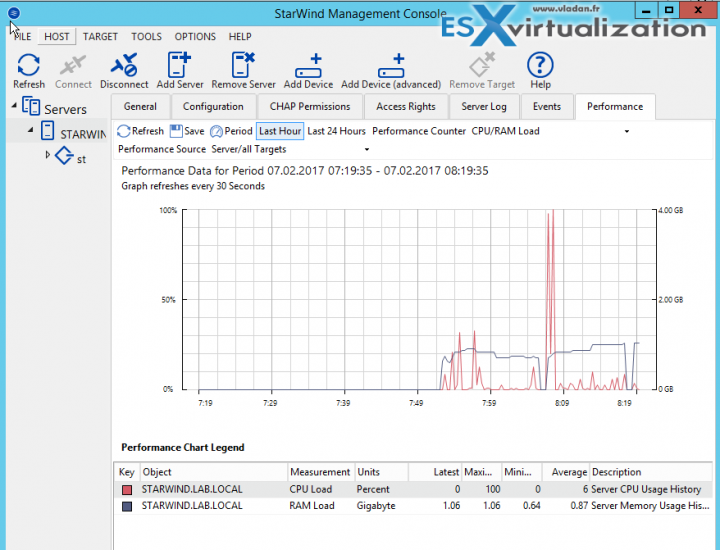 StarWind Virtual SAN FREE Version Features:
StarWind Virtual SAN Free is completely unrestricted: it is allowed for production use, supports all usage scenarios of the commercial version, has a perpetual license, and is not feature- or functionality-limited version of StarWind VSAN.
No Capacity Restrictions – you can use as many capacities for your mirrors, as you like (previously restricted)
No Scalability Restrictions – as many nodes as you like. (previously limited to 2-nodes only)
No Time Limit on License – The Free license if for life. After 30 days, the only management option you'll have is PowerShell or CLI.
Production use – can be used in production, but if anything goes wrong, you will only find support through community forums.
PowerShell Scripts – StarWind Virtual SAN Free is shipped with a set of ready to use PowerShell scripts allowing users to quickly deploy the Virtual SAN infrastructure.
No StarWind Support – only community-based support.
StarWind HA – The shared Logical Unit is basically "mirrored" between the hosts, maintaining data integrity and continuous operation even if one or more nodes fail. Every active host acts as a storage controller and every Logical Unit has duplicated or triplicated data back-end.
With that said, we're looking forward to other news from our friends at StarWind as they're doing a great job.
More about StarWind from ESX Virtualization:
More posts from ESX Virtualization:
Stay tuned through RSS, and social media channels (Twitter, FB, YouTube)