Currently, the IT transformation is in the phase where some on-premises workloads are moving to the hybrid cloud or cloud is used for disaster recovery (DR) strategies. To be able to move your workloads to the cloud and back, there are several challenges. Bandwidth, storage and compute resources, etc. But one of the most important is simple management. StarWind Hybrid Cloud For Microsoft Azure is something that you might be interested in.
Everyone is in the cloud business those days and StarWind isn't an exception. In fact, their solution StarWind Hybrid Cloud allows setting up a cloud environment in Microsoft Azure and have a single console to manage your Hyper-V environment.
In fact, you are able to move workloads via live migration between on-premises Hyper-V environment and cloud environment in Azure, within the same management console from 5Nine software. Passing the usual constraints like bandwidth or latency, this solution might be interesting for DR or Production environments.
The architecture requires minimum two nodes, each is located in own cloud. StarWind use VPN tunnel between location, StarWind distributes highly available, active-active replicated shared storage to the cluster seamlessly merging both clouds. Note that only Microsoft Hyper-V clusters are currently supported.
It's important to use Microsoft ExpressRoute between the local and Azure workloads with low latency. ExpressRoute allows you to use private connections from your datacenter to MS Azure's data centers in order to guarantee this performance.
The Architecture:
There is your local Hyper-V cluster(s) environment, where you're running your workloads, network connection to Azure where runs StarWind VM. The VM is actually a fully functional virtual Hyper-V host which is visible in StarWind console. They do "nested virtualization" in Azure.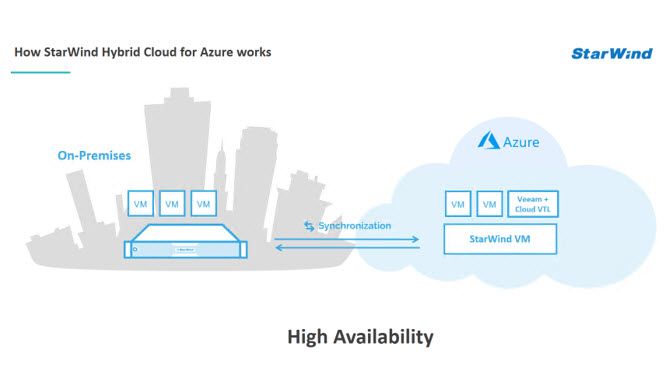 So you're able to migrate VMs to the cloud, backup the VMs to the cloud using StarWind Cloud VTL (run VPN in StarWind VM and offload to the cold blobs) and in case something happens with the on-premises infrastructure, the High availability can kicks in and restart the VM in the cloud as the StarWind storage spans across both environment.
The management server is on a high available VM so as long as you have a connection to that VM you can manage the environment in case the underlying host goes down.
The Advantages:
Minimalistic cluster design. On-premise environments are very flexible and can start from just 1 node
Consolidates private and public clouds of your choice. StarWind Hybrid Cloud for Azure is already released. We work aside with AWS and Google Cloud to release the solution in the first quarter 2018.
Quick and easy setup and maintain. We provide Installation Assistance and ProActive support to the Customer, so you should not worry much about the implementation.
Active-Active data replication between Azure and On-Premises.
Due to the StarWind, the cluster is featured with Automated Failover and Failback in case of a failure.
The full environment can be run from any part of the instance in case of a failure.
Scalable infrastructure – get enough compute when needed in Azure.
Improve business continuity – DR scenarios in Azure.
ProActive support from StarWind – the end user, the admin, basically does not have to deal directly with the vendors when troubleshooting their infrastructure, but it's StarWind active support which takes care of it.
When it comes to cost, it depends on how you plan to run the workloads. There might be two use cases:
In Azure – If you plan to run the workloads in Azure and synchronize them back to On-premises, then you might want to get the express route and unlimited data plan in order to optimize cost.
Locally – You run the VMs mostly locally, and you use Azure as a flexible location to migrate your VMs there, or for DR, you can go with a standard access route.
Here is an overview of the 5Nine manager console. You can see an On-premises and Azure environments there.
Savings?
About 38 percent savings where 4 VMs is consolidated into 1 StarWind VM. When you're using 8 VMs in Azure, you can go up to 70 percent savings. In addition, you'll get high availability between Onprem and Azure as another DR and flexibility option.
Azure inbound traffic is free where outbound traffic is paid. Outbound is used only when you migrate workloads from the cloud.  (only about 2.5c per Gb of data).
There is a YouTube video you can watch: Link
Quote from StarWind:
As you can see, we have developed a solution which does active-active Hybrid Cloud with any public cloud.

It's planned to be hypervisor agnostic and does not lock business to specific a hypervisor or a cloud. StarWind provides businesses with scalability and cost-efficiency for their data while maintaining security requirements. We do this by combining a well-known on-premise ecosystems with any public cloud.
More posts about StarWind Software:
ESX Virtualization:
Stay tuned through RSS, and social media channels (Twitter, FB, YouTube)