Free tools to convert VHD into VMDK disk files. I was wondering on how many tools can be found to convert virtual hard disks files from VHD (Microsoft) into VMDK (VMware) and vice versa. Well, sort of. Because not all the tools here are able to do the conversion both ways… -:).
Those tools, one day, or another, everyone needs. If you're entreprise admin or IT consultant, it's always handy to know which tool to look for. I found that there are quite a few those tools for the job. Let's start with the list.
Starwind V2V Converter – First one, but this one is here since long time, and I don't know for what reason, I wasn't aware of. It's Starwind's V2V converter. This tool can handle both conversions. VHD -> VMDK and also VMDK -> VHD. Other features of this tool are the following:
–  Converts from VMDK to VHD and vice versa
–  Sector by sector copy
–  Does not modify source image
–  Easy to install and use
To use this tool? Simple.  Select your source File (VMDK, VHD, IMG) > Choose a location to save the converted data file > Click 'convert' and let the converter run.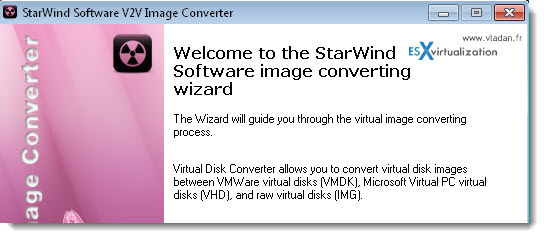 Get this tool here.  Starwind V2V Converter
Winimage 8.5 – Another tool I can recommend is WinImage (free evaluation use for up to 30 days). So the tool is not Free Tool…
Install and run WinImage > Go to Disk in the menu bar and select Convert Virtual Hard Disk Image. > Choose the VHD ftile you need to convert.
On the "Save As" dialog box, change the output format under the Save as Type to VMWare VMDK (*.vmdk)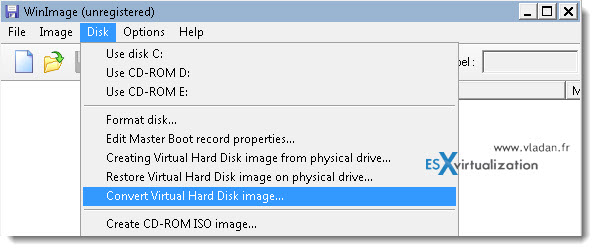 WinImage 8.5: Download
VMware Converter Standalone – Another free tool for converting VHD into VMDK is VMware Converter Standalone. This free tool can be downloaded from VMware's website here.
Your Microsoft VM has to be a Powered-on machine or Hyper-V Server Virtual Machine.

You can get the latest version of VMware Converter Stanalone at this link at VMware.
There might be more tools (I'm sure there is). If you do know one, why don't you add a comment so everyone can benefit your knowledge?
Enjoy… -:)