This utility released by VMware Labs looks pretty awesome. It automates the deployment of VMware Horizon View installations. How it works? Simple. Its a virtual appliance bundled with all necessary VMware components that are necessary for the Horizon View setup. The only thing you need to provide is Windows Server 2008 R2 SP1 ISO. The Horizon View Configuration Tool does the deployment and config of the VMs necessary for Horizon View and the installation and config of Horizon View in those VMs.
The author of this utility is Marilyn Basanta which works as a Technical Solution Architect at VMware. To make the magic happen you'll need not only download the virtual appliance (5.1Gb) but also VMware Studio (1.5 Gb). Both are free. You'll need to follow the Quick Start Guide (PDF) which will show you what to do. This quick start guide can be found on the download page as well.
Screenshot from VMware Labs Website: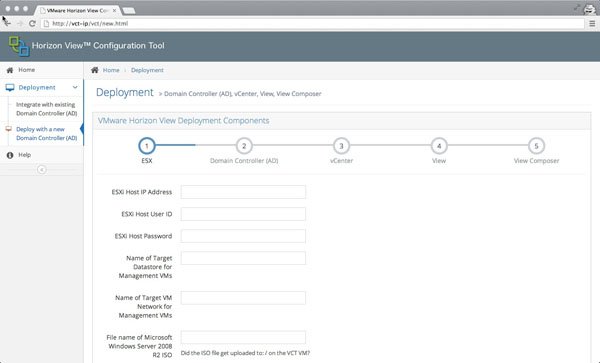 Here is a quick quote from VMware Labs:
The vCT ships as a virtual appliance with all the required VMware components to set up your Horizon View environment. After providing a Windows Server 2008 R2 SP1 ISO, an ESX host (not managed by vCenter), a few parameters, and licenses, the tool will provision your environment dynamically and automatically. The vCT deploys the following components:
Virtual machine with Active Directory Domain Controller configured (or you may integrate with the existing DC in your environment)
Virtual machine with Horizon View Connection Server installed
Virtual machine with Horizon View Composer installed
vCenter Server Appliance virtual machine deployed and configured
I'm quite eager to be able to test it in my lab, and IMHO it's just a beginning. I think that VMware will be further improving this tool and it's very possible that we will find it integrated in future releases of vSphere software suite.
The download link can be found here. Concerning the VMware studio, you can download the free application here.
Source: VMware Labs