There is over 22 000 attendees this year at VMworld 2013 San Francisco, for the 10th VMworld! This is a new record, certainly, but I think that there is many more people which still could not attend. For different reasons, financial, time, work, family…  I'm trying to cover the event remotely too, as I'm planning to attend the European event of VMworld in Barcelona. The big announcement with series of articles about VMware vSphere 5.5 can be found on dedicated blog page – vSphere 5.5
VMworld 2013: Session STO5715-S – The Next Phase in the Evolution of Enterprise Storage
This free session gives you the idea on what's look like VMware session and where VMware is heading – Software Defined Everything. (SDE). This session is about SDS – Software Defined Storage.
Software Define Storage – abstract the heterogeneous storage resources in your environment and present them as logical pools of flexible capacity, that can be consumed and managed through what we call application centric policy based automation.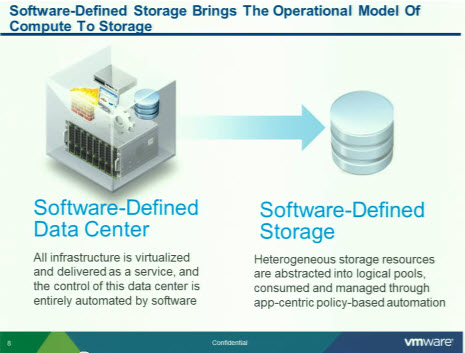 Now how this works?
There is a new layer – a policy driven control plane, which goes in between the physical storage and which is actually specifies the attributes, the characteristics of each individual VM through VM storage Policy (capacity, performance, availability).
This VM storage storage policy is used by the Policy-driven control plane to provide app-centric data services. There is a good picture which allows to understand how those bits and pieces fits together.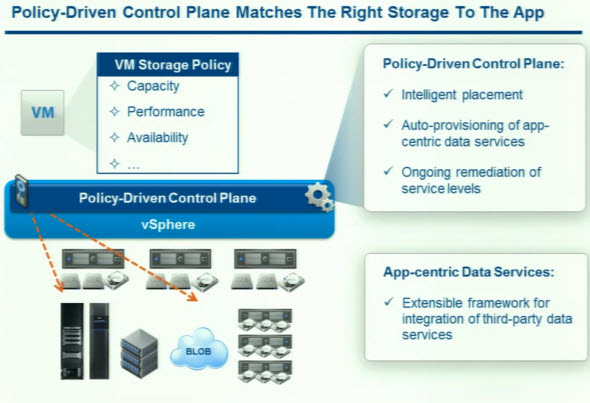 There is also a Virtual Data Plane which will allow the pooling of those heterogeneous resources, VM-centric storage operations and the virtualization platform awareness of native HW capabilities.
I have also wrote some more deep dive about VSAN in my post – VMware vSAN introduced in vSphere 5.5 – How it works and what's the requirements? – which explains real
VSAN and SDS are clearly the direction where VMware is going. BTW you can try the VSAN 1.0 Beta yourself by going to https://www.vsanbeta.com where you can sign up.
Here is the video of the free VMworld 2013 Session – Session STO5715-S – The Next Phase in the Evolution of Enterprise Storage
Enjoy.. -:)