Alternative to Windows? They are some… Today I'd like to introduce you to Free Windows OS Alternative called ReactOS, which is not a Linux alternative to Windows, but rather a Windows clone. ReactOS is an open-source effort to develop a quality operating system that is compatible with applications and drivers that are written for the Microsoft Windows NT family of operating systems (NT4, 2000, XP, 2003).
It's a relatively small download of the ISO which you will use to install. (Note that they also have live version CD if you want to test without installing). Then the system requirements are very very low. You only need 500MB HDD and 96MB RAM.
ReactOS started out in 1996 as FreeWin95, a Windows 95 clone project and the "look and feel" is still based on this when choosing the "classic" Theme. For the nostalgic geeks the best ever theme was done -:).
Quote from the product page:
It's design is based on Windows in the same way Linux is based on Unix, however ReactOS is _not_ linux. ReactOS looks and feels like Windows, is able to your run Windows software and your Windows drivers, and is familiar for Windows users.
Screenshot from the lab where I quickly tested through VMware Workstation (Works Out of the box, except mouse trapped inside….). VMware tools – Installer throws an error. When Installing through VMware Player or VMware workstation use "Windows XP Professional" as a template as the ReactOS does not like SCSI disks (the installer won't see the disk during the installation process).
Otherwise, the install is very quick and the look and feel are like Windows XP with Classic theme…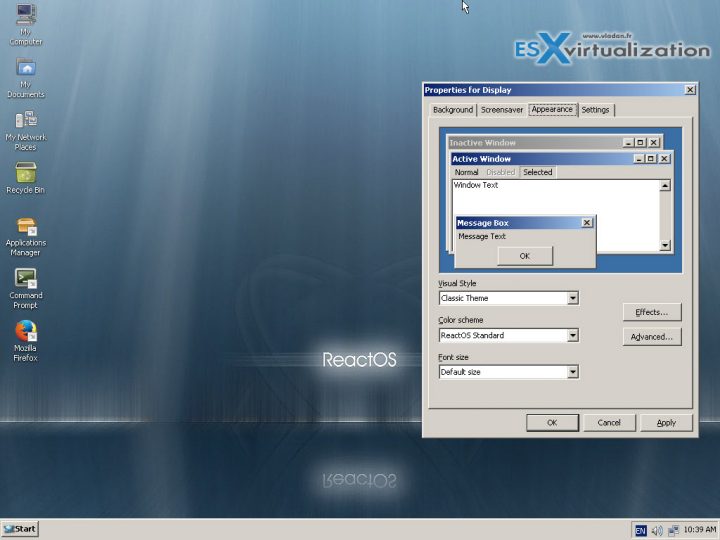 Which Usage for ReactOS?
I can see a few, as we passed the Windows XP support deadline and there are no more security patches for this very good Microsoft OS. You can install ReactOS on those older hardware computers and it would be a way to stay secure and still use the same apps that were destined for let's say Windows 95, 98 or XP systems….
Quote:
Imagine running your favorite Windows applications and drivers in an open-source environment you can trust. That's ReactOS. Not just an Open but also a Free operating system.
The main advantage is an ease of use and users they know their inside out on Windows XP will find their familiar desktop environment in ReactOS too….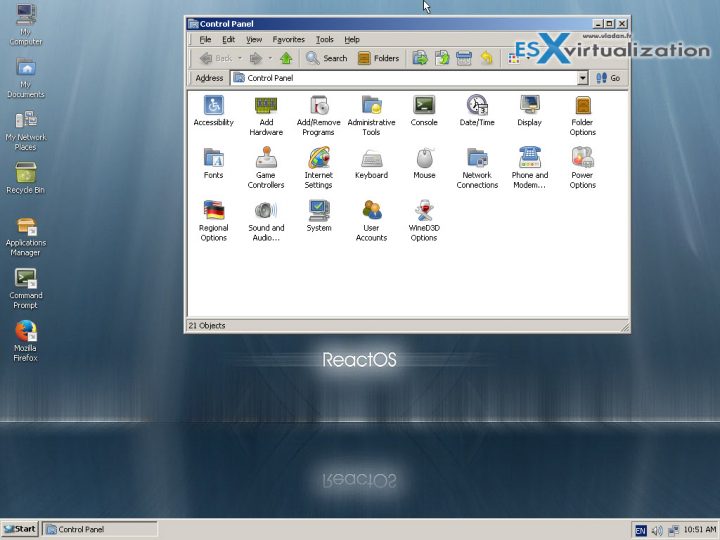 ReactOS is Free. Windows (especially the newer versions) are known to monitor all your activity by default. So if you're concerned about your privacy or just don't want to share any personal info, ReactOS don't track any of your data.
ReactOS is one of the working clones of the proprietary Microsoft Windows OS. The developers have created a quality operating system that is compatible with applications and drivers are written for the Microsoft Windows NT family of OS: NT4, 2000, XP, Windows 2003, Vista and Windows 7.
But, ReactOS lacks support for the NTFS file system, which means you do not have disk encryption capability and file security. The system, however, supports R/W NTFS for external hard disks.
You have 3 ways to test React OS:
On physical system via the Installation ISO
On Virtual Machine (via installation ISO too)
As a Live system (via Live CD)
I've recorded quick video showing the installation process. Watch in Full Screen. It's a 1080 video…
Are they Legal?
You might be thinking… they created a clone… right? Is that leagal?
All the code that make up the ReactOS operating system has been written from scratch by our developers. We go to great lengths to ensure that the code our developers create is clean. and we make sure that the methods we use to understand Windows internals is also clean. We use a variety of methods to achieve this, which include clean room reverse engineering, using existing documentation freely available both in books and on the web, using extensive tests (tens of millions) which apply black box engineering methods against both public and private APIs which are exposed by the operating system. We believe commercial operating systems should be freely available, and we're pushing to mimic the success Linux had in making the Unix operating system freely available to the masses, except we're doing it with the Windows operating system.
They have a wiki page for VMware if you want to test and to install some drivers and also some general guidelines for VMware and other virtualization platforms (Virtual box and QUEMU)
Source and download: ReactOS Homepage