I wanted to quickly shared one of my sponsor's offer for IT pros. It's a Nakivo who offers free NFR license of their backup and replication product – Nakivo Backup & Replication 5.5, which you can get for your lab. The offer is for current VMUG members, VMware vExperts, VCIs, VCPs, VTSPs, and VSPs. The product is compatible up to vSphere 5.5 for now but vSphere 6.0 shall be announced in near future. New version of Nakivo 5.5 which has been announced few days back brings Instant object recovery for Microsoft AD.
Quote:
The object recovery process is simple and straightforward: after specifying a VM backup and a recovery point, NAKIVO Backup & Replication automatically locates the Active Directory database in the VM backup and – within a few seconds – displays the contents of the database right in the product's Web UI. From this point, the product provides the ability to browse and search the database, view object attributes, and recover Active Directory objects and containers.
I covered previous release including distributed architecture of Nakivo in my detailed post here. And you might also be interested in their Flash VM Boot architecture which allows to recover VMs directly from backup repository by executing this VM directly from there. Flash VM Boot provides the ability to run VMware VMs directly from compressed and deduplicated VM backups, without recovering the entire VMs first. The backup from which the VM is started remains unchanged to preserve the integrity of the data. You can recover full VM or individual files from within a VM by allowing to start this VM directly from the backup repository.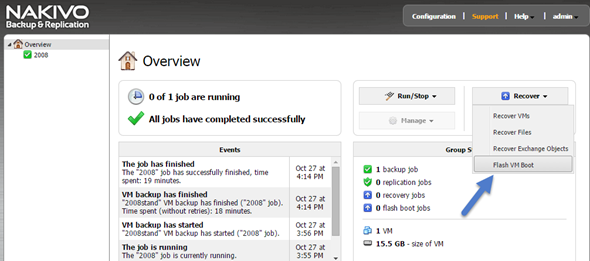 Get Nakivo Backup and Replication 5.5 NFR
NAKIVO Backup & Replication v5.5 featuring instant object recovery for Microsoft Active Directory is now available free of charge to VMware Professionals.
NAKIVO Inc., the fastest-growing provider of virtualization data protection software, has announced today that it provides free Not for Resale (NFR) licenses to VMware professionals: current VMUG members, VMware vExperts, VCIs, VCPs, VTSPs, and VSPs can receive an NFR license of NAKIVO Backup & Replication v5.5. The NFR license keys are available for non-production use only, including educational, lab testing, evaluation, training, and demonstration purposes. NFR licenses are available at www.nakivo.com/en/free_nfr_license.htm.
The new version provides a set of new features and improvements, including:
Instant object recovery for Microsoft Active Directory
Execution of pre and post job scripts
Customizable data compression levels
Disk-to-Disk-to-Tape
Configurable handling of VMware CBT errors
Enhanced iSCSI SAN support
Full press release here. Get the NFR from here.