Already 5th release by Nakivo. If you never heard about Nakivo I'd invite you to read my detailed post about their Backup and Replication solution for VMware. Nakivo has a virtual appliance approach, but can also be installed in Windows or Linux VM or directly on physical server. This is quite flexible compared to the competitors in this space usually providing one or the other, but not both. Flash VM Boot Feature Available in New Release of Nakivo is another step forward which allows boot VMs from backup repository.
Depending of the workflows you need to protect and which applications you're running and the "recoverability" level you want to assure at the application level you may or may not find this product good for your environment. But as Nakivo evolves on regular basis, you should check back regularly if any of the features that you missing, has been added. The UI is really nice, clean and very fast. You can get free trial or just download free version.
The distributed architecture of Nakivo can fit to cloud providers, enterprises, and SMBs. Replication of backups to another site or to the cloud are one of the most discussed scenarios those days. Service providers will appreciate the possibility to distribute VM or socket licenses among tenants (clients) from a single licensing pool. With the product, it's also easy to then add more licenses for a tenant or return unused licenses back to the license pool.
What's New in Nakivo Backup & Replication 5.0?
The Flash VM Boot feature works out-of-the-box for both Windows-based and Linux-based VMs and provides customers with a rich set of opportunities, enabling them to:
Permanently recover VMs booted from backups
Access files and application objects of any application on any OS within seconds
Test system updates and application patches before applying them to production VMs
Verify the VM backups and ensure that OS and applications run properly
Copy VMDK files and then delete the virtual machine
Quote from the press release:
Nakivo 5.0 introduces new feature allowing to recover VMs directly from backup repository by executing this VM directly from there. Flash VM Boot provides the ability to run VMware VMs directly from compressed and deduplicated VM backups, without recovering the entire VMs first. The backup from which the VM is started remains unchanged to preserve the integrity of the data.
Screenshot showing the Flash VM Boot feature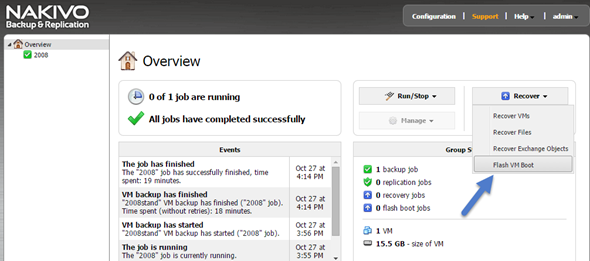 Nakivo ads the possibility to recover a VM or individual files from within a VM by allowing to start this VM directly from the backup repository. This function is very popular as it shorten the recovery time when for example you lose a VM due to a Malware attack or corruption, it's much faster to start VM directly from backup and continue working.
Then if you have storage vmotion you can simply use it to move this VM to the production datastore. If you don't have a license for storage vMotion, then you have to wait for a maintenance window > shut the VM down and move it to the production datastore > start back the VM.
One of the other interesting features released in previous releases is Multi Tenancy Support with self service portal. It allows creation of isolated tenants with single Nakivo installation. Single instance of Nakivo alows to manage backups or replications for multiple separate clients. Each tenant (client) has its own dashboard to manage the backup/replication/recovery jobs. It means also less time for patching for the service provider which only needs to maintain single master instance of the Nakivo software (Director).
Nakivo has a distributed architecture. Each of the site leverages the Nakivo Transporter, which is an appliance allowing better, faster transportation of backups and replicas over the WAN.  Each client deploys only the Nakivo transporter, which enables VM backup locally and, to the service provider's datacenter. The client can also run backups on VMs which are running at the service provider's DC.
Source: www.nakivo.com