vSphere 6.0 hardening guide is now GA and there is some big changes were made to the document. What is vSphere hardening guide you might ask? It's a good practice guide for for admins who wish to make their vSphere installations more secure and more compliant with the latest security standards. Previous versions of hardening guides are also available from the same VMware security page there and I have already reported about hardening guides for vSphere in the past.
VMware vSphere hardening guide provide prescriptive guidance for customers on how to deploy and operate VMware products in a secure manner. Guides for vSphere are provided in an easy to consume spreadsheet format, with rich metadata to allow for guideline classification and risk assessment. They also include script examples for enabling security automation.
It's a spreadsheet format where you can filter the colons on few values to view only the part you're interested. Example below shows filter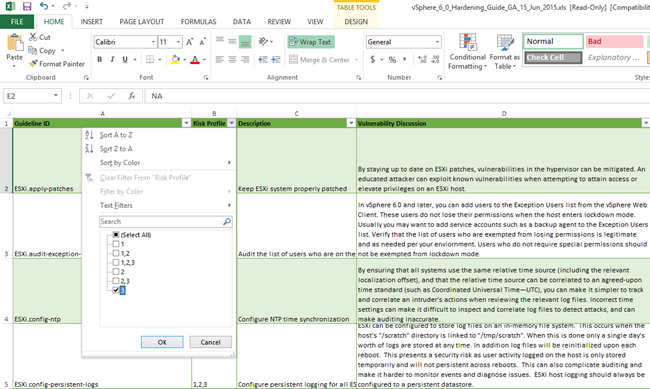 It's worth to point out the PowerCLI Command Assesment and PowerCLI Command Remediation colons where you can directly find PowerCLI snippets for each section.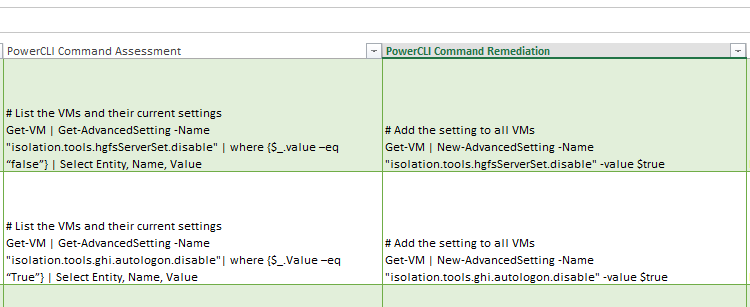 The last colon shows a link to VMware Online documentation section allowing to check the Online docs..
You can download the vSphere Hardening Guide and the list of guidelines that have moved to the vSphere Documentation.
You can find the full VMware blog post here.