It's been several days since this information came to me, however, I haven't had my post ready just yet. So that is a completely new feature of DCScope that we'll see some insight about, in this post. Green IT is a new tab within the UI of DC Scope (get a free trial here)
If you don't know DC Scope you might want to check our previous post – DC Scope for VMware vSphere – Improve Performance, Optimize, Troubleshoot, Monitor – about this monitoring and optimization software for VMware vSphere that says that it's easier than VMware vROPS.
DC Scope analyses the behavior of your infrastructure and provides you with recommendations to improve the performance and reduce the waste of resources. It will help you to optimize virtual machines, servers, and clusters by guiding you through the process of deletion, resizing, or consolidation of elements.
There is also a Troubleshooting module that allows you to easily identify critical issues in your infrastructure and it provides you with accurate information on these issues and guides you in the process to solve them. The software is able to help you to reclaim IT resources, improve data center efficiency, and save costs
Green IT – New in DC Scope
A possibility to improve your carbon footprint is something that IT has hard to do because of the huge energy consumption that is in our datacenters. However, with some good tools and indicators, we might be able to improve our workload and server efficiency over time. Here is Green IT to the rescue!
Note: For now it is in Beta…
Screenshot from Green IT tab (image from Easy Virt).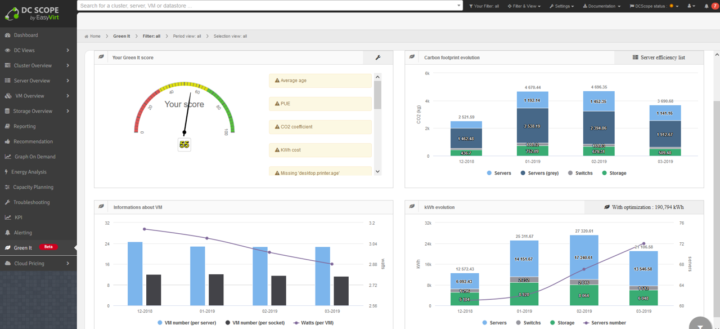 Do more with less. Green IT as such is, after all, a philosophy of optimization of your infrastructure by lowering the consumption of energy and improving the efficiency of the workloads. It allows engaging the IT department in this active improvement process where you can identify the servers with the highest energy consumption (DC scope knows the energy consumption of each of your servers).
With Green IT you can follow the evolution of the overall CO2 impact of your datacenter.
Green IT – the Features
Classify the servers from Not Efficient to most efficient
Simulate changes
Increase the lifespan of your equipment
Follow the impact of replacing most consuming servers
Stopping and (or) removing inefficient hosts
Consolidation of hosts by reducing their numbers and increasing VM density
What is Grey energy?
Grey Energy – Intrinsic energy is the amount of energy consumed during the lifecycle of material or a product: phases like extraction, transformation, manufacturing, transport implementation, maintenance, and finally recycling.
PUE ou Power Usage Effectiveness – is used to qualify the energy efficiency of a computer operations center. It indicates the ratio between the total energy consumed by the entire operating center (with, among others, cooling, air treatment, UPS (inverters) …) and the part that is actually consumed by the computer systems that this center operates (servers, storage, network)
PUE = Total energy consumed by the Data Center / Total energy consumed by IT equipment.
How can you follow the progress over time?
You can follow the progress at two principal levels:
Maturity of datacenter collection – this maturity score is intended to encourage CIOs to improve the relevance of the data collected. If an organization knows perfectly its fleet, its PUE, its electrical contract, its maturity score will be excellent. Otherwise this this score will be very low.
CO2 evolution month / month
The UI gives you the possibility to visualize the evolution of CO2 consumption par datacenter, workstation, server. On the left, you can see the maturity score that evolves over time when you there are changes to your datacenter and you modify the different parameters (PUE, CO2 coefficient, the average age of your equipment, (hosts, desktops, in the future also switch/routers etc).
You can sort the hosts by efficiency, consumption of energy, and identify the hosts that are the least (most) efficient.

TEE = theoretical energy efficiency.
A low consumption server and well densified = very good CEE & close to its TEE.
Optimization Plans
DC Scope also offers server/datacenter optimization plans taking into account the efficiency of the different physical servers.
In this example, it is proposed to replace the least efficient servers by the server 33 (the most efficient server), which makes it possible to go from 72 servers to 50 servers (reduction in electricity consumption from 224,703 kWh to 160,256 kWh).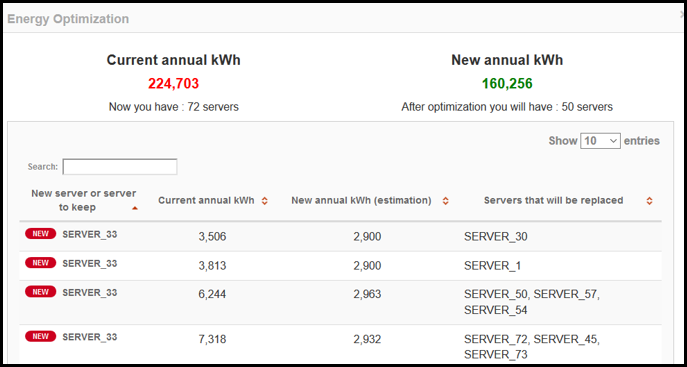 So you have:
Reduced power consumption
Reduction of the number of servers (gray energy)
Simulator of costs – a decision helper
For each server, a simulator makes it possible to compare the current cost of this server with a new server according to various configurable criteria. The objective is to identify the possible economic and/or ecological gains from changing servers.
In this example, we propose to replace server 54 with a new server with different capacities (64 GB RAM instead of 32, lower power consumption…)
And in this example all the criteria are green (all favorable for the server change).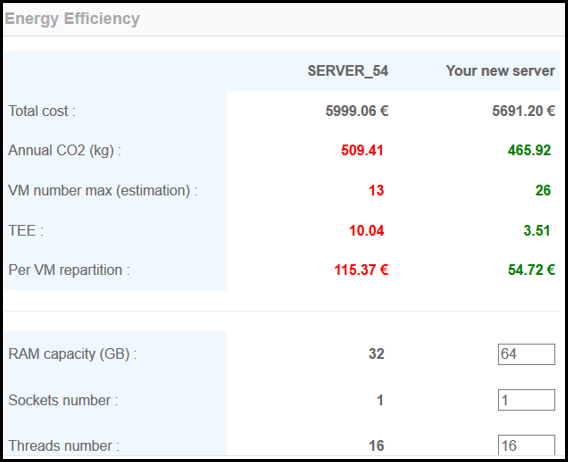 The measures that make you progress towards an optimal (Green) datacenter
During the quest for the most efficient and most optimal data center, IT admins and CEOs can follow some practices that help to achieve better scores. Some of them are listed below:
Optimizing the use of servers

Final or following stops

Server density – reduction in the number of servers

Replacing servers with more efficient servers
But also actions such as:
Increase server lifespan

Improved P.U.E.

(direct or via purchase contract)

Subscribe to a lower carbon energy contract
If you're looking into making your datacenter more Green, then this is a tool to look at. There is not many tools that can be found in this field so far.
Check out DC Scope!
*******************************
Trial Download of DC Scope:
*******************************
More from ESX Virtualization
Stay tuned through RSS, and social media channels (Twitter, FB, YouTube)