I had this question in the comments on one of the posts on the blog and I thought that many users of ESXi Free version might be interested. In fact, yesterday someone asked on Twitter whether the ESXi 7.0 Free version will be available. I checked and it wasn't. A 404 page at VMware made me think that they're working on it -:). Today it is and you can download ESXi 7.0 Free here. Anyway, today the question was whether we can upgrade from 6.7 to 7.0 ESXi, having a free license?
The reply is, absolutely. Even the free version of ESXi 6.x can be upgraded very easily to ESXi 7.0 Free version, and in this post, we'll show you how. For a majority of our readers, this question is absolutely no brainer and for a majority of our readers the ESXi Free version is used for labs or testing, but not in production systems.
The free version of ESXi 7.0 is also a version that has some limitations (I'm sure you know), and one of the limitations is the fact that you can't use backup software and do incremental backups by using CBT (Changed Block Tracking) / VDDK technology. VDDK stands for VMware Virtual Disk Development Kit and this leverages some ESXi APIs which are locked out on the Free version.
Note: During the writing, we have witnessed one strange thing. On the screenshot where you download the ESXi 7.0 ISO, the license there is still for ESXi 6….  I think that VMware hasn't updated it just yet. As you can imagine, the serial isn't compatible with ESXi 7 and works only with ESXi 6.x.
So when the problem will be solver I'll update the post. To be continued…
Limitations of ESXi 7.0 Free
No commercial support (you can get good community support)
Free ESXi cannot be added to a vCenter Server and manage several ESXi hosts from the same console (vCenter server is paid anyway)
Maximum RAM 12TB (which is overkill anyway fo lab use)
APIs are locked out – Yes, some API functionality is missing
But No CPU limit – No physical CPU limitation
There is a limit of the number of logical CPUs per host: 480 (overkill IMHO)
Maximum vCPUs per virtual machine: 8 – this might be a limiting factor that does not allow you to configure your VMs with more vCPUs than 8, but IMHO, it's enough for most workloads.
How to upgrade ESXi 6.7 Free to ESXi 7.0 Free
One of the easiest upgrades is an upgrade via ISO. The first thing you'll need is to go and download the ESXi 7.0 ISO file. Go to this page and log in to your VMware Account (if you don't have one, you can create one for free).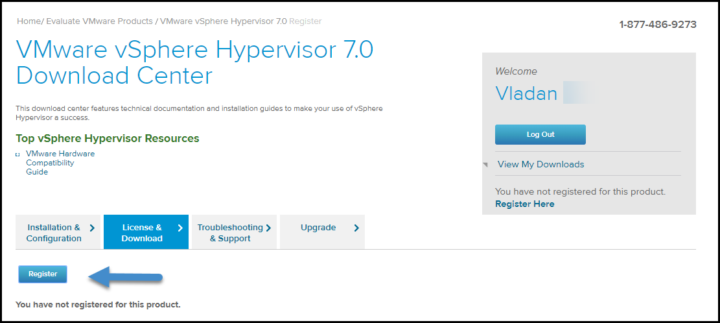 Then fill in the captcha and check the box "I agree to the terms of the End User License Agreement"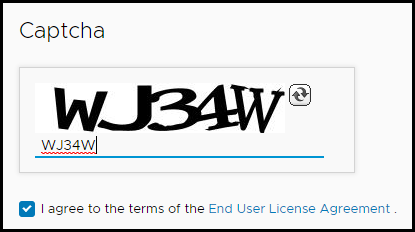 Then you can see the serial number (save it via Notepad, you'll need it later). Click the Manually download button.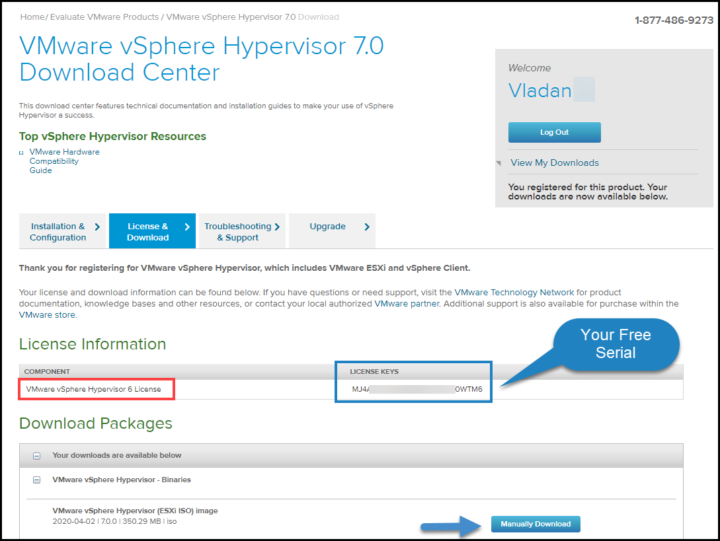 Note that the Serial is for VMware vSphere Hypervisor 6 license (an error or intention? Who knows). It does not work with ESXi 7.0 Iso…. so stay on the eval during 60 days or if you're a vExpert, you can access your licenses via your vExpert portal.
Once you have that ISO, you can burn it to a CD-ROM or create an ESXi installer with Rufus or other:
Check this: Top 3 Free Tools To Create ESXi 6.7 Installer USB Flash Drive
The rest of the steps is quite similar as we have already described in our detailed post (with video) here where we have upgraded ESXi 6.5 to ESXi 6.7.
You will have an option to preserve existing datastore when installing on locally attached disks.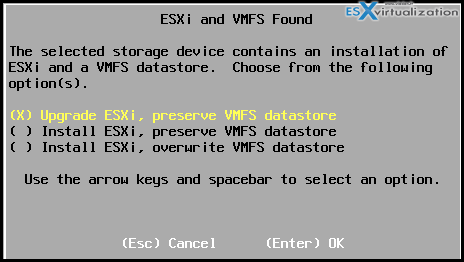 And also you'll have the same or similar screens as when we upgraded from ESXi 6.5 to ESXi 6.7.

So I don't think that we need to repeat those steps here once again.
VMware vSphere 7.0 Blog Posts on ESX Virtualization
You might want to check our Free Tools page where you can find VMware utilities, but also utilities for Microsoft systems or other "Swiss Knife" software there.
More from ESX Virtualization