Today have a new product which I'd like to introduce to our readers, which is easy to use and can help you to improve performance, troubleshoot your vSphere environment, do some capacity planning and monitor the overall health of your infrastructure.
This is the first time I'm approaching this product which is a product "Made in France". In fact, I met EasyVirt folks during the last VMworld 2019 in Barcelona, on their first VMworld and they briefly introduced me to this product.
DC Scope is a performance monitoring product with a possibility to do capacity planning, troubleshoot some "hot spots" of your infrastructure while staying easy to use. The product and the company are still very young but I feel that there is great potential.
After registration for the Trial, the download starts automatically so you don't even have to wait for a confirmation email. DC Scope is distributed as a virtual appliance (OVA file about 1.9 Gb in size) which is simple to deploy to your virtual infrastructure. The destination can be an ESXi host or vCenter server.
During the deployment phase, you're asked first about the language (Fr, En or ES) and then there are the usual questions about the networking (static or DHCP), vCenter/ESXi connection settings, activation.
Out of the box, the 15 days trial is active. If you want to extend your trial period you can submit your product key and the number of VMs in your infrastructure, to get an additional 15-day trial.
The first login/password screen. Enter root as login and easyvirt as a password.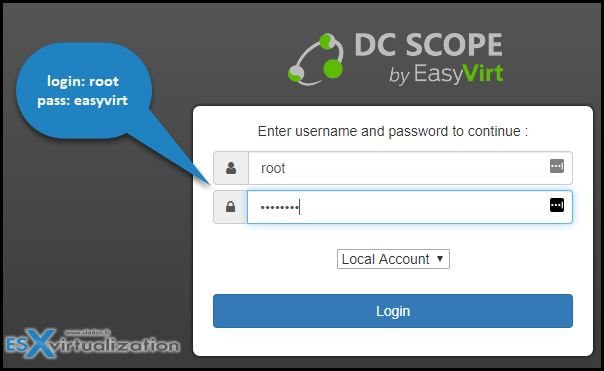 The solution runs a Debian Linux platform and on my (nested) lab I'm running vSphere 7.0 so I had a notification of outdated VMware tools. However, if you're not yet migrated to vSphere 7, you most likely won't see this message.
After the deployment, there is some delay during which the appliance loads the data into a DB and provides the first results. On trials, it takes at least 1 hour to have a minimum data history and the database connection status changes from orange to green. If you want to use the capacity planning then you must wait 2 days during which the product gathers the historical data of periodical usage.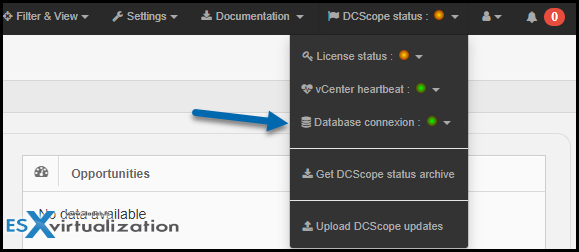 DC Scope Features
Optimization – DC Scope analyses the behavior of your infrastructure, and provides you with recommendations to improve the performance and reduce the waste of resources. It will help you to optimize VMs, servers, and clusters by guiding you through the process of deletion, resizing, or consolidation of elements. DC Scope will help you to reclaim IT resources, improve data center efficiency, and save costs.
There are visual tools that identify the operations needed to optimize the resources in your virtual infrastructure.
Monitor – monitoring of your infrastructure from the ground up. Everything you can think of is monitored. Storage, networking, VMs, hosts, clusters….
Alerts and Notifications – on the right top of the screen you can personalize which alerts you want to have. By default, all alerts are ON, but clicking the individual Alerts can deactivate them.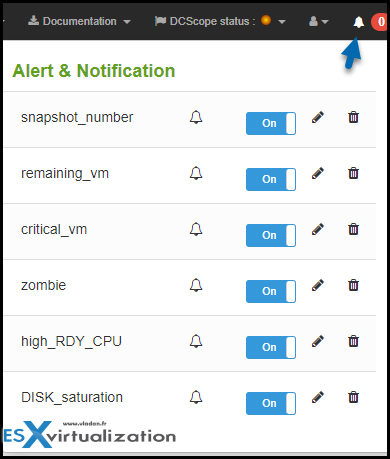 Troubleshooting – The troubleshooting volume is part of the overall UI and is easy to use. It allows you to quickly identify the VMs which has some issues (if any) and fix them. You can see the VMs which are in a degraded state, which means that they have not enough RAM, CPU, storage or network issues.
You can see which VMs does not have any problems or that there are some that does.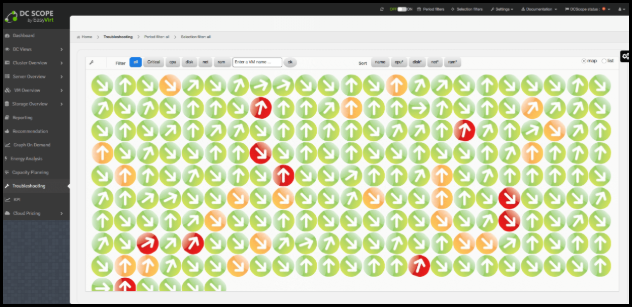 Capacity Planning – This module allows you to forecast the needed capacity of your environment which allows you to justify investment plans, project the capacity for new projects or you can also simulate your Business continuity plan.
Quote:
Simulate the addition or removal of physical or virtual resources in different customizable profiles.
The General dashboard view looks like this.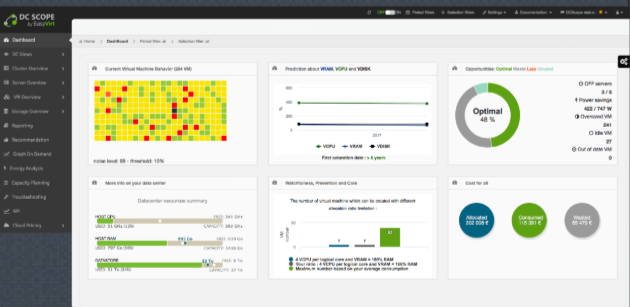 The different indicators and reports can be personalized. In fact, all indicators and reports can be personalized according to your needs (analysis of the particular area, key
figures of production servers or specific ESX, etc.
*******************************
Trial Download of DC Scope:
*******************************
After this introductory article, we'll follow up with more articles that will focus on the individual features and provide more details about this interesting product, later this year. This product evolves on a regular basis. There are frequent updates and improvements.
Stay tuned for more.
More from ESX Virtualization
Stay tuned through RSS, and social media channels (Twitter, FB, YouTube)