Homelabs were always great for learning IT and virtualization. Back in a day, you had to chose the right Motherboard, CPU, memory, and storage, and put it all together, to hope to have almost production "beast" at home. Nowadays, with cloud, we see fewer folks building homelabs because the cloud allows you to build a home lab "on-demand". But you can also have Homelab for cheap with new AMD CPUs. Let's see.
Homelab can be costly. Sure. One could spend thousands of dollars for upfront costs for the hardware just a few years back.
However, when you see the specs of today's (consumer) CPUs and especially the new Ryzen 3000 starting $199, it certainly shows different possibility.
I was always shopping Intel CPUs for the lab, but when I see the price/performance ratio for those new Ryzen CPUs, It is clearly the best option to go for right now.
The new CPUs shall be available July 2019 (now), and the 7nm architecture makes them pretty low-power as well. Those will be the first 7nm desktop CPU available.
The new Ryzen 3000 are using a new architecture called Zen 2 and I'm sure you've read about it all over the place by now. 3600X and 3600 and were revealed to be priced at $249 and $199 respectively.
The AMD CPU line has also more powerful CPUs…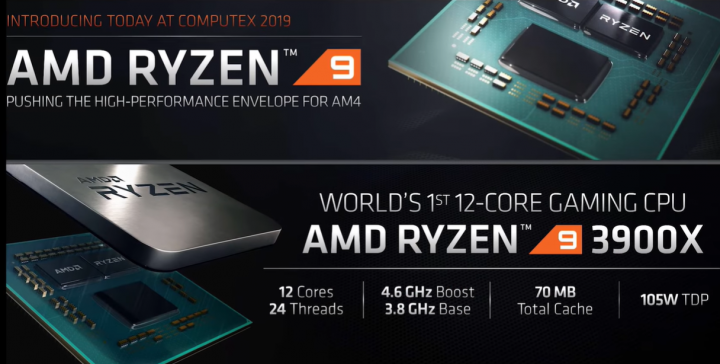 Lisa Su, during the latest Computex, revealed that Ryzen 3000 chips do provide a nice 15% increase in instructions per clock, which should lead to a major increase in single threaded and multithreaded performance.
With that, you also have increased cache for each chip, better efficiency, and reductions in memory latency. You'll see a large increase in power over first and second-generation Ryzen CPUs. Whether you're building homelab now, considering Ryzen CPUs is perhaps a good strategy until Intel reacts and lowers prices on their CPU line.
Still, when you have a look, those CPUs do have 6 cores with 35 MB of cache. When building low-power homelab, think of TDP first. The system will most likely run 24/7 and 7/7. You need the TDP as low as possible.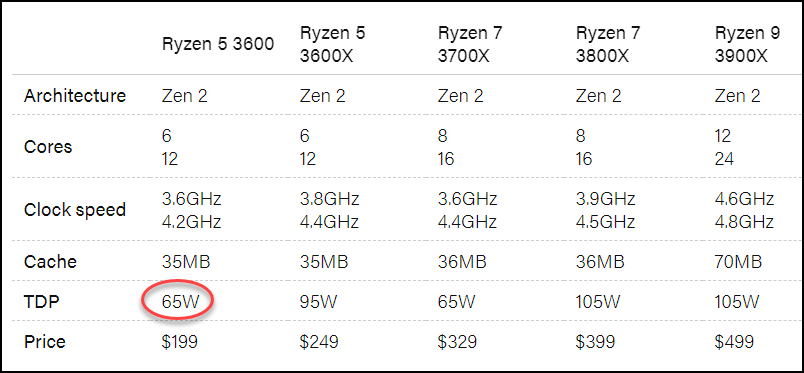 First benchmarks are showing 3700X are equal and comparable in single threaded performance to an Intel Core i7 9700K, but 28% faster in multi-threaded workloads.
The most performant Ryzen 3000 CPU called 3900X claims to be faster than an Intel 9920X priced $1,200. The 3900X is set to be priced at just $499.
Ryzen 9 3950X—16C/32T, 3.5GHz to 4.7GHz, 72MB cache, 105W TDP, $749 (in September)
Ryzen 9 3900X—12C/24T, 3.8GHz to 4.6GHz, 70MB cache, 105W TDP, $499
Ryzen 7 3800X—8C/16T, 3.9GHz to 4.5GHz, 36MB cache, 105W TDP, $399
Ryzen 7 3700X—8C/16T, 3.6GHz to 4.4GHz, 36MB cache, 65W TDP, $329
Ryzen 5 3600X—6C/12T, 3.8GHz to 4.4GHz, 35MB cache, 95W TDP, $249
Ryzen 5 3600—6C/12T, 3.6GHz to 4.2GHz, 35MB cache, 65W TDP, $199
Storage with PCIe 4.0 ?
NVMe and PCIe4 anyone? Yes, the new devices are slowly dropping in price and coming to the market. To take advantage of speeds of PCIe 4 one need at least Ryzen 3000.
Sabrent's Rocket PCIe 4.0 is now available on at Amazon starting at $230.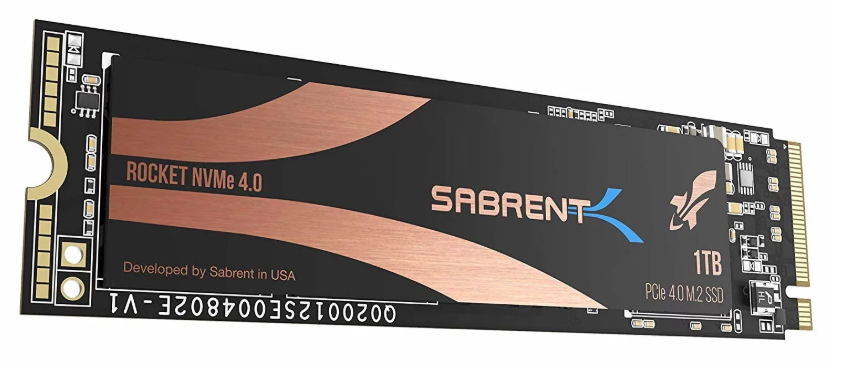 Imagine the homelab beast with those CPUs and storage. Where will be the bottleneck this time?
Only X570 motherboards will support PCI Express 4.0
The PCI Express 4.0 standard supported on motherboards with X570 chipset only. PCI Express 4.0 SSDs that can have twice faster over PCI Express 3.0. With over 5000MB/sec
The Rocket PCIe 4.0 can reach read speeds of 5,000MB/s and write speeds of 4,400MB/s.
3rd Gen Ryzen CPUs will work are backward compatible with motherboards with B450 and X470 chipsets.
Ryzen 3000 will support 3,200MHz frequencies out of the box and will allow for overclocks up to 4,400MHz.
Two of those motherboards which are not yet currently available (but will be soon) are the ones from Asus – Asus ROG Crosshair VIII Impact and Asus ROG Crosshair VIII (Wi-fi). Or, there are also some other manufacturers providing their hardware, such as MSI MEG X570 Ace, or the ASRock X570 Phantom Gaming ITX.
The last one from Asrock has one PCI-Express 4.0 x16. Storage connectivity includes one M.2-2280 with PCI-Express 4.0 x4 and SATA 6 Gbps connectivity; and four SATA 6 Gbps ports. Networking options include 2.4 Gbps 802.11ax WLAN, Bluetooth 5.0, and 1 GbE driven by Intel i211-AT.
Perhaps it's time again to reconsider building a homelab or just a general use PC with VMware Workstation? Who knows?
More from ESX Virtualization
Stay tuned through RSS, and social media channels (Twitter, FB, YouTube)