First chapter today of the whole VCP-DCV 2019 study guide which has 41 chapters to cover. We cover the chapters in no particular order. The study guide page is here – VCP6.7-DCV Study Guide and it is a "work-in-progress". Today's topic is Objective 5.2 – Monitor resources of VCSA in a vSphere environment.
Chapter after chapter we're getting closer to fill the blueprint objectives and help students to study and pass the Professional vSphere 6.7 Exam 2019.
Since there are no special guidelines and sub-chapters like in the VCP6.5-DCV Study Guide, we basically cover what we think that's important for that chapter. However, you should not rely on our information only.
In order to become VCP-DCV 2019 certified and pass the Professional vSphere 6.7 exam, we follow are the guidelines from the VMware Exam blueprint 2V0-21.19..
Check out: VMware Certification Changes in 2019. No mandatory recertification after 2 years. Older certification holders (up to VCP5) can pass the new exam without a mandatory course, only recommended courses are listed).
The Professional vSphere 6.7 Exam 2019 (2V0-21.19) which leads to VMware Certified Professional – Data Center Virtualization 2019 (VCP-DCV 2019) certification is:
A 70-item exam
Passing score of 300 using a scaled scoring method.
Candidates are given 115 minutes to complete the exam
Now, you don't have to pass the latest exam to become VCP-DCV 2019 certified. Did you know?
To become VCP-DCV 2019 certified you have 3 different choices of exam:
Professional vSphere 6.7 Exam 2019
VMware Certified Professional 6.5 – Data Center Virtualization exam (our VCP6.5-DCV Study Guide Page which is complete)
VMware Certified Professional 6.5 – Data Center Virtualization Delta exam
Note: You must be VCP5, or VCP6. If, not, you must "sit" a class and you have no "Delta" exam option.
This guide is available as Free PDF!
Free Download at Nakivo – VCP6.7-DCV Study Guide.
VCP6.7-DCV Objective 5.2 – Monitor resources of VCSA in a vSphere environment
VMware vCenter Server Appliance (VCSA) has regular updates which bring new features. Not so long ago it was only a black box which you could only monitor with CLI or via console session. Today, VCSA has it's own management and offers the monitoring of several components like CPU, disks, network, or even services through UI.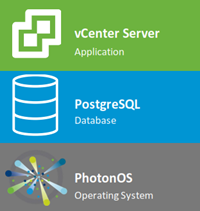 VCSA is composed of Photon OS, PostgreSQL database and vCenter server application. Feature parity was a goal for VMware since several vSphere releases. Now it is. The Linux based appliance has HTML5 management of all functions that Flash-based client. The vCenter on Windows is still possible in vSphere 6.7 but it is the last release. Next major release is VCSA only.
Services can be restarted within the UI as well.
Some predefined firewall
Right after login to the management interface of VCSA through port 5480 you get the overview of the health status. You can see if any of the components (CPU, memory, database, storage swap) are in good condition. If any of the mentioned isn't, then you'll see a yellow icon.
The connection to VCSA management:
https://ip_or_fqdn:5480
Here is the summary tab view.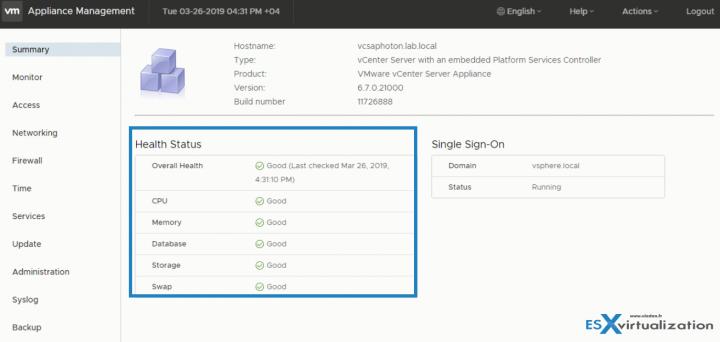 Then when clicking the Monitor menu, you'll get full details of each. This single menu item has all the monitoring you need. CPU and Memory, Disks, Network and Database. With the improvement of monitoring, there are also improvements in alerting. For example, you'll receive a vCenter alert when one of the disks is getting low on space.
Image from VMware.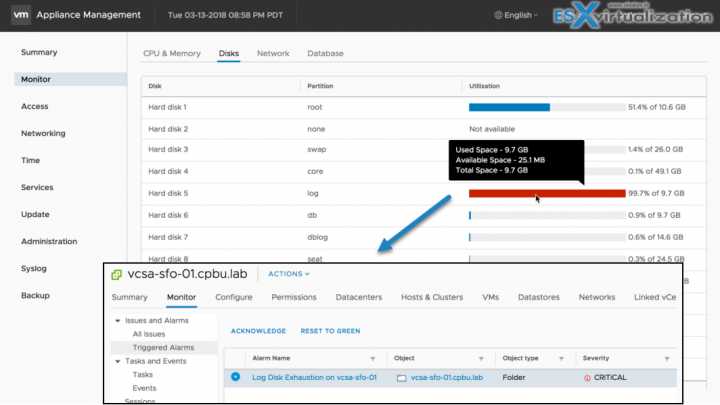 The alerts are triggered for warning and critical when reaching thresholds:
Disks – Warning 75%, Critical 85%
Memory – Warning 85%, Critical 95%
CPU – Warning 75%, Critical 90%
The services Menu provides us with a possibility to manage VCSA services. We can start, stop or restart individual services. You can sort individual columns.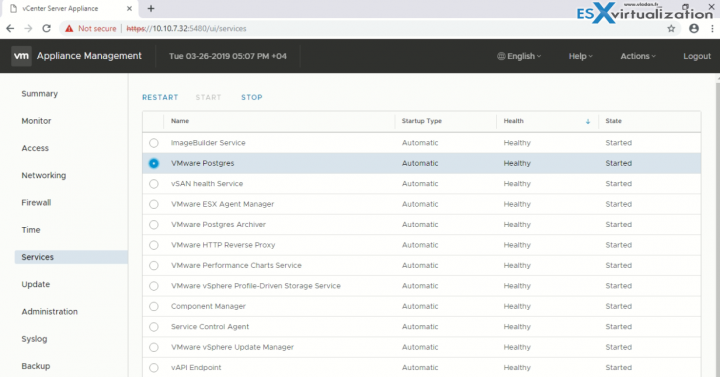 Firewall Management
VMware VCSA allows you to create custom rules. You can access the firewall via the menu on the left, navigate to Firewall.  After, there you can click on Add menu button to add a new rule.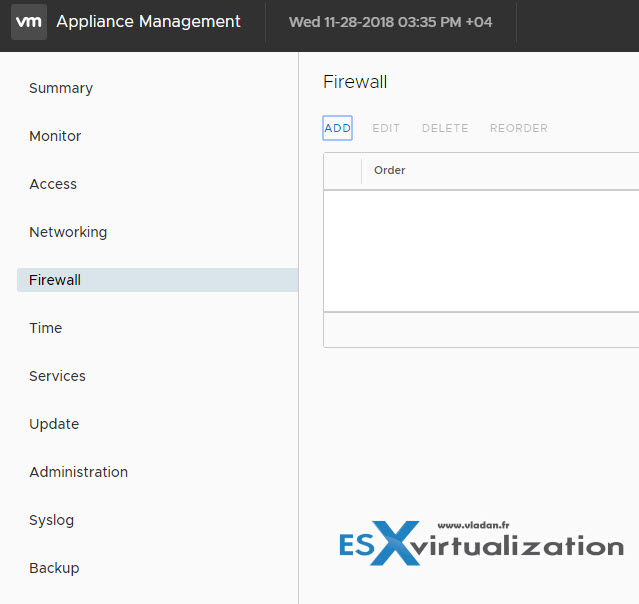 You'll see an overlay pop-up window appear inviting you to fill certain details.
Here are the details. You have the choice of:
Network Interface – a drop-down menu allowing you to chose the vNIC you want to add the rule for.
IP address – address from which you want to allow/block traffic
Subnet Prefix Lenght – subnet details
Action – accept or refuse traffic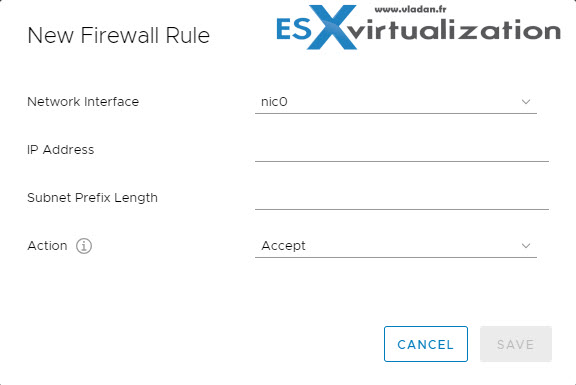 and here is a screenshot of when you hover the mouse over the "i" next to the Action.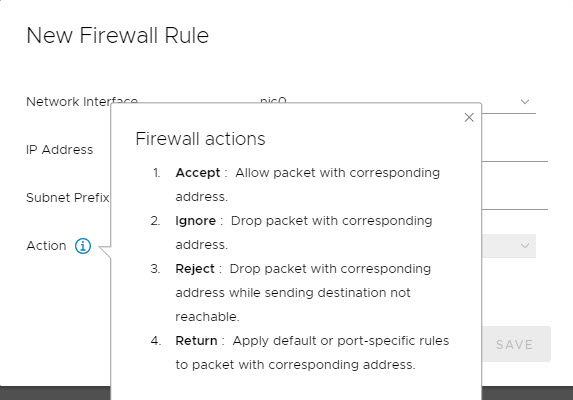 Time management
You can access the time management through the Time menu and configure the time zone and add NTP servers. All this is accessible through a web browser without any plugin.

I won't go through all the tabs, but you get the idea. You have all appliance configuration options, including self-backup, accessible through the appliance management interface through the port 5480.
While we try to cover everything that's needed, we do not know what exactly VMware will require you to know for the exam. Use this chapter as a guideline, however, your principal study material should be the Documentation Set PDF, as well as your home lab or day-to-day work with the infrastructure.
Remember that you can still pass the older exam, the VCP6.5-DCV and still be VCP-DCV 2019 certified… -:)
Follow the progress of the VCP6.7-DCV Study Guide page for further updates.
More from ESX Virtualization
Stay tuned through RSS, and social media channels (Twitter, FB, YouTube)