There is a new release at VMware in the "VDI space". After the successful release of Horizon 7 with Instant Clones, Blast Extreme, and other cool technologies, there is a 7.0.1 release which adds even more. Horizon 7.0.1 is released together with App Volumes 2.11 (now supporting Horizon 7.x) and also vROPS 6.3.
App Volumes 2.11 release brings just compatibility. You can now deliver AppStacks and Writable Volumes to Instant Clones and Linked Clones hosted on VMware Horizon View 7.0 and VMware Horizon View 7.0.1 machines. Otherwise, as you know there is already App Volumes 3.0 released since end of march, but VMware continue to develop both VMware App Volumes 2.x and 3.0.
All the releases in the desktop infrastructure products:
VMware App Volumes 2.11
VMware Horizon 7.0.1 Advanced
VMware Horizon 7.0.1 Enterprise
VMware Horizon 7.0.1 Enterprise Add-On
VMware Horizon 7.0.1 Standard
VMware Horizon 7 for 64-bit Linux systems
VMware vRealize Operations for Horizon 6.3.0
VMware vRealize Operations for Published Applications 6.3.0
The new releases brings new features and resolve many issues.
Horizon 7.0.1 New Features:
Configure the clipboard memory size for VMware Blast and PCoIP sessions
View administrators can configure the server clipboard memory size by setting GPOs for VMware Blast and PCoIP sessions. Horizon Client 4.1 users on Windows, Linux, and Mac OS X systems can configure the client clipboard memory size. The effective memory size is the lesser of the server and client clipboard memory size values.
VMware Blast network recovery enhancements
Network recovery is now supported for VMware Blast sessions initiated from iOS, Android, Mac OS X, Linux, and Chrome OS clients. Previously, network recovery was supported only for Windows client sessions. If you lose your network connection unexpectedly during a VMware Blast session, Horizon Client attempts to reconnect to the network and you can continue to use your remote desktop or application. The nework recovery feature also supports IP roaming, which means you can resume your VMware Blast session after switching to a WiFi network.
Configure View Administrator to not remember the login name
View administrators can configure View Administrator to not display the Remember user name check box and therefore not remember the administrator's login name. For more information, see KB 2145405: Configure View Administrator to not remember the login name.
Allow Mac OS X users to save credentials
View administrators can configure View Connection Server to allow Horizon Client Mac OS X systems to remember a user's user name, password, and domain information. If users choose to have their credentials saved, the credentials are added to the login fields in Horizon Client on subsequent connections.
Horizon 7 for Linux desktops enhancements

Support for managed virtual machines
Support for smart card redirection with SSO
Support for Horizon Client for iOS
Support for SLES 12 SP1
Support for H.264 encoder software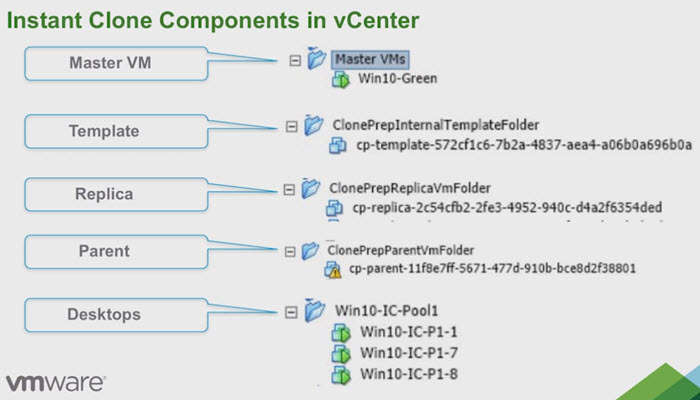 You can check the releases from this page at VMware. They're part of the Enterprise version of Horizon View 7.
Release notes can be found here.
Stay tuned for more detailed posts about Horizon 7 where we'll be testing and exploring the product in our lab, during the upcoming weeks, months… Follow via the usual social media channels:
Follow via the usual social media channels: