Yesterday's post about VMware Tools for Nested ESXi hosts (a VIB – vSphere Installation Bundle) – which allows installing VMware tools in VM running nested ESXi is an exciting functionality for home labbers and people struggling to get more physical hosts to play with in the lab. The VMware Tools for Nested ESXi adds possibility to do graceful shutdown of such a VMs or build a vApps which can be shut down properly. You might wonder if it's possible to integrate (slip stream is a Microsoft term for it, right?) this VIB package into the installation ISO, so when installing the VM, the package is already in? Yes it's possible. So, How-to Build a custom ISO with VMware tools for Nested ESXi? It's very easy.
How to Build an ISO with VMtools for Nested ESXi?
Download excellent utility from Andreas Peetz called ESXi Customizer. Extract it to some folder.

Open command prompt and CD to the directory where the ESXi-customizer.cmd is located. See the image below.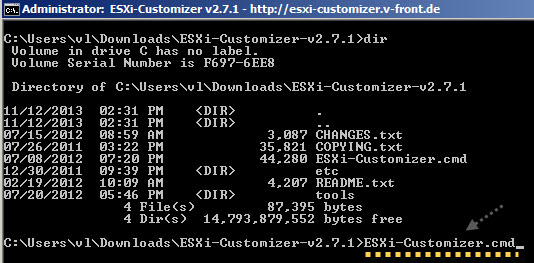 When you execute the ESXi-customizer.cmd , a GUI window will open, where you can specify several options which are necessary to build the custom image:
Location of the original ISO image that you downloaded from VMware
Location of the VIB VMware Tools for Nested ESXi from VMware Labs website.
A destination of the new personalized ISO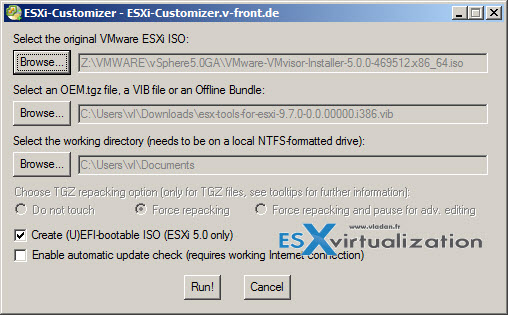 Cannot be simpler !
ESXi labs are used by many folks at home as all-in-one box, usually running free version of ESXi 5.5, which now offers unlimited physical RAM. My recent build is using consumer based Intel CPU with i7 4770s Haswell architecture allowing 32Gb of RAM. I needed to integrate a Realtek drivers so the internal NIC get recognized with ESXi 5.5 (is not recognized by default). That's why I needed to integrate those drivers in the ISO. Read my experience how it's done here – Realtek 8169 NIC in ESXi 5.5 not detected by default – install a VIB.
But just to say that now with that customized ISO you can build a nested VM to run ESXi 5.x in a nested lab or do a demo for a colleagues or clients.
I recorded a quick video do demonstrate the process. Best watched in HD and full screen… Enjoy
The article was published first at ESX Virtualization website. Feel free to subscribe via RSS or by e-mail to get the latest news to be delivered via weekly newsletter.
The latest 200 articles of daily updates can be found on our daily archives page.