Zerto Virtual Replication product can not only replicate, but also backup VMs which are present in a protection group. It's not a full-fledged backup product with fine-grain scheduling engine and ++ tweak options, but it allows to recover a VM from backup which is up to 1 year old. All this is accessible very easily within the nice, HTML5 web based Zerto user intereface. We'll have a look today how does it look like and what's possible within the Zerto UI.
The Zerto UI is really cool. I really want you to check my previous posts where I set up the lab and configured a VPG (virtual protection group). The work within the Zerto UI is pleasant. I must say that not dealing with Adobe Flash is a big step forward not only for Zerto but also for other enterprises producing software which do have a web-based console. Zerto has HTML5 based web UI which is fast and responsive.
Let's have a look at the backup options. If you have read my post where I configured new VPG you could see that the option to switch on the backup within the assistant was grayed out. It's because before configuring a backup for your VMs, you need to setup a repository where the backups will be stored. Logical. So let's see where we setup the repo.
Connect to the Zerto UI and go to the Setup TAB > Click the rectangular area Repositories > and then the link New Repository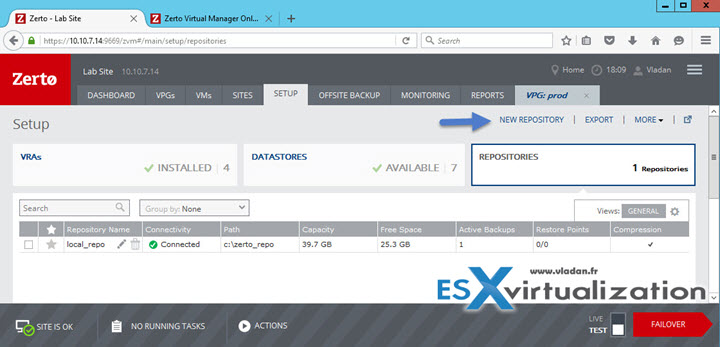 This starts an assistant which gives you the choice to create a repository to store your backups. You have a different choice:
You just need to provide the Name, chose a type and provide network credentials as well as the path. Once you click the Validate button, you'll see how much free space the location has. You can also check the box Set as a default repository if you want to store all the backups there. Click the Save button to validate the option. Enable compression checkbox is checked by default.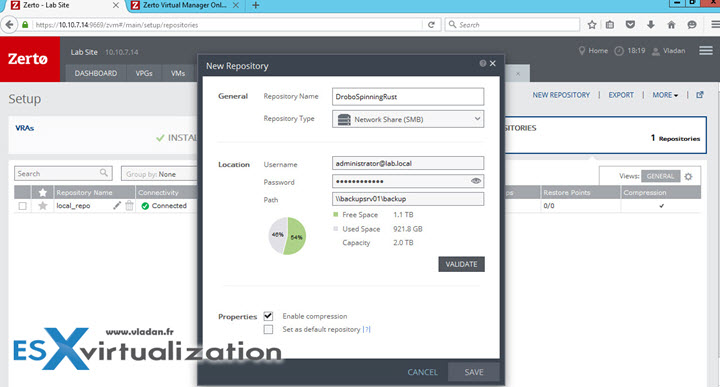 The local repo is a repo which is located within the reach of the local system only. (locally attached disks). If you have installed Zerto manager in a VM you can add additional virtual disks and setup the local repo as such.
Once you have setup the repository, it's fairly simple. You go and edit your VPG and activate the backup schedule…. (See the nice button which you have to put to the ON position?) There is not much to setup. You can choose daily or weekly backup and the Retention period which goes from 1 Week to 1 year. A 3 to 6 month period would fit my conscience I think,  as then the data would have been too old to recover. But it depends your environment, your requirements, and your needs so you perhaps will need retention periods longer than that. The maximum is 1 year.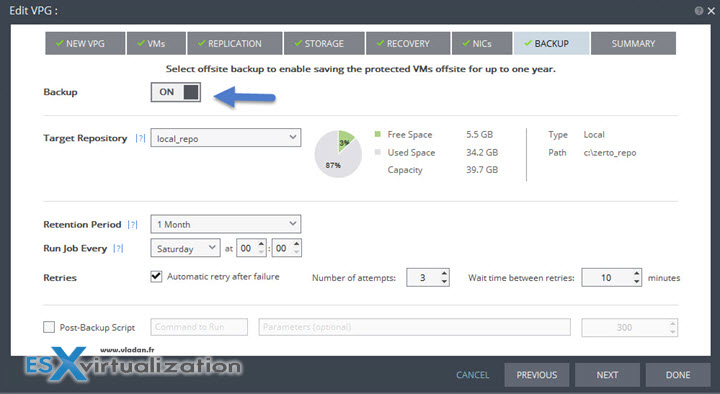 Once you have that configured and the first job has run you can restore your VMs present within the Zerto Virtual Protection Group. Let's show you how. You need to go first to the Offsite Backup TAB and Select the VPG > Down bottom the Actions button > Select Restore Backup.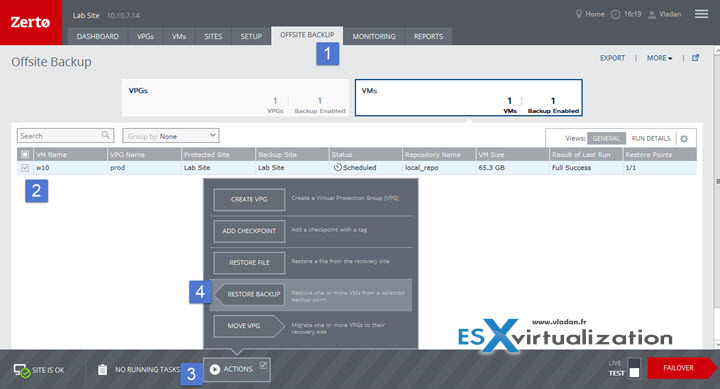 It will start a new assistant where you chose different options. You chose the restore plan. You can restore directly from backup or from Repository. In case, when you have deleted the VPG, you can still restore from backup. You can click to enlarge…

Then chose a restore point… (I have only one)…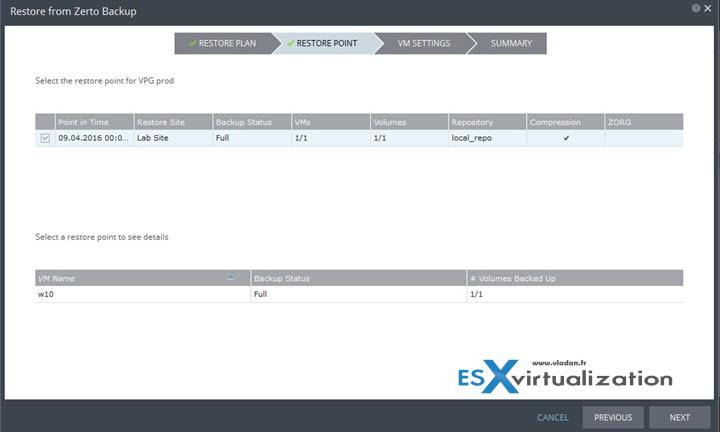 Note the pencil when you hover the mouse. It allows you to change options. In the example below I'm hovering over the VM's name, and when you click you can change the VM to have a different name in case the original VM is still alive and you want to run both …. The same for the other colons. Datastore colon allows change datastore and etc. You get the point.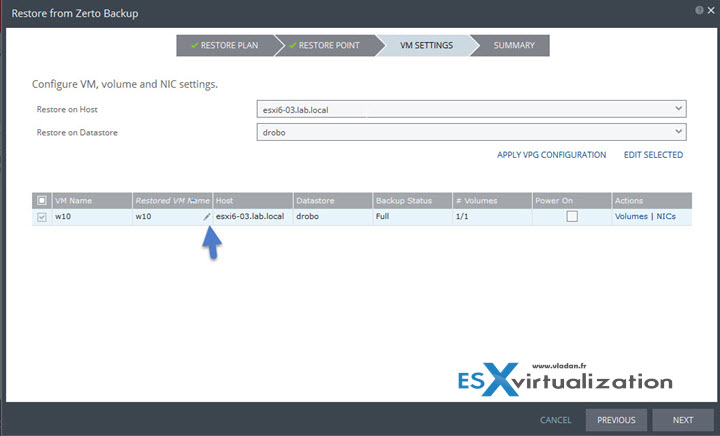 Then final screen…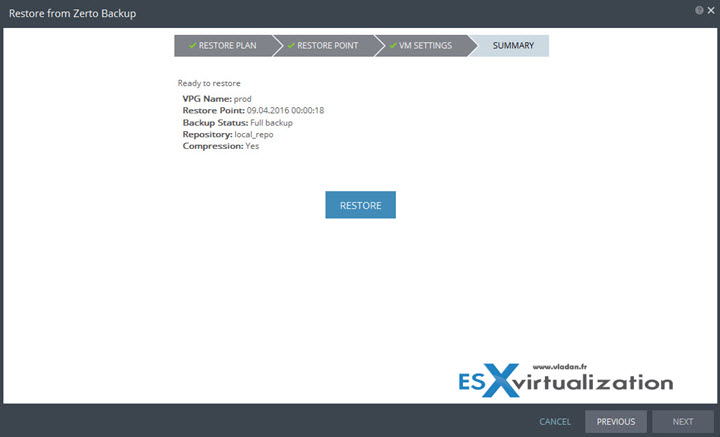 Manual Backup? Yes, also possible.
Last point. It's also possible to initiate a manual backup. Click the More Link (next to the Export) and chose Run Backup.

Recover Individual Files from Zerto Journal is also possible and we'll check it out in another post. Journal File Level Recovery allows you to recover Individual VM's Files from a journal. Previously you could already recover a full site, application(s) or VMs, but the additional granularity giving you a possibility to recover files within the Zerto UI is something that's a real step forward. Stay tuned for more…
Zerto Serie:
How-to Configure Backup in Zerto Virtual Replication – (This post)
Try Zerto Here.