Zerto Virtual Replication product has been reviewed while a back on our site. At that time, version 2 of the product announced revolution in technology of replication. We like that technology which do not uses hypervisor's snapshots. Today we had an opportunity to install Zerto in a lab and see how the v4 of Zerto changed.
I know that Zerto is moving quite fast (currently preparing 4.5 release) and that they moved into multi-hypervizor space as well. We can see this trend those days as the Hyper-V technology seems to be good enough to run small to medium sized workflows. Zerto has separate installer for VMware vSphere and also one for Hyper-V.
Let's recap first what's new in the v4 release:
New HTML 5 User Interface
Multi-hypervisor support – with cross-replication from vSphere to Microsoft SCVMM and Amazon Web Services (AWS)
Sizing improvements
More Secure Virtual Replication Appliances
vSphere 6 support
Screenshot showing the main dashboard. HTML 5 UI and few tips what to do next…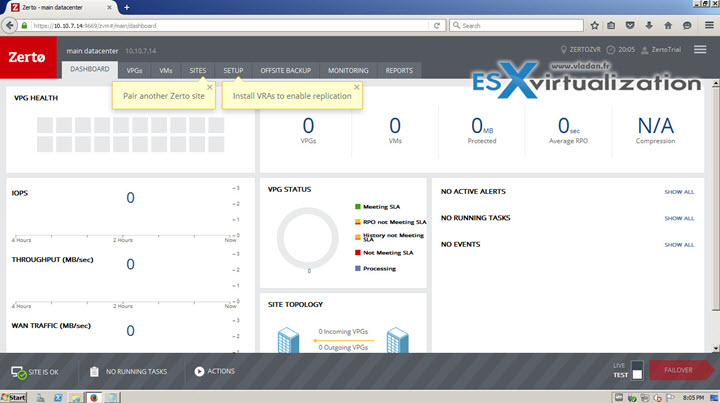 The first thing that you notice is simplicity of deployment. The only requirement for the VM where you want to install Zerto is that you must install .NET 4 (bundled when you download the installation package).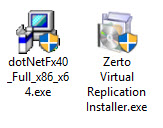 As an OS you'll need Windows Server 2003 SP2 or higher, Windows Server 2008, 2008R2, 2012, or 2012R2 with at least 1 CPU and 2GB RAM reserved. And also you'll need at least 4GB of free disk space. So pretty low system requirements.
The VRA deploys itself by default with 3Gb of RAM, but if you're planning large protection group, higher memory allocation must be done.
Once you install the .NET 4 you can start the deployment process which allows to do Express Installation or Custom Installation. You then chose your vCenter (or ESXi) IP address, Login/password combination plus a name of a site, which is important to find your way afterwards…

The next steps are pretty straightforward as you have a only 2 screens left …

Zerto recommends using SQL Server with sites with more than 40 hosts that have virtual machines that require protecting and more than 400 virtual machines that need protecting.
The first connection invites you to install a Product license… Nice UI..-:) Note that second radio button allowing to pair with another site where the license has been already entered…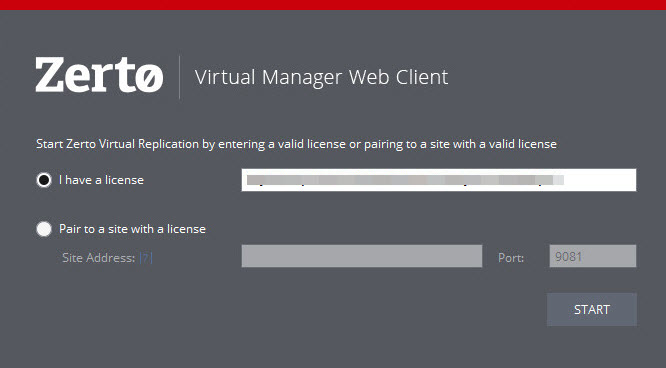 I know I haven't talked about architecture. You can have two cases:
Case 1 – vCenter on both ends
Case 2 – vCenter on main site and DR site is also managed via this vCenter server – (we're detailing it in this post)
Case 3 – You have your own vCenter server and replicate to a vCD (vCloud Director) or AWS – (Rafaello details it in his post here)
So in case of vCenter servers on both ends you'll have to also have:
Zerto Virtual Manager (ZVM) installed on both ends
Virtual Replication Appliance (VRA) on both ends
Zerto Virtual Replication is installed in a site with VMs to be protected as well as in the site where these VMs will be recovered. The architecture where you have 2 vCenters (or vCenter and SCVMM) look like this….
You can see the ZVM (Manager) on both ends and also VRA (Appliance).

As mentioned on the first image, there are hints when you first open the main ZVM interface (Zerto Virtual Manager). Those hints allows you to move forward with the initial deployment. The next step would be to deploy ZVR appliance. You should install VRA on every host in your cluster as the VMs you want to protect can certainly move freely within your cluster so each of the host shall have VRA installed….
Check this initial hits after you log into the ZVM (Zerto virtual manager) UI …
When you click the setup tab you'll get to a screen where you can deploy the VRAs. You can deploy VRA one-by-one or several VRAs at the same time…
Here are the details on what you need to select:
host
root password
Datastore
Network
vRAM allocation to the appliance
VRA Group
Networking details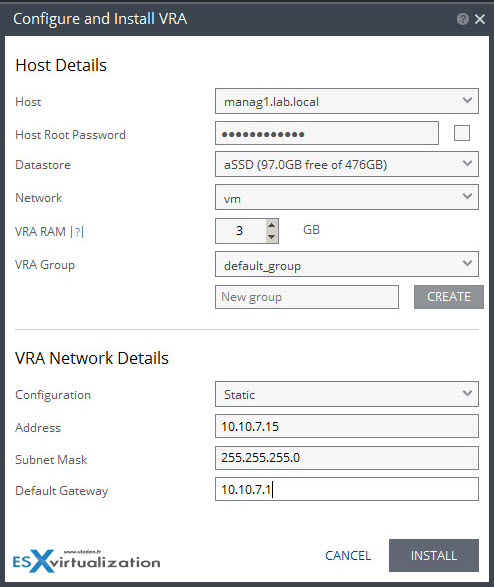 Once done, hit the install button and watch the progress bar… (click to enlarge).

Also down the screen there are larger buttons showing the Site health, running tasks and Actions buttons.

Note that uninstall of the appliance is simple as well. You can see the garbage can next to the edit button allowing you do uninstall the ZVR from the host remotely without going through vSphere client.
The Zerto integration within the vSphere client …. .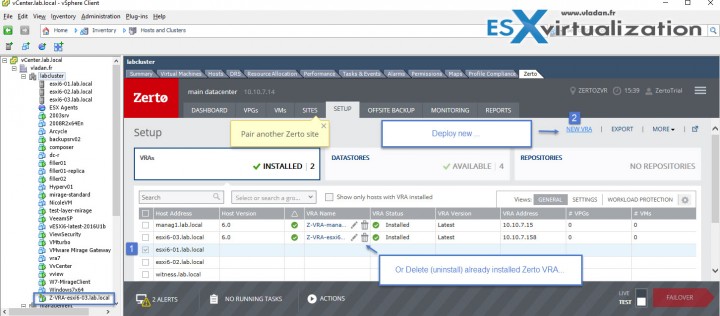 And here we have all the hosts deployed with the VRAs (I have 3 hosts in my VSAN cluster) and single host in my management cluster. I'll setup a replication between my management cluster and my labcluster.
You can protect your VMs when you only have single vCenter server:
Between hosts in different clusters
When you have ROBO sites being managed by vCenter located in the main datacenter. In this case the main site can be used as DR site for the ROBO sites.
When Single vCenter Server is used (Case 2)
Your infrastructure is managed via single vCenter Server, you have to enable replication to the same vCenter Server (pairing is not required). How to do that?
The steps: 
Open the Zerto Virtual Manager and go to the right top menu there > Site Settings.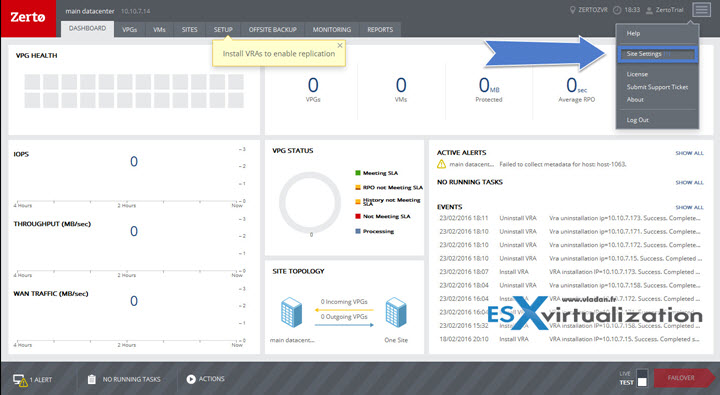 Then in the site settings dialog go to Policies > Check the box Enable Replication to Self.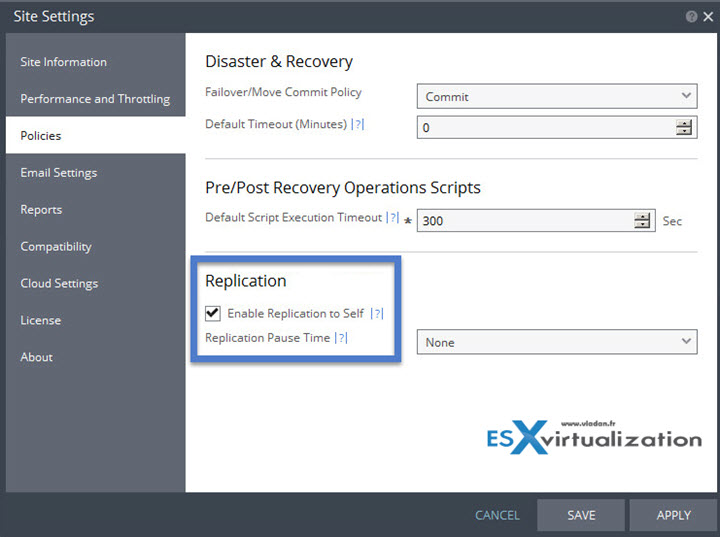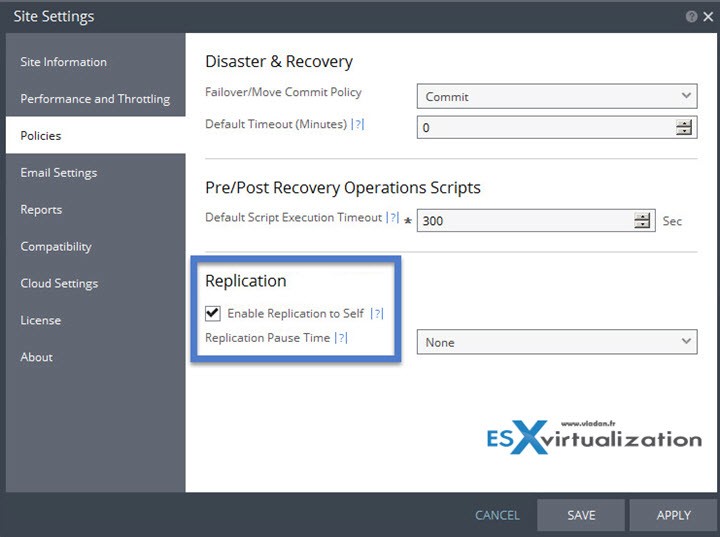 Hit apply and you're done.
Wrap up
As you can see the UI is nicely done and intuitive. You have two ways to manage Zerto:
Via vSphere Client and the Zerto TAB (integrated to the vSphere Windows C# client)
Vie web console by using
https://IP_of_Zerto:9669/zvm
Deployment of VRAs is fast, navigating through the web UI is intuitive, so the learning curve is really fast. You can be up and running really fast. I haven't touched any info about firewall port requirement but this is very well documented in the Installation guides, so if you'll planning to test Zerto, remember that those docs are your friends.
In one of our future posts we'll have a look at the protection groups, which kind of protection group it's possible to create etc. Stay tuned…
Zerto Serie:
Zerto Virtual Replication Lab Deployment (This post)
Download Zerto Trial from their website.
More from ESX Virtualization:
Stay tuned through RSS, and social media channels (Twitter, FB, YouTube)