VMware Paravirtualized SCSI (PVSCSI driver)
Introduced with vSphere 4 this driver can speed up and offload CPU.  VMware Paravirtual SCSI (PVSCSI) adapter is able to achieve 12% more throughput with 18% less CPU cost compared to the LSI virtual adapter.
vSphere ships with this new high-performance virtual storage adapter. Bus logic and LSI logic were the only choices so far. PVSCSI is best suited to run highly I/O intensive applications in the guest more efficiently (reduced CPU cycles).
Prerequisites:
Verify that the virtual machine has a guest operating system with VMware Tools installed.
Verify that the virtual machine has hardware version 7 or later.
Ensure that you are familiar with PVSCSI limitations
Before you activate and configure take into consideration that:
You can't use PVSCSI on a VM which is configured for Fault Tolerance protection. (BTW if the VM has FT enabled, it can't use VMXNET3 either…). See the requirements and limitations of FT here.
The actual step-by-step for Windows you can follow here or Linux here.
In the vSphere Client inventory, right-click the virtual machine and select Edit Settings.
Click the Hardware tab and there you click Add > Select SCSI Device and click Next.
Select a SCSI device in the Connection panel > Select an unused Virtual Device Node and click Next. (for example the 1:0)
Review your selections and click Finish > the system will add new SCSI Controller and New SCSI Device.
Click OK > Reopen the Virtual Machine Properties Editor.
Select the new SCSI controller and click Change Type.
Select VMware Paravirtual and click OK > Click OK to save your changes.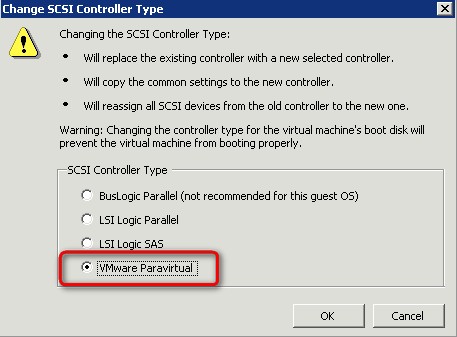 For some more documentation and(or) how-to, some more links:
Check more articles from ESX Virtualization:
*********************************************************************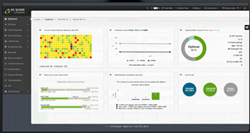 DC Scope for VMware vSphere – optimization, capacity planning, and cost management. Download FREE Trial Here.
Tracks the performance of VMs with a summary view of the resources and metrics in degradation.
Easily improve the performance of your infrastructure.
DC Scope is affordably priced per VM.
*********************************************************************
Stay tuned through RSS, and social media channels (Twitter, FB, YouTube)