And another lab post today. Today we will migrate our Windows based vCenter server 6.0U2 to VCSA 6.5. VMware worked hard on this one so I'm wondering whether I'll experience problems or not. It is my main lab vCenter server which historically runs on Windows, but in each major version (5.0, 5.5 and 6.0) I finished to do a clean installation. The advantage with lab systems is that you don't have much to lose…. But let's get back to our post – How to Migrate Windows Based vCenter to VCSA 6.5.
There will be a detailed video at the end, and this video is partly accelerated, to skip the boring parts, where nothing really happens. You'll see the counter running, to give you an idea on how long it can take. It depends on your system, the speed, the storage, etc…
Note that you may really want to migrate as soon as possible, your production environment. But one of the first questions you should ask yourself is – Is my backup/monitoring product compatible with vSphere 6.5? For example, Veeam Backup and Replication 9.5 (released just yesterday – read my detailed post here) will be compatible with vSphere 6.5 only with its U1 release, which shall be released in about two months.
Also, In the video, you'll see that I had a small prompt, an error, that my Zerto plugin isn't compatible with 6.5 version. Well, this is something you shall verify with your software provider. Plugins, backup/monitoring products, but also hardware. You will not like to find out that, for example, your network card does not have a supported driver for the vSphere 6.5 release, right? All this has to be checked before!
A small screenshot from the video showing that my C# client did not work after the migration. So I'm left with vSphere Web client (Flash) which is faster than the 6.0 release. Or I can use the new HTML 5 client to connect to my vCenter. But in this case, not everything is implemented just yet. The HTML 5 client, even with weekly updates, is not just finished yet.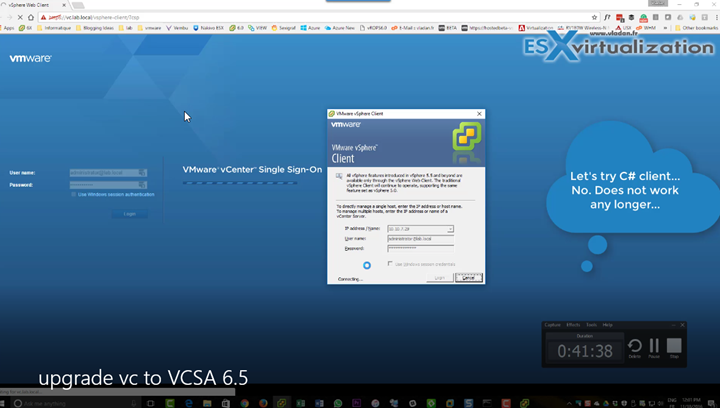 What do we need to migrate?
Step 1: connect to your vCenter server on Windows and mount the VCSA 6.5 iso file. Then open the folder called migration-assistant and execute the VMware-Migration-Assistant.exe to start the CLI helper. Next, you'll be asked for an SSO password (it's a CLI window). Hit enter and leave like this… The product will initialize itself, executes its scripts. You should NOT close this window…

Step 2: Go to your management workstation/laptop and mount again the VCSA 6.5 file > open the vcsa-ui-installer folder and pick the version you need. You can have Windows, MAC or Linux based management workstation… plenty of choices!!! Launch the installer.exe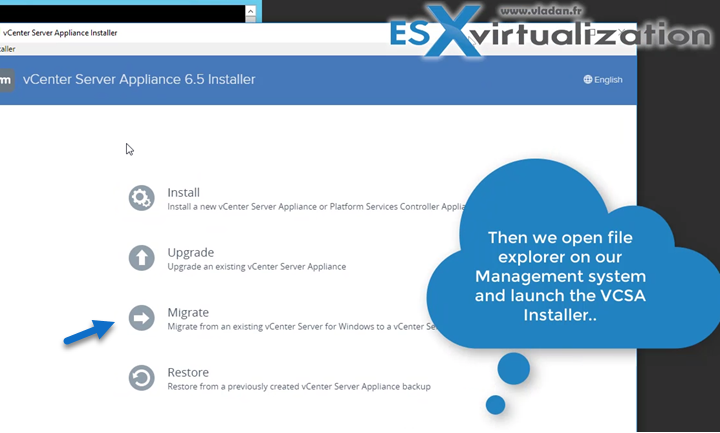 Then Follow the assistant. You'll be asked questions about what's your source vCenter server, where you want to register the VCSA 6.5 VM, the temporary IP configuration of the VCSA etc…
An example below showing the connection to my "legacy" Windows vCenter…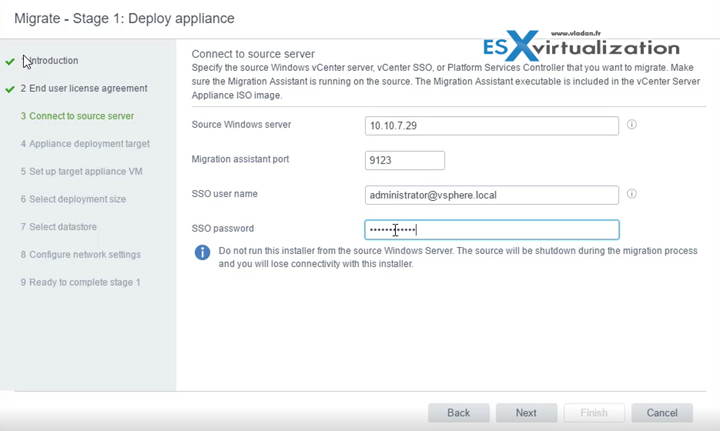 The best is to watch the video. It's 1080p video so watch in Full Screen!
VMware vSphere 6.5:
Installs, configs, upgrades…..
Check All vSphere 6.5 articles on our Dedicated vSphere 6.5 WordPress Page !!!
Stay tuned through RSS, and social media channels (Twitter, FB, YouTube)