Update: You should really check the latest post on How to create bootable VMware ESXi 5 U1 by using VMware Player for Free – It's the fastest and easiest method to create bootable USB memory stick with the latest Free VMware ESXi 5 U1 hypervisor.
Written in the past (some time ago…) , I published a how-to called "Howto install ESXi 3.5 update 3 on USB memory key". The things has changed today a bit. The how-to is about the same but ESXi 4.0 and vSphere is new and it rocks…. We are in the ESX 4 Era… With ESX Server (vSphere) and more than 150 new features packed inside….
If you found this website useful and want to comeback for more, consider subscribing for FREE via RSS. If you don't know what is RSS, don't worry, I wrote a little guide what is RSS and how it saves your daily time.
VMware with vSphere are distancing even more the competition with the performances of vSphere greatly improved. Microsoft's Hyper-V R2 is still in Beta….. Clearly, the time for an investment into a Virtual Infrastructure with VMware was never been more advantageous. Prices for the SMB market are starting from $166 per CPU. Each physical server may contain up to two phycial processors with up to 6 cores per processor.
Ok, here is the how-to:
01.) Get this 2 tools to acomplish the task.  IZArc, and also WinImage. (trial)
02.) Head to VMware Website and download the ESXi 4.0 vSphere – register for the free for the download. Here is the link.
03.)Save the file to the C drive for example.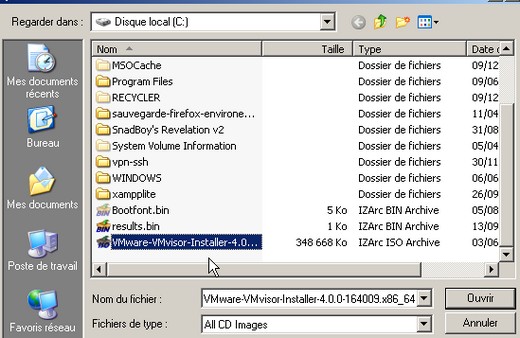 04.) Open the ISO file with IZArc and extract the whole content to c:Vmware-VMvisor-Installer-4.0.0-164009.x86_64 folder .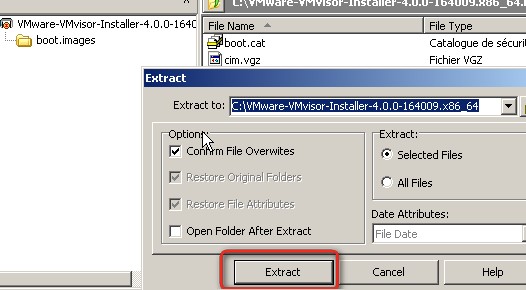 05.) Browse to "image.tgz.temptarusrlibvmwareinstallerVMware-VMvisor-big-164009-x86_64.dd.bz2"
Extract the "VMware-VMvisor-big-164009-x86_64.dd" file. You'll have to extract the "image.tgz.temptar" file first…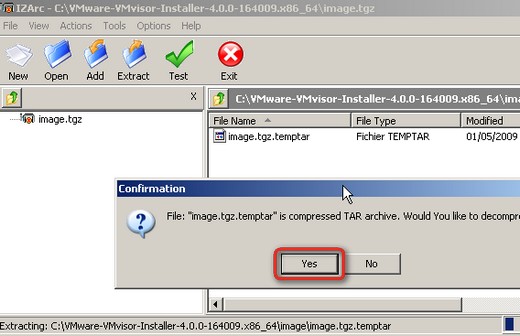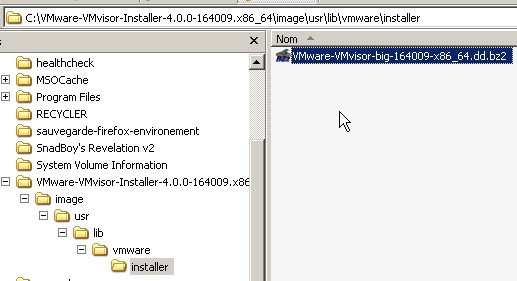 06.) From just open Winimage, and goto file menu:  Disk > "Restore Virtual Harddisk Image on physical drive"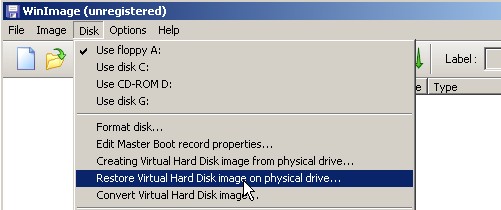 07.) Select your USB drive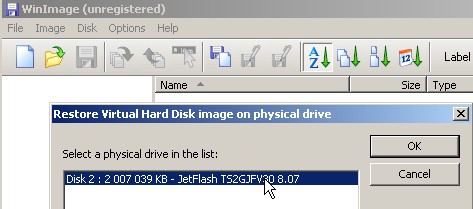 08.) Select The file "VMware-VMvisor-big-164009-x86_64.dd" that you extracted earlier.

09.) Click Yes to write the image to the USB Memory Stick. (ooups… I'm running on French Windows here…… -:) ? It's because I have 3 different language versions on my Desktop at home… Where I use VMware Workstation as a Virtual Lab. I hope that you don't mind, the tuto is quite easy to follow…) . If you got any trouble, just comment below and I'll try to help.. -:)

10.) And the result of your effort should look like this.

Enjoy… -:)