VMware vCenter Server Appliance (VCSA) 6.5 can be patched and (or) upgraded in several ways. We have already installed latest patch via ZIP file downloaded from within My VMware space, but today we'll explore another way to patch VCSA. We will learn How to patch VMware VCSA 6.5 via ISO patch downloaded from VMware Patch Portal.
Worth to mention that VMware has done a very good job with this 6.5 release of VCSA which bundles in it several other tools such as Migration tool allowing to migrate from vCenter Windows to VCSA 6.5 or from an earlier release of VCSA to the latest version.
Also, or to Configure Active-Passive cluster which protects the VCSA 6.5 (where the active node is your usual VCSA 6.5 which manages your infrastructure, and the passive node is a node which sits there doing nothing, just receiving files from the active node.)
Let's get back to our main topic – Patch VCSA 6.5 via ISO. The Patch portal from VMware allows you to get the latest patches for ESX (yes still), ESXi, vCenter Server/VCSA and for Cisco Nexus Virtual Ethernet Module (VEM). The patches you'll find there are cumulative, so always the latest patch has all the updated patches included and you don't have to apply several patches in order to be fully up to date.
Step 1: So without further wait, let's get started. Connect to VMware Patch Portal here. You'll need to provide your VMware credentials. If you don't have an account, just create one. Once there You'll select VC and select the version you're looking to patch. As you can see, you can also select lower version which might run within your environment.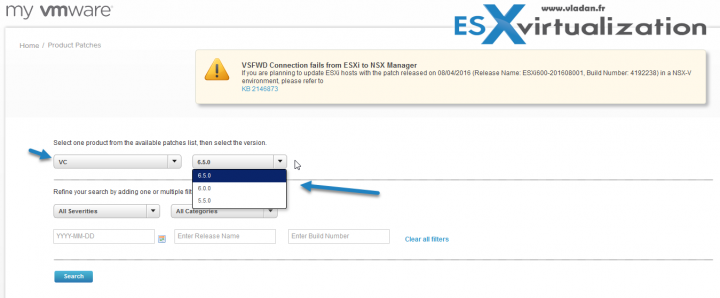 Check the checkbox and download the ISO file to your computer.

After downloading the ISO (it's approximately the same size as the ZIP file which we have used in our previous post) you have to connect the ISO to your VCSA 6.x VM.
The ISO file located on my hard drive. You can simply mount the ISO (Right click > Mount ) or if you're on older system use some free software which can mount ISO images (Daemon tools for example).
The ISO has tons of RPMs inside. Only patches….


Once the ISO is mounted you can simply connect via vSphere client > Select your VCSA > Click the CD/DVD drive (Yes, we can still use the old Windows client to do that…) and Connect to G: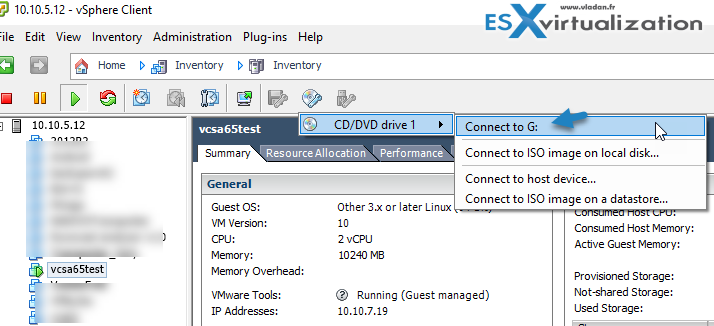 You may find it easy. Yes, sure, but the guy who's job VMware Expert, must be able to follow this too… -:). I'm always thinking about those guys. They need a hand and we should not leave them in the dark….
The VCSA ISO can be connected to the VM different manners. You have several choices.
You can also:
Upload the ISO to a datastore
Upload the ISO to Content Library
Mount the ISO directly to the Host (via IPMI console)
I assume you connected the ISO (or the CD-ROM) anyhow, to the VM and you're ready to patch.
Step 2: Connect to the VCSA WAMI interface by going to:
https://IP_of_VCSA:5480
You'll have to know the root password, which has been used when the VCSA was deployed….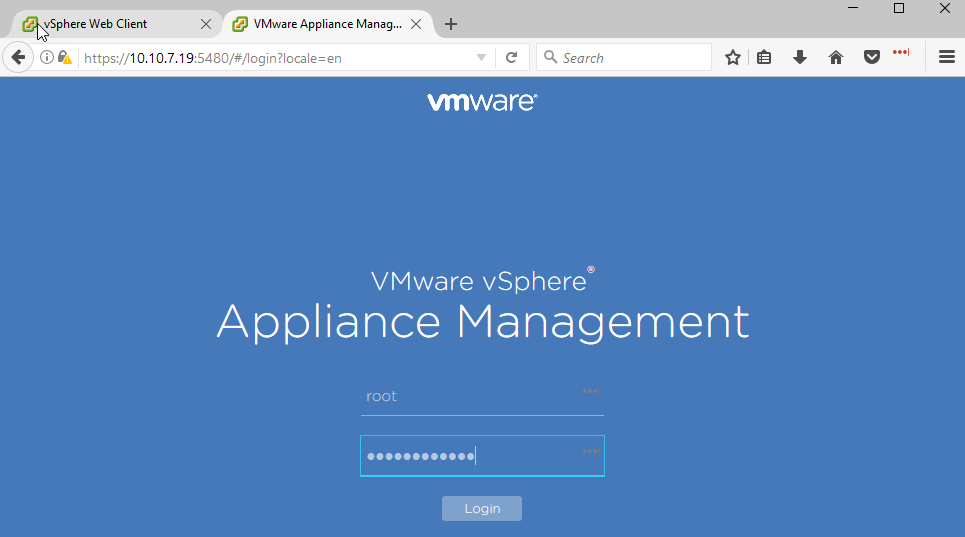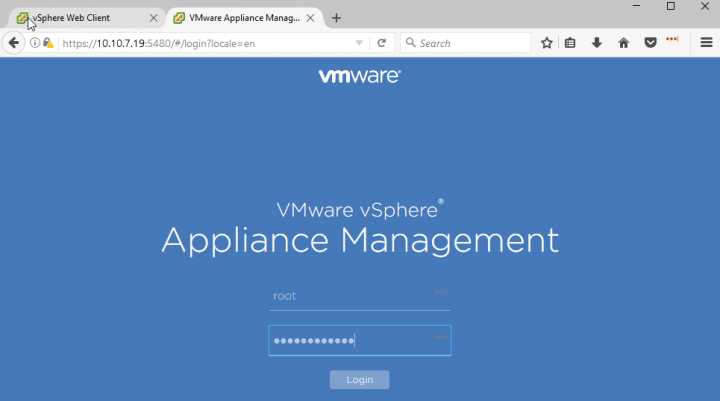 Next click on the Update button on the left-hand side > Check updates > Check CDROM

And you'll see a new message saying that you have Available updates. Those updates come from ISO as a source and that a reboot is required.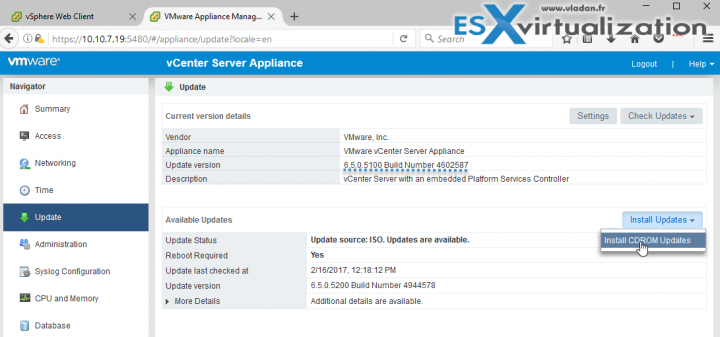 Step 3: Hit the Install CDROM updates button to start the patching process > Check to box to Accept End user license agreement (EULA) > Click Install.
You'll be able to monitor the progress of the installation.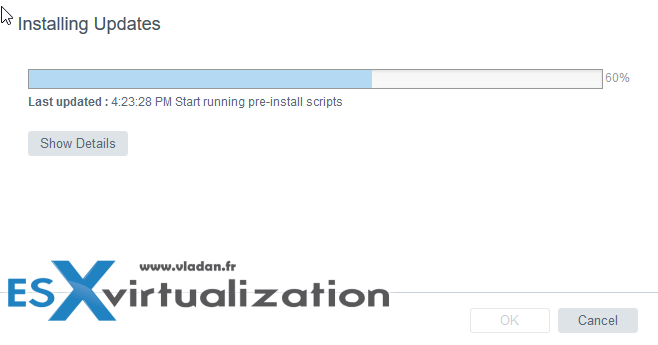 So far so good. We're almost there … The patching is pretty fast and in about 2 minutes time we have another message saying that the Packages upgraded successfully, a reboot is required to complete the installation.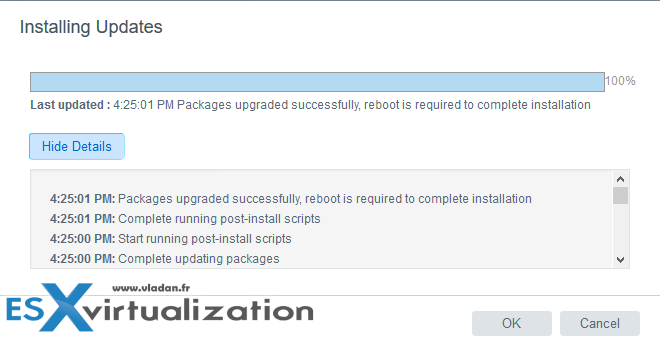 Click OK and then Reboot the VM. You're done. After reboot, you can login back to the WAMI interface and check the version. It should show the latest release ….Note that this process is kind of a standard now for VMware VCSA, but as the patches will get updated, you'll obviously see another version releases here.
Update: Now, with the latest vCenter 6.5c update you'll see this…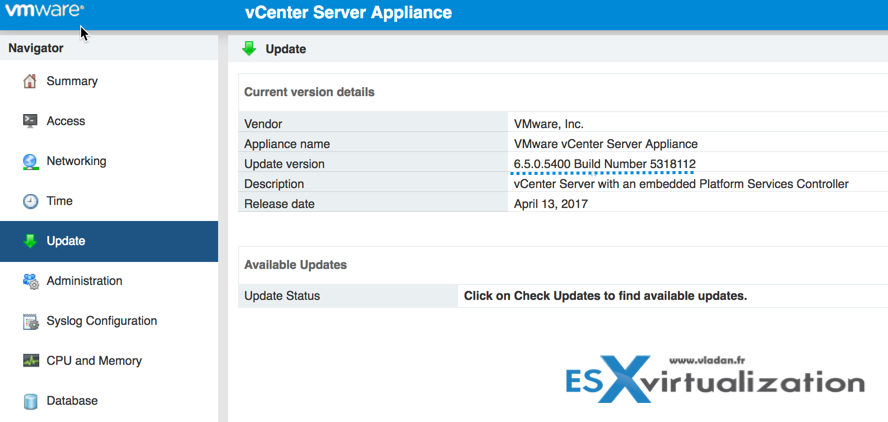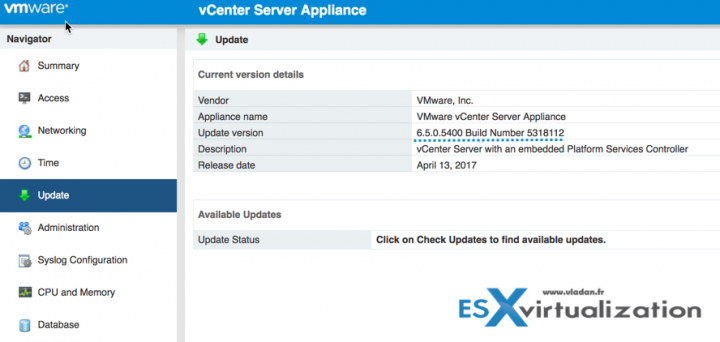 I have also recorded a very quick video detailing the steps. Please watch in Full Screen (HD). It's a 1080p video.
Note that vCenter 6.5c has been released. The steps above gives you enough information to find your way through to update to 6.5c too… Enjoy…
Check out more posts from ESX Virtualization:
Stay tuned through RSS, and social media channels (Twitter, FB, YouTube)