VMware vCenter Server Support Assistant 6.0 is Free virtual appliance (and plugin) which aims to help to proactively monitor your environment for alerts and recommended fixes. It allows to receive alerts or monthly status emails. The appliance helps when filling up support requests for VMware (reactive support) as it collects and attaches the diagnostic information automatically.  You can use both functions together or separately (note the reactive support needs VMware support subscribtion).
Also it allows to view existing support requests and comments with email exchange with VMware tech support. The product works not only for vSphere 6, but also 5.X. Not necessary to have vCenter 6 as the products works also with vCenter Server 5.1 and above managing ESXi 5.0, 5.1 or 5.5 and 6.0 hosts. It's not recommended to use this product when the support data might carry confidential or highly sensitive information like health, government classified info or credit card information. The download is a bit less than 700 Mb and it deploys as standard OVF file.
VMware vCenter Server Support Assistant 6.0 Features:
Proactive support
Sends proactive alerts and recommended fixes with automatic notification through vCenter server giving you a solution to a problem (or indicating what could cause the problem).
The config and usage data are transmitted automatically. It's possible to configure to collect config and usage data on regular basis and automatically transmit them to VMware. Those data can be automatically matched to dynamic list of known problems.
You can configure data collection times, frequency and transmission time to minimize impact on performance of your system
Sends monthly status e-mails with summary of the status of problems (if any) within your installation, so you can follow over time the evolutions, repeat of certain problems etc..

Reactive support
File support request from within the web client – for any product you run in your suite. (if you are on SnS or purchased support directly from VMware).
Collects and attaches diags to the requests – this taks is automatically done when creating a message.
View existing support requests – can follow over time the history and where are you with the answers from VMware etc.
The vCenter Server Support Assistant 6.0 system requirements:
2 vCPU with 2Gb of RAM with 65 Gb of disk space. (calculated Disk space = 50GB + number of vCenter Server instances; 300MB + number of ESXi hosts * 50MB
How to install and configure VMware vCenter Support Assistant?
Step 1. (simplified) Deploy the OVF > Accept license agreement > login to the appliance's IP via web browser (login/password –  root/vmware)
Step 2. From withing the web UI of the appliance, connect and push the installation of vCenter web client plugin > Enter SSO user name and password > done
Step 3: Go to vCenter server web client > Log out > Log back in and find the new Icon…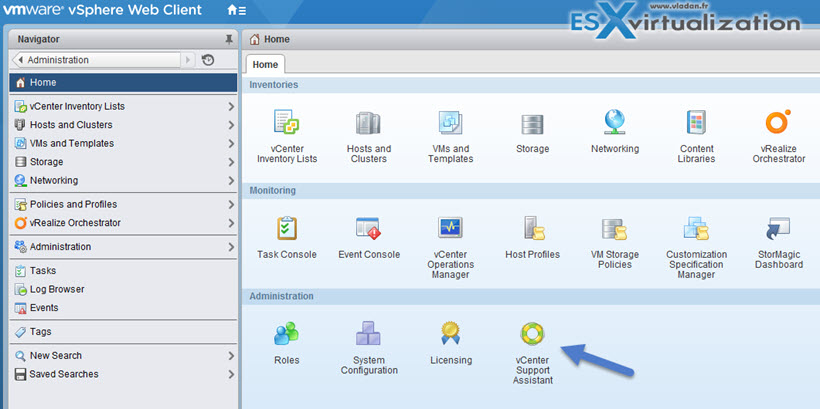 Click that new button and go to the Manage tab to Enable the proactive log gathering…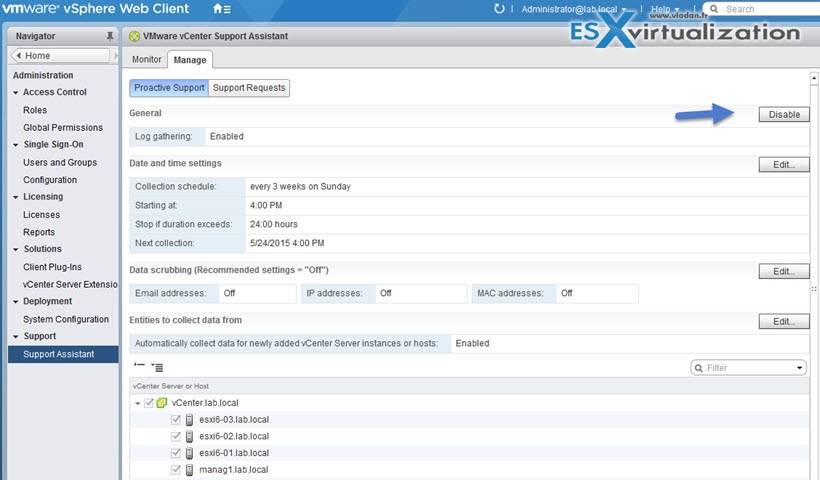 You can also change the default schedule for the collection of logs by clicking the Edit button. On the image above it's just below the blue arrow…

If you go back to the UI of the vCenter server support assistant appliance, there you have a possibility to add your e-mail address to receive the monthly recap emails… You can also change the default password of the appliance itself.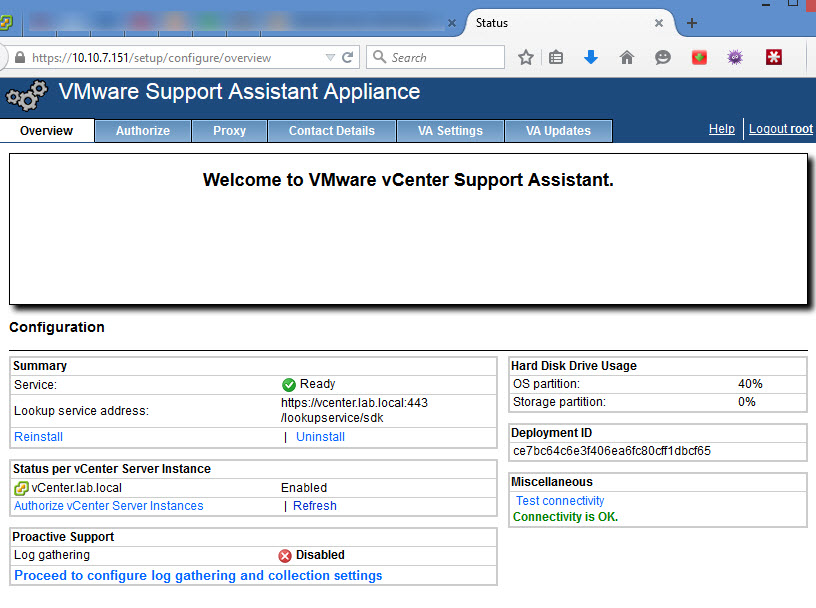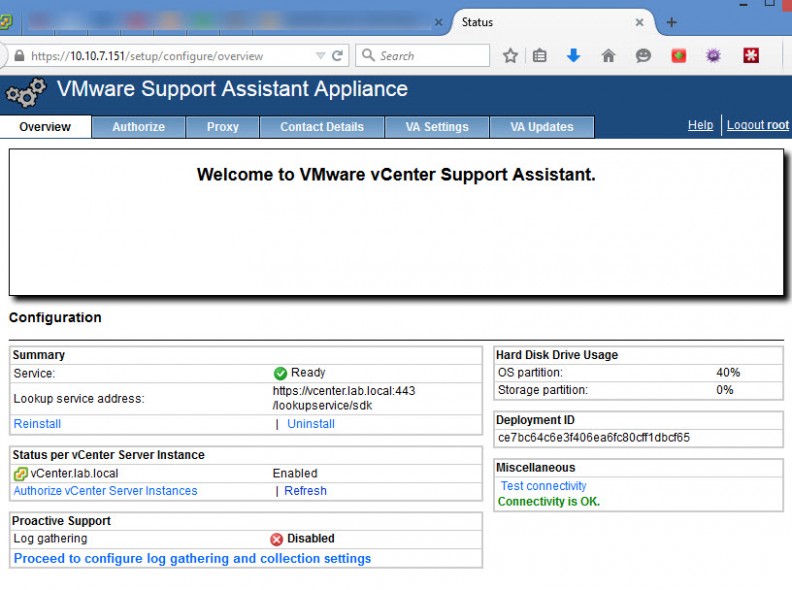 As being said, the support requests can be done from within the UI, but you'll need to be on active SnS support and connect via VMware credentials…  Check this on the screenshot below..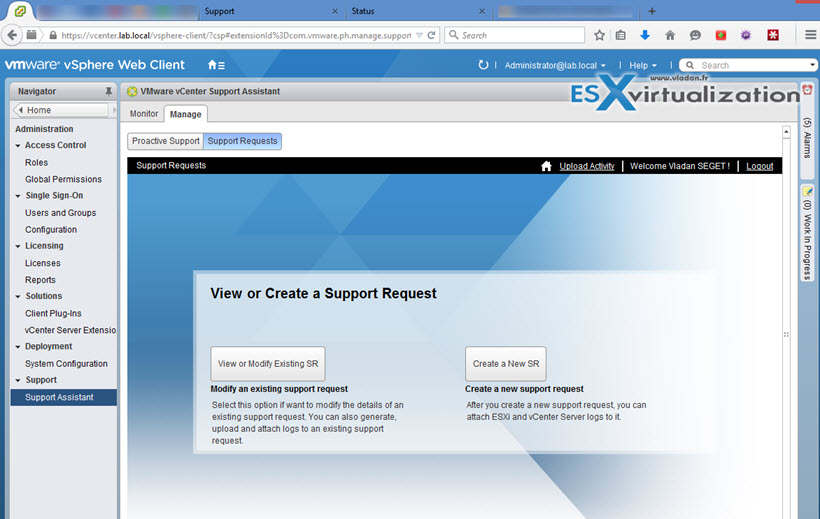 It's pretty straight forward. The installation and configuration takes less than 5 min of your time and as a result you have a convenient environment to work with VMware support in case you're experiencing problems or have doubts on performance etc. Great Job VMware!
I have also done a quick video where you can see the steps I outlined in this post. Watch in HD and Full screen. Enjoy… -:)
Did you liked this post? Just share through your social media channels!