One of the most popular Adblock plugin is certainly AdblockPlus. Firefox and Chrome users know this plugin well and using it to get rid of pop-ups, offensive material, rickrolls, and other unpleasant things like some malware.
By activating adblock plus there is no default whitelist domains enabled so the bad guys as well as the good guys are caught and I don't think that it's right.
Yes, the thing is that the plugin comes out by with no sites whitelisted. There is no way to ask the software editor to add this site as a trusted site as I don't use any offensive materials, popus or rikrolls, so by default this vladan.fr site gets blacklisted (and other honest bloggers too).
And that's why I notify my readers who are using this plugin with a small pop-up to whitelist this domain – vladan.fr to continue reading my blog. They can safely add vladan.fr to the trusted list of sites and I'll show in this post how easy is to do it.
How to "whitelist" vladan.fr domain on AdblockPlus?
Fist one is for Chrome as it's the most used web browser currently.
Step 1: Click the AdblockPlus Icon > Click on "Enabled on this Site" so it turns into "Disabled on this site".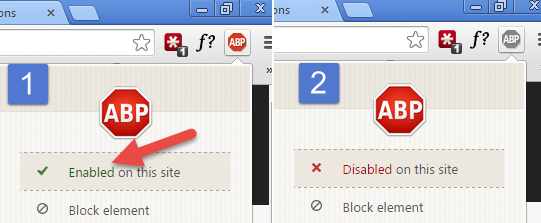 Step 2: Hit the reload icon or press F5.
You can check which domains are enabled by clicking the AdblocPlus icon > down there there is Options > Whitelisted domains TAB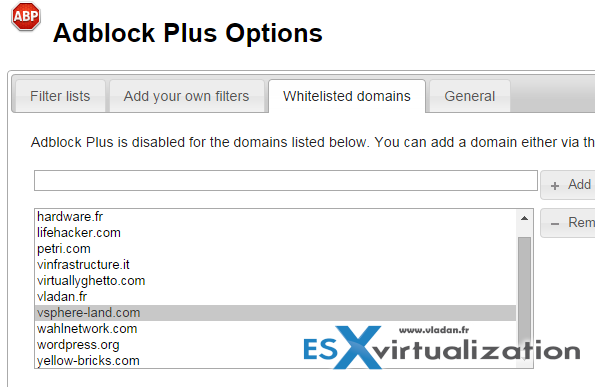 Second one is on Firefox, which is using more sophisticated approach but allows exceptions and whitelisting too. So basically it's the same.
Step 1: Click the Adblock icon and hit the "Disable on this domain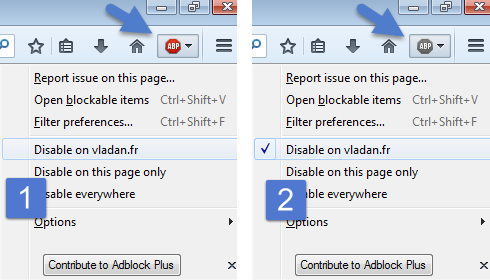 This blog has valuable resources and it's not written by bunch of marketers!
Last month our readers reached over 280 000 pages on this blog, which is great and it's really encouraging.
It means that you as a reader:
You have found what you were looking for
You have found one of the many How-to articles or videos useful and that it helped you when you got stuck on something. (BTW that's why I actually started this blog).
You like the VMworld Reports (latest from Barcelona – VMworld 2014)
You want to come back to read more on vladan.fr!
I cannot tell how many encouragements I have received during VMworld Barcelona 2014 to keep up the good work on the blog. It's clearly gratifying and I thank you for that. That's why I want to keep blogging the way I do, with a very personal (French/Czech) touch.
Bellow pic taken by Jon Munday. Thanks -:)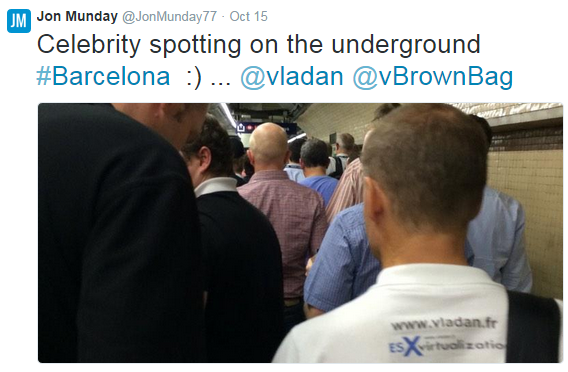 The free content you can read without asking you for some kind of a subscription via e-mail like some commercial sites do, can however be only created because support of our sponsors…
Do the same for the other blogs and sites you like!
You certainly like more than my blog, right -:)? so why don't you add all the blogs you like into the white list? It's currently only me that I won't let users with AdblockPlus activated to surf my blog as the other bloggers do not currently react to this behavior.
I cannot tell so far that the reactions were bad or good and I have had discussed this with other folks during the Barcelona event and about 99% has approved…
So yes, you can add more sites to the whitelist and if you have your preferred blog(s), just do it! The top virtualization blogs can be found on Eric Siebert's website vSphere-land.com and already Eric's site should be first one on the list!
Do you like virtualization blogs? Support them by whitelisting them!