Today's announce of HP for their new ZBook Studio took my attention. Why? Because my old Samsung NP900x3A Ultrabook is getting old… the resolution isn't what I'd expect now, my GoPro videos are kind of sluggish to edit. So I'm in a process of researching a new laptop gear which is not only portable (up to 2 kg I'm fine) but also powerfull! I'm tempted by buying a Macbook Pro (the one that will have Skylake Chips), but for now there was this HP announce I spotted on the major media sites which just came in the right moment too…
The specs are rather excellent… I'd say very good and the upcoming Mac book Pro will have to be better than that, If I want to opt for the MAC. Who would expect carrying 2Tb of flash storage on a laptop with 32Gb of RAM and 4k display?
Frankly I don't really care if I'm working on a MAC, Windows or Linux system as long as I can get the job done! Windows was so far pretty much spread out through the enterprise, that's the reality. Being able to have a job done without spinning up a Windows VM is a good thing too, but then you have that subjective and perhaps better feeling when working on a Mac…. After all those years working with Windows, I get kind of bored of Windows….
So far, until recently, the Samsung ultrabook got that job done, but the evolution towards 1080p videos has left me doing videos on my desktop gear rather than on the Samsung. And 1080p videos are pretty becoming the standard on YouTube. Folks doing videos with a resolution less than 720p should stop doing that. Those videos looks pretty much too bad, if I don't want to say ridiculous. The 720p was untill now, kind of a sweet spot, but moving forwards, it's definitely era of 1080p videos. 4k? No, not really. But having 4k display on a laptop ? I might consider that as I don't want to make the same "mistake" to buy a laptop which will be outdated from the screen resolution point of view in a few years when 4k videos will became reality on the Internet…
Let's get back to the HP ZBooks line up. The specs are rather excellent as you can see on the image below… Especially the 32 Gb of RAM (32 GB DDR4-2133 ECC or non-ECC SDRM) would allow to spin quite a few VMs while on the road.
Macbook pro maxes at 16 Gigs which is good, but is that good enough? Bloggers and IT consultants like I am, we are big powerusers who needs (wants) always the maximum resources we can take on the road. So buying new laptop today with "only" 16 Gigs would be a serious question to ask first….!
The ultrabook is 18 mm thin..

Now. The Macbook pro was always a model that has this beautiful aluminium body. And I recognize that that counts. For rigidity, solidity and feeling. That argument is a must. Anything else than aluminium can be considered as "not so solid" and body which is not so solid is rather fragile, can broke, can be bent and so on… So this argument is to consider as a second one. But the 2015 version was rather deceiving with the specs and many folks are waiting for the 2016 version which shall be carrying Intel Skylake chips built on Intel's 14 nm manufacturing process and delivers breakthroughs in performance and power efficiency.
The CPU and graphics card:
So how is HP doing here? (from the HP Zbook spec's page):
Skylake based CPUs…
Intel® Xeon® E3-1545M v5 with Intel® IrisTM Pro Graphics P580*
Intel® Xeon® E3-1505M v5 with Intel HD graphics P530 (2.80 GHz, up to 3.70 GHz with Intel Turbo Boost Technology, 8 MB L3 cache, 4 cores)
Intel® CoreTM i7-6820HQ with Intel HD graphics 530 (2.70 GHz, up to 3.60 GHz with Intel Turbo Boost Technology, 8 MB L3 cache, 4 cores)
Intel® CoreTM i7-6700HQ with Intel HD graphics 530 (2.60 GHz, up to 3.50 GHz with Intel Turbo Boost Technology, 6 MB L3 cache, 4 cores)
The display options:
Even the lowest display now goes 1920×1080…. with an option for IPS screen 4K display!
15.6″ diagonal FHD UWVA IPS anti-glare LED backlit (1920 x 1080)
15.6″ diagonal FHD Touch UWVA IPS LED backlit (1920 x 1080)*
15.6″ diagonal UHD UWVA IPS anti-glare LED backlit (3840 x 2160)
15.6″ diagonal UHD DreamColor UWVA IPS anti-glare LED backlit (3840 x 2160)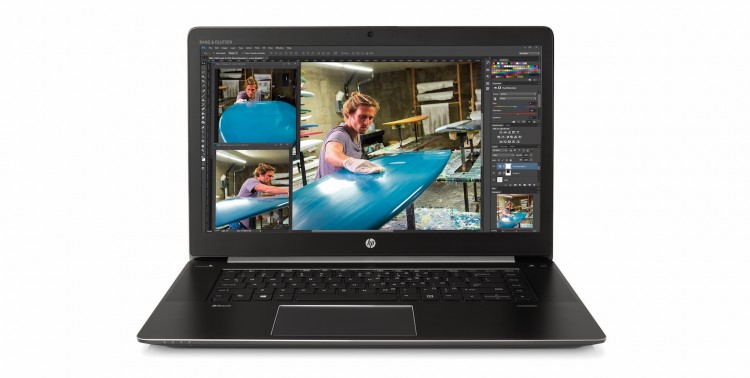 Graphics:
Integrated: Intel® HD graphics 530, Intel® HD graphics P530,  Intel® Iris™ Pro Graphics P580 (available 1H16)
Discrete: NVIDIA® Quadro® M1000M (2 GB dedicated GDDR5)
Storage:
Possibility to go up to 2TB of storage, separately with two PCIe Slots!
256 GB up to 1 TB HP Z Turbo Drive G2 (NVMe PCIe SSD)
Expansion ports:
There are Thunderbolt 3 ports as well as HDMI, Ethernet, and three USB 3.0 ports
Expand with Zbook Dock!

ZBook Dock, which plugs into a free Thunderbolt 3 port. The ZBook Dock gives you an additional four USB 3.0, two DisplayPort, two Thunderbolt 3, VGA, GbE and audio ports.
Wrap up. Sure, with all the options checked and selected, the ultrabook might match the Macbook pro (when released). Note that not all the options are available just yet and the specs page at HP has many small numbers next to those bullets so be sure to check those out before deciding for yourself!
Availability? This X-mass -:).