Idera has announced 3 Free tools for IT administrators. Three tools that Windnows and SQL admins will certainly appreciate. Server Backup Free edition, SQL backup status reporter and SQL Permission Extractor. Those tools are freely available at Idera's website. Read the details below.
Idera Server Backup Free Edition – The new Idera Server Backup Free is a full-featured copy of Idera Server Backup Enterprise, but for a single server. Now IT departments can experience fast disk-based backup for Windows and Linux Servers as well as VMware, Xen and Hyper-V without a commitment. For companies with growing server environments Idera's Server Backup Enterprise delivers high performance at a price point that can scale to backup your servers without breaking the bank. Server Backup Free features include:
Backup physical and virtual servers in minutes, not hours.
Backup to any disk-based storage – second hard disk, NAS, SAN, etc.
Restore files in seconds with Disk Safe technology.
· Download and go in minutes with easy installation
Systems supported:
Windows Server 2008 R2, Windows Server 2008, Windows Server 2003 (SP2+)
RedHat Enterprise, CentOS, Ubuntu, Fedora, Debian, Novell SUSE Enterprise, Open SUSE, Mandriva (ReiserFS 3, Ext2, Ext3, Ext4)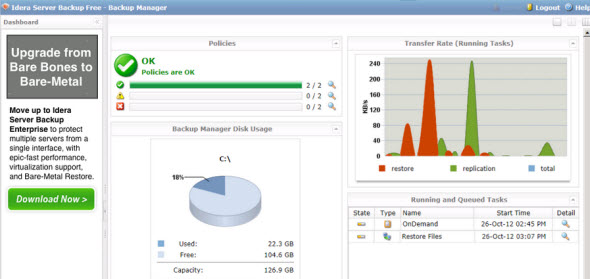 More details on the products page – Idera Server Backup Free.
The SQL backup status reporter allows DBA's to view a graphical representation of backups across their SQL Server environment. This tool is critical to knowing whether a working backup is available when needed. Idera's SQL safe then goes further to help companies feel confident with the consistent running of the fastest and most compressed backups. SQL backup status reporter features include:
Quickly identify databases that have not had backups.
View backup history including the backup date and type.
Simplified grid view for easy sorting and navigation.
Identify full and differential backups for one or many databases.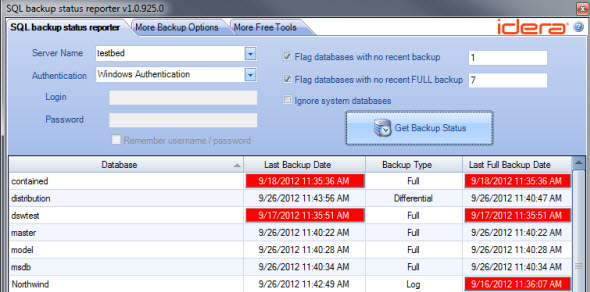 More details on the product page – SQL Backup Status Reporter.
The new SQL permissions extractor takes the pain out of permissions porting and security by enabling DBAs to easily copy and reassign permissions from one server to another without having to write a single line of script. SQL permissions extractor ensures consistency and security. Idera's SQL secure completes the process and allows you to harden security with pre-defined and customizable policy templates to ensure the SQL Server environment is safe. SQL permissions extractor features include:
Generate T-SQL scripts for copying of user permissions to another server.
Edit, save, and execute permissions scripts.
Include object level permissions for selected databases.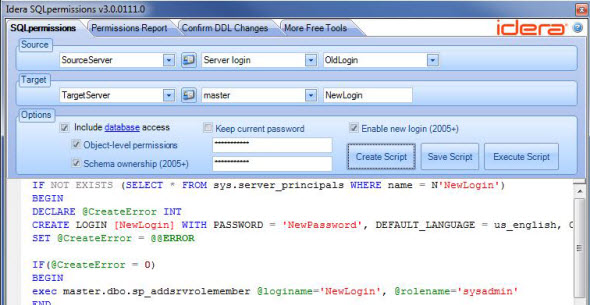 More details on the product page – Idera Permission Extractor.
Source: Idera Press Release