This is a quick tip to Increase Startup Delay to Edit the BIOS of a VM. We will show you that it can be done different ways as we have multiple tools from VMware for managing their virtual infrastructure. A very easy tip everyone knows already, for this Friday. Check our Tips or How-to categories for other tips for IT, VMware and Microsoft.
We can use either of those tools depending if we're within a vCenter server management environment or within an environment with only unmanaged ESXi hosts. We'll show both cases in this post.
Why would one need to increase a boot delay for a virtual machine (VM)? Change of settings such as boot order where you need to force the VM to boot from CD-ROM or ISO image. Or you might want to change settings in BIOS when you're optimizing your virtual hardware for performance.
Those settings were easy to find within the old Windows client, but this client is now phased out as VMware is pushing Web-based clients only. Despite the performance problems with the Flash client, after several years of transition, we might see the end of the tunnel and get a nice HTML5 client (currently with partial functionality only).
Let's get started and show where we can find it within vSphere Web Client
We show the steps via HTML 5 based web client. VMware calls it H5 Web Client. This is the upcoming new standard as the vSphere Web client (Flash-based) will be phased out. Note that currently, it is the only way to manage VMware virtual infrastructure and that at the moment the Flash plugin has an issue which causes a crash of the Flash plugin completely.
TIP: There is a workaround from VMware which you'll find at this VMware KB: Shockwave Flash crashes with vSphere Web Client 6.x
Shut down the VM > Do a Right-click on the VM > Edit Settings > VM Options > Boot Options.
Here you can change Firmware if you wish (if it's supported by the OS), and it is within this section where you can set the boot options. The value is in milliseconds.
By entering a high value (example 5000), it will give you an additional time before the VM boots up.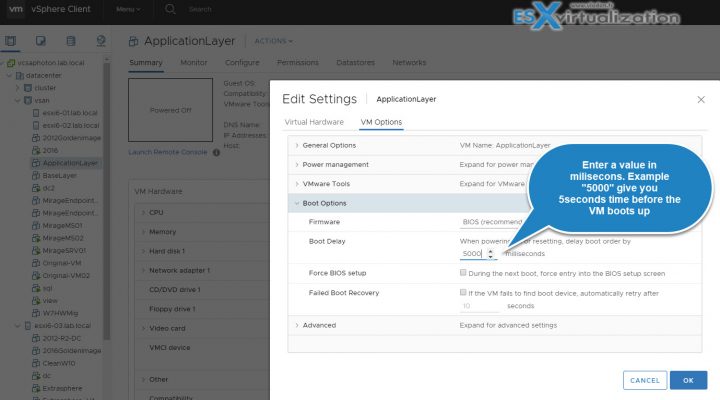 If you're troubleshooting just need to reboot into BIOS to change something once, you can check the Force BIOS setup checkbox which will force the VM boot directly into BIOS. But only single time. The next time VM will boot normally.
If ESXi Hosts are managed via ESXi host client (Free ESXi)
Now let's find out how we can do this for an ESXi free version, which is not managed by vCenter server. In this case, connect using VMware Host client. Again, use your web browser. Go to this URL:
https://IP_of_Your_ESXi/ui
replace the IP_of_Your_ESXi by the real IP number of your host.
Click and Expand Virtual Machines > Within the list Click the VM you want to change settings for > And hit the Edit icon > You'll end up on Virtual Hardware TAB, but change TAB and click Edit Options TAB.
And here again, you have the same options as above. Enter the value in milliseconds and every time the VM will reboot, the time before the boot process will start will be added to the boot delay.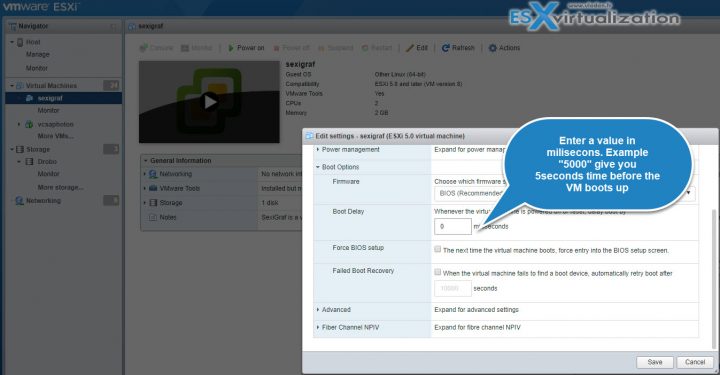 As you can see, very simple and very easy to find this out.
Any other ways to Increase Boot Delay to Edit the BIOS of a VM?
You might ask if there are other ways to do that. Scripting, a manual edit of VMX? Yes, both. In fact, if you go to VMware communities forums and do a quisk search there, you'll find multiple answers and solutions.
However, when editing the VMX manually, you must first unregister the VM from vCenter > edit the VMX > register the VM through vSphere client back to your vCenter.
Wrap Up:
The boot delay specifies a time interval between virtual machine power on or restart and the beginning of the boot sequence. Today we show a tip which you might be looking at when working with VMware infrastructure. This is also handy when you trying to connect a CD-ROM or ISO image from your local computer and you don't have enough time to catch the VM's boot sequence and to hit the "F2" key to enter the BIOS settings for changing the boot sequence.
For those reasons, knowing a manual way, and finding it quickly without losing time, it is essential. Once you remember those steps it will be pretty quick. The PowerCLI way might be interesting for folks willing to modify boot delay on many VMs. Someone at VMware communities was interested in doing it for 700 VMs within his environment.
More from ESX Virtualization:
Stay tuned through RSS, and social media channels (Twitter, FB, YouTube)