Today's quick tip will talk about clones, cloning, but not traditional way, slow, slow, slow. We will expose What is VMware Instant Clone Technology and how that works in today's modern data centers. Instant clone technology has been announced as project Fargo back during VMworld 2014 and first production systems started using it within Horizon View 7, with its new name – Instant Clones.
Project Fargo uses a copy-on-write architecture similar to that of containers, meaning that if an application running in a child VM tries to change a shared OS file, a copy of the shared file is created and stored in the child VM. This way, all modifications made by the VM are isolated and unique only to it. Any newly created files that are saved by the VM would also be stored in the child VM and not in the parent.
If you ever worked with Horizon View in the past, you know the Refresh, Recompose and Rebalance operations, which were necessary for updating and refreshing users desktops. Now with Instant clones, you no longer need to do that. Those operations were very time to consume on larger desktop pools and you had to plan ahead to not penalize your users.
The fact, that after user's log out the VM, his (her) desktop is simply deleted. So the linked clones recomposition operation is not needed. The standard image changes "on-the-fly" during the day. Next morning the user logs in and he gets a new desktop with updated applications.
If you want you can force the user to log off (during lunch break for example) as there is an option to force re-login for a virtual desktop update. This might be needed in some situation where an urgent malware patch needs to be deployed to all systems.
What Is Instant Clone Technology?
Instant Clone Technology is basically delivering VDI desktops "just in time", instantly. Instant Clone Technology allows administrators to rapidly clone and deploy a virtual machine in less time, much less time. We can say it takes just 1-2 seconds. The provisioning compared to traditional pool powered on by Composer server is about 5-8 times faster.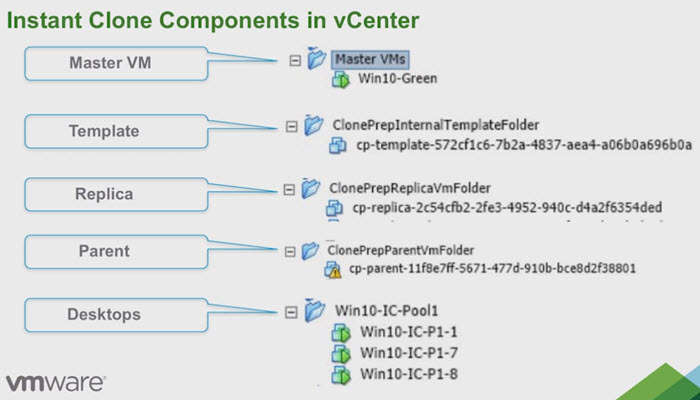 VMware Instant from the lab. What you need to do is to make a choice when deploying View connection server. Use Instant Clone or use Composer. Then at the client's site, within the master desktop, you'll need to make sure that the Horizon Agent has the option selected when installing.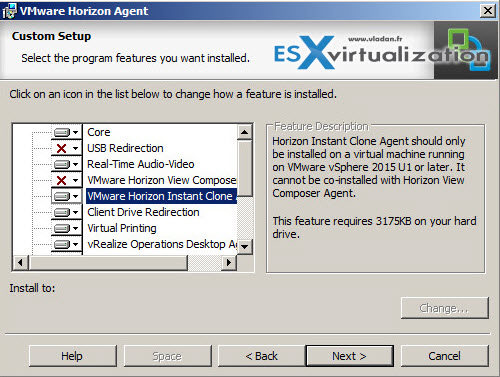 Quote from VMware:
Instant Clone Technology (that is, vmFork) uses rapid in-memory cloning of a running parent virtual machine, and copy-on-write to rapidly deploy the virtual machines.

Note: Copy-on-write, or COW, is an optimization strategy. This means that whenever a task
attempts to make a change to the shared information, it should first create a separate (private)  copy of that information to prevent its changes from becoming visible to all the other tasks.

A running parent virtual machine is brought to a quiescent, or quiet, state and then forked (when a piece of software or other work is split into two branches or variations of development), and the resulting clones are then customized (receiving unique MAC addresses, UUIDs, and other information) and powered on. These clones share the disk and memory of the parent for Reads and are always ready for login instantly. After the clone is created, Writes are placed in delta disks. Both memory and disk are copy-on-write, so if a new clone modifies bits of its memory or disk, a separate copy is made for that virtual machine, thus preserving security and isolation between virtual machines.
Wrap Up:
VMware Instant clone technology is here for VDI workloads and VDI environments. Faster delivery of desktops combined with technologies such as Cloud App Volumes for fast application access without installing them, are a great help in environments such as call centers. When you need to get VMs out as fast as possible and the user does not care if he has every day new VM, then the Instant Clones will help to speed up the process of deploying those desktops.
More posts from ESX Virtualization:
Stay tuned through RSS, and social media channels (Twitter, FB, YouTube)