Fairly often new people discovering VMware asking these questions: ESXi free vs paid? What's the difference? While for many folks, VMware certified people, and others, this question (and especially the answer) is obvious, the new people who just discovered virtualization, might want to know exactly. That's why this post.  At first, you might want to read my post called ESXi Free – What's the Limitations?

The ESXi Free version is the same download as the full-blown ESXi but stays unlocked only for 60 days. It is the exact same ISO image. If you don't enter the serial number for the free version, the product works as full version during 60 days. When the trial period ends and the product locks out the advanced features and becomes ESXi free (you'll still have to apply a serial number, which is available with the free version when you download it. If you don't know how to do it just follow our tutorial on this!
ESXi Free Version – no more hard limit 32GB of RAM
ESXi Free Limitations
You can't Manage via vCenter Server
Maximum 2 physical CPUs in Hosts
Maximum 8 vCPU Virtual Machines (VMs)
No VMware Support
However:
No limit on physical memory
No limit on cores per CPU
How do I Download and Install the free version of ESXi?
Step 1: You can download the free version from VMware, directly from the product page here. It's an ISO image, which you can burn to a CD, and then boot the physical server by using the CD.
Step 2: Configure a static IP address directly from the console, set a new password, and connect from another machine via the IP address, by using a web browser. On the web page, you'll find a download link for VMware vSphere Client, which is a software to access the Vmware ESXi hypervisor.
Step 3: After installing the VMware vSphere client on a management station, you can access the hypervisor via the vSphere Client, start creating your VMs from scratch or do a P2V conversion by using VMware Converter Standalone – free tool.
ESXi Free – for Which usage?
For very small shops which want to try out virtualization is the best way to start. The free version of ESXi with some local disks in the server can be a good start to explore the VM operations, how to manipulate the VMs from the vSphere client, test the snapshot technology, etc.
But think twice before start running some production workloads. The VMs running on the ESXi Free version won't be able to back up with software like Veeam or others unless using in-guest software applications to back up the data and application configuration. It's because the ESXi has just a limited set of APIs which are not able to work with third-party backup software.
"Dr scenarios" – You can start to virtualize some production physical servers if you want to, and have some kind of DR scenarios (a VM running in an isolated test environment on the ESXi host). But it's like the poor man's DR scenario with using VMware Converter. Good enough for small shops without funds to invest
Good enough for small shops without funds to invest to a more reliable, more robust solution? But when the production environment becomes critical. Or critical enough that the boss says, ok, now we cannot afford to have 2hours of downtime. That's when you can step in and say, ok, we need to buy a licensed (paid) version of ESXi.
What's the lowest (cheapest) package of VMware ESXi?
The cheapest package is VMware vSphere Essentials and it offers unlocked APIs, so the external backup applications can leverage the hypervisor's snapshot technology to create backups of VMs running on ESXi host. With vSphere Essentials is possible to manage up to 3 ESXi hosts by using vCenter Server Foundation.
And as you can see on the image below, there is much less to play with when you don't have vCenter…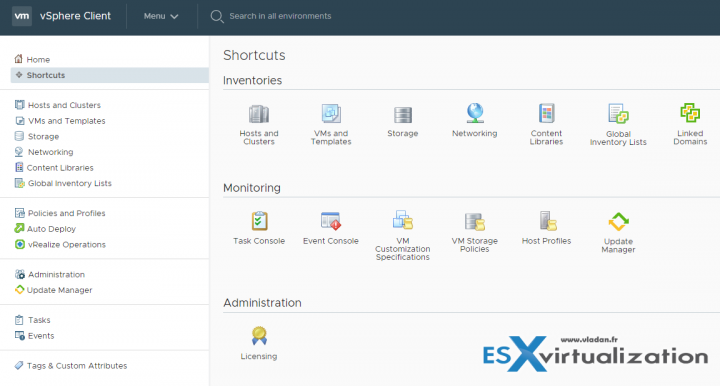 Wrap Up:
The usage of ESXi Free is obvious. Learning, testing workflows, small DR tests, validating architectural decisions. By using snapshots, you can also validate windows patches. For example, you might want to create an isolated clone of your production server by using VMware Converter and P2V technology, and you want to test a big Microsoft service pack before rolling it directly into the production environment, and possibly causing a downtime.
The next step would obviously be one of the entry-level VMware packages like vSphere Essentials or Essentials Plus, where the Essentials Plus offers not only vCenter Foundation but also many other products within the bundle, including backup solution vSphere Data Protection (VDP).
Shop for vSphere licenses at VMware Store:
Essentials Plus which has vSphere High Availability, is an obviously better choice. Because, if you have an unplanned hardware failure, vSphere HA can restart automatically those VMs which failed with the host. Those VMs are automatically restarted on other hosts which are part of VMware cluster.
There is small downtime during which the system figures out which host has failed and which are the hosts that are able to start the failed VMs. Once this automatic decision is taken, the VM boots up. The whole process is completely automatic and acts without the admin's intervention.
Requirements of vSphere HA?
A shared SAN/NAS storage
Pingable Gateway
VMware vCenter Server (part of Essentials and Essentials Plus bundles)
Also recommended:
More from ESX Virtualization
Stay tuned through RSS, and social media channels (Twitter, FB, YouTube)