VMware Mirage uses SQL database which can either be installed on the same server as the Mirage server, or the DB can be deployed on external SQL server. This post will discuss the Installation VMware Mirage DB on Separate SQL Server.
Depending of the scale of the deployment taking in account the limitations of the MSDE version of SQL, usual deployment of Mirage other than test environments would usually be the Installation VMware Mirage DB on Separate SQL Server.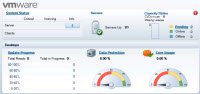 Recently I've been installing separate SQL DB for Mirage and I thought that it might be a good idea to document those steps as there are some gotchas which prevent the installation run smooth.
I have tested the previous version of Mirage. The overview of the installation, deployment of clients, and migration from XP to Windows 7 has been done in several detailed posts.
I've used the MSDE version – the SQL express DB. The series of posts starts here – VMware Mirage Installation – the lab setup.
There is a wonderful PDF document called VMware Horizon Mirage Reviewer's guide (130 pages) .This document is the must have, if you're serious about Mirage. But also the Admin Guide is good, but very large (276 pages).
I've created a video which shows the installation process of VMware Mirage Server and SQL DB on separate SQL server. Here are the steps:
Disable UAC and reboot the server

Have your SQL server ready – don't create a DB for Mirage manually
Install Mirage Management Server
Install Mirage Management Console and connect to the Mirage Server
Install Mirage Server
The Installation of the VMware Mirage File portal isn't part of the video.
Set up Microsoft SQL Server with Windows Authentication. This is required for a Mirage file portal implementation, or you might need it to satisfy your own security requirements.
A best practice for a production system: Install and run the database on a different server from the Mirage server.
The account that installs the Mirage Management server and the Mirage server must have database creator rights, and the account that runs the Mirage service must have rights to the database and storage.
Shop:
VMware Mirage at VMware Store Details Page
More from ESX Virtualization
Stay tuned through RSS, and social media channels (Twitter, FB, YouTube)