How-to install Linux Mint in VMware Workstation. VMware Workstation 8 which has been released recently has brought many improvements the way of working with VMs. With the direct ESXi/vCenter connection is now possible with a single pane glass manage your datacenter VMs and at the same time prepare/install another system on your desktop. I have published the resume of almost all new features that this release of VMware Workstation brings in my article VMware Workstation 8 new features detailed. There was also a first update released – VMware Workstation 8.0.1 Released.
Today I wanted to show you a small how-to for testing a new linux distribution which gets more and more popular these days – Linux Mint. In fact, it's popularity got even more important that the linux Ubuntu distribution.
Testing linux distribution on a real PC is more difficult. One of the difficulties are linux drivers, not always available for your hardware. Or does your motherboard manufacturer always provides you with linux drivers? Not that sure. Another difficulty might be the multiboot environment that one must deal with when used with Windows installed already on the test machine.
That's where VMware Workstation as a number one Virtualization software comes handy. Your test machine continues to run whichever OS it does already and by Installing VMware Workstation 8 you getting new possibility to Install Other Operating systems as a Virtual Machines. That's what I'm showing you today.
The Installation of Linux Mint
First of all, one must download an installation media. In the case of my Linux Mint distribution, I went to the webpage and downloaded 64 bit ISO image to my hard drive. Then I created new virtual machine based on Debian Linux 64 bit. File > New Virtual Machine > typical > choose Debian 6 (64bit).  Just make sure that you connect the Installation ISO image, by going to VM > Settings > CD/DVD > Connected check box,  before you hit start.
On the screenshot below you can see the first boot. In fact the distribution boots first from the Installation DVD and gives you the possibility to explore the software distribution even before you install it – live CD/DVD. By clicking the Install Linux Mint icon you start the real installation.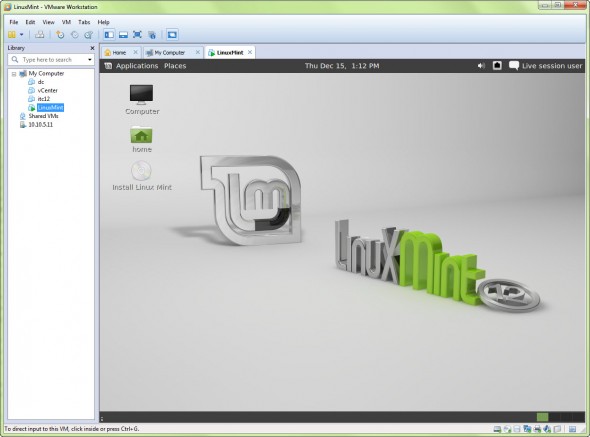 The Graphical Installation process will walk you through during the installation process asking you different details, like name of you virtual machine, your name, password etc… You have nothing to worry about.
There might be an "Install VMware Tools" prompt during the installation process. I haven't install the VMware Tools at all, and my mouse did not "get stuck" inside of the virtual machine window, so I suppose that the packages got installed automatically. After the reboot I had the Linux Mint ready to go and by verifying the Internet connection and my LAN connection I was done. 15-20 minutes of time…… Isn't it just great to be able to play with new Operating system in just 20 minutes of time?
As you can see on the image below I could easily connect to my NAS box, which runs Freenas 8, and where I store some music. The audio works like a charm too… -:)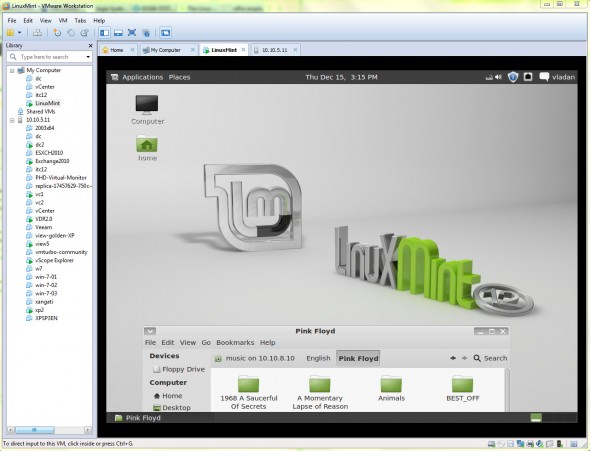 At the same time, as you can see, I was connected to one of my whiteboxes which runs ESXi 5.0…. how cool is that?
VMware Workstation linksVMware Workstation 60 Days Trial
VMware Workstation 9.0.1 Academic – Save Big – For Faculty Staff, Students and Teachers.
VMware Workstation 9.0.1 Volume Licensing – for 10 and more copies.
VMware Workstation 9.0.1 Upgrade
VMware Workstation 9.0.1 – Full Product Release + Optional Support:
Enjoy.. -:).
.