VMware Workstation 8.0.1 update has been released. In the new Free update for VMware Workstation 8.0 users, there are some enhancements and performance improvements. I reported on some detailed new features in the VMware Workstation 8 in my post here.
In case you're interested in testing other Hypervisors, like Hyper-V, you can follow this post where I'm showing How-to Run Hyper-V inside of VMware Workstation.
What's New in the new release?
– Graphics performance and compatibility enhancements.
– Improvements in creating and using shared virtual machines and remote virtual machines.
– Ubuntu 11.10 is officially supported as a guest operating system.
– Disk and memory management issues have been addressed.
– Many customer-reported issues have been resolved.
There were some bug fixes resolved. For example:
– Windows 7 guest installation failed after powering on the virtual machine with the error A required CD/DVD drive device driver is missing. If you have a driver floppy disk, CD, DVD, or USB flash drive, please insert it now.
– VMware Tools failed with the message VMware Tools unrecoverable error.
Or that if remote virtual machines were open, you could not shut down the Windows hosts.
Read the full release notes here:
VMware Workstation 60 Days Trial
VMware Workstation 8.0.1 Academic – Save Big – For Faculty Staff, Students and Teachers.
VMware Workstation 8.0.1 Volume Licensing – for 10 and more copies.
VMware Workstation 8.0.1 Upgrade
VMware Workstation 8.0.1 – Full Product Release + Optional Support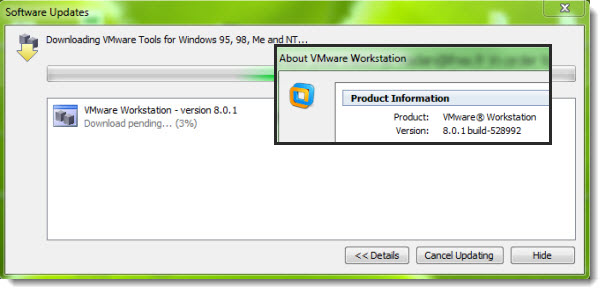 VMware Player 4.0.1 has been released as well.
The Free VMware Player does benefit from the updates and enhancements of VMware Workstation, so you can get the Free Software Here – VMware Player 4.0.1