This is a guest post by Gilad Maayan. Readers of ESX Virtualization already knows Stratoscale as a lower cost alternative for building a private cloud. Think of it as a full VMware stack with ESXi, VSAN, and vCloud Director….. but running OpenStack and KVM Hypervisor based. Stratoscale Symphony is a hyper-converged solution allowing you to built your own private cloud. Their solution has converged compute, storage and networking with automation and management. It is also multi-tenant. Full post here. Their v3.0 of Symphony recently released and detailed in my post here.
Within the VMware community and outside of it there is a big interest in private and hybrid cloud architectures. Many are considering, or already building, a virtualized infrastructure with additional layers of Virtual Infrastructure Management (VIM) and Management and Orchestration (MANO), to achieve something like Amazon AWS, only on-premises using in-house resources.
Because the field is new and there are few formal training resources (except the very demanding VMware VCP7-CMA certification), most people resort to the Internet to learn about private cloud architectures, techniques and best practices, infrastructure components, deployment, etc. Due to the enormous complexity of the private cloud stack (whether it is based on VMware, OpenStack, or other technologies), the research process is not an easy one.
The team at Stratoscale – maker of Symphony, a tool that sets up a private cloud with AWS-like capabilities on your local machines in minutes – took on a project to make the world of private cloud more accessible. They built the Private Cloud Wiki – the first knowledge hub that collects all the relevant information on private cloud technology from around the world, and organizes it in a meaningful structure: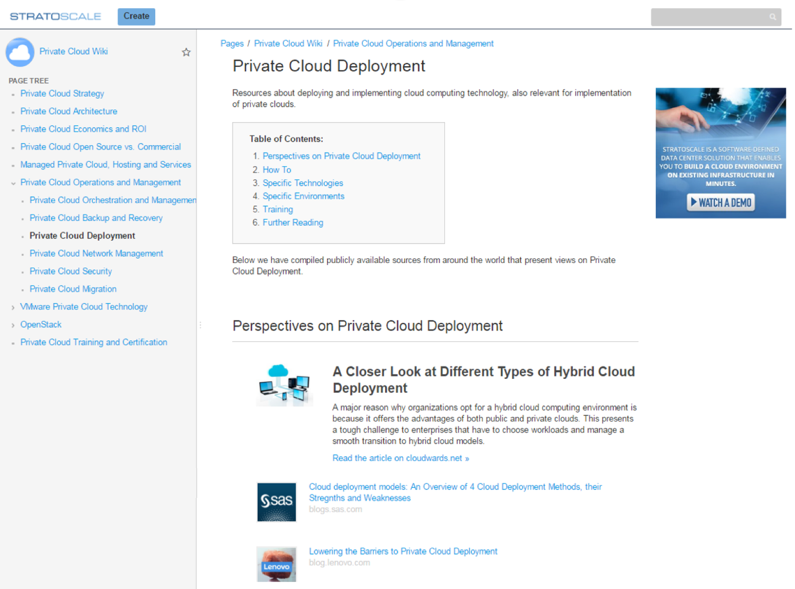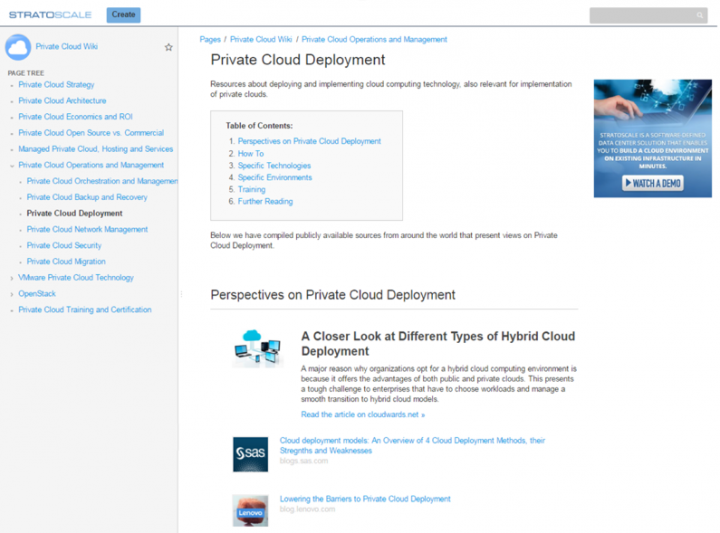 The wiki started with an intensive 6-month research project – the first stage was building a tree of over 200 sub-topics around private cloud technology, including private cloud architecture, strategy and economics; private cloud platforms like VMware vRealize and OpenStack; Cloud Management Platforms; virtualization strategies for private clouds; and modern data center architecture including hyper-convergence technology.
The Stratoscale team collected over 100,000 web pages that cover these subjects, hand-picked the most relevant ones for each category, and divided them into "content types" such as How To, Case Studies, Real Life Examples, Vendor Information, Product Comparisons, and so on.
The wiki is still in its infancy with around 60 content pages, and new category pages are added on a weekly basis.
A central realization behind the wiki is that Stratoscale, although it employs some of the world's top cloud computing experts, realized that they aren't the only ones writing about the space, and in many parts of this field there are others who are more specialized. They decided to bring all these community voices to the front stage and let visitors learn from a large variety of sources – even those of their direct competitors. We're quite sure this new community resource can save a lot of time and help many professionals in our industry become much more familiar with modern cloud infrastructure.
Check it out at: https://wiki.stratoscale.com
Check other ESX Virtualization posts about Stratoscale:
Stay tuned through RSS, and social media channels (Twitter, FB, YouTube)