There is this tool which you might find useful in a situation where you want to boot into a Linux. The utility is called LiveUSB Install and allows to install Linux distribution onto an USB stick (not to create installation USB). This might be the case when you're facing unbootable system or simply want to have a portable Linux in your bag when traveling. In case you want to boot from on someone else's computer. Because you'll need a computer to boot the USB, still. But there can be also many other use cases.
The utility is free software for Linux and Windows and supports very very large number of Linux distributions (911 so far!!!). This is really impressive. In the lab I was just testing the latest Linux Mint (v. 17 ). Note that 1Gb USB key throwed me an error – possibly lack of space as the installer apparently extracted the whole distro directly onto the USB before moving on.
LiveUSB Install – the features:
install hundreds of Linux distributions – full listing (911 distros and growing !!!)
automatically download distributions from Internet – no need to download the ISO-image yourself!
multiplatform – runs on Linux AND Windows
created entirely with Free Software tools – Python, GTK, GIMP, Inkscape
create "persistent" installs of Ubuntu and Debian-based distributions (so your documents are not lost after you reboot the thumb drive)
can format flash drives bigger than 32GB
Screenshot showing the main scren. I'm installing Linux Mint 17 onto a USB stick…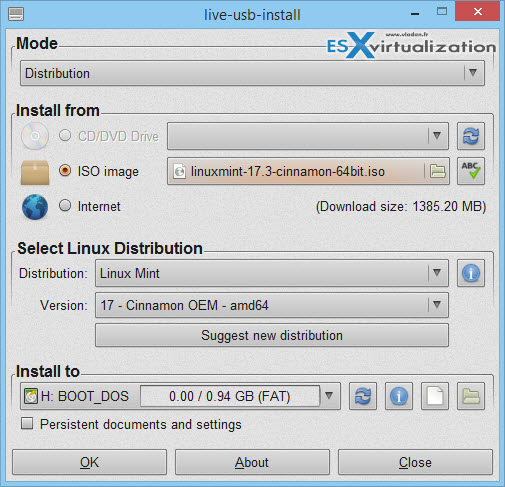 Which OS I need?
Linux or Windows versions of this utility are available.
Windows – Windows 2000, XP, 2003, Vista, 7 and higher …
Linux – any modern Linux distribution, with installed python 2.6+, python-glade2, syslinux, wget, p7zip-full, unrar, python-libtorrent, hal, parted
First the utility needs to extract the Linux distro from an ISO file stored on our hard drive.

Then, 7 min later the USB was ready….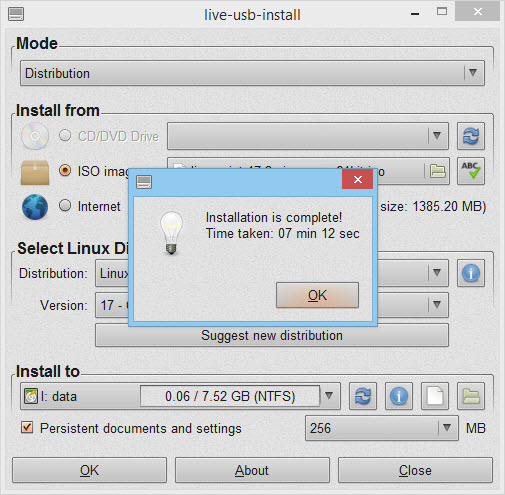 Wrap UP:
You may or you may not find such a tool valuable. Today when everyone is carrying up not only a laptop, but also a smartphone and (or) tablet, the need for another alternative isn't that demanding. Also there are plenty of special Bootable ISOs around which are more adapted and packed with recovery and partitioning tools for dead systems.
But at the end of the day it's just another good free utility that it's good to know that it exists.
Source: LiveUSB Install Web Site