One of our partners has a new Free E-book to download. It's called Microsoft 365 Security checklist and it's written by Paul Shnackenburg (Linked IN) who is a Microsoft Certified Trainer and consultant.
Here is an overview of what you can find in the book.
A few minutes and a credit card and you can have enterprise-grade email and collaboration tools ready to go, with not a thought for security, governance, or best practices. It's in the cloud so Microsoft secures your data – right? Well, not exactly.
Proper security is tailored to an infrastructure's unique requirements and responds to a constantly evolving attack and threat landscape. You can't just rely on Microsoft default settings. And you need to do more than just 'set it and forget'. The Microsoft 365 Security Checklist shows you all the security settings and configurations you need to know for each M365 license to properly secure your environment.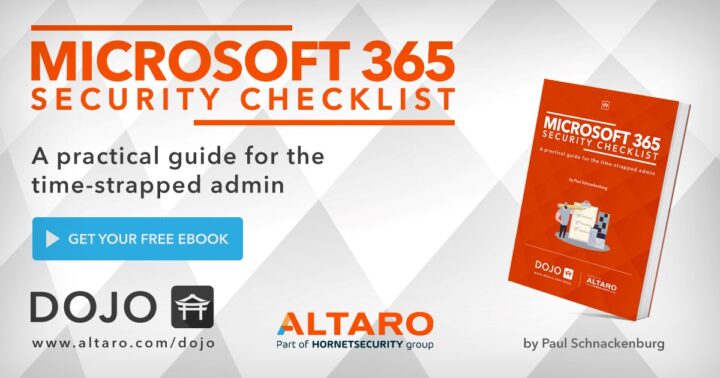 Written by veteran IT consultant and trainer Paul Schnackenburg, the free 100+ page eBook from Altaro contains full explanations of all the important security parameters, the step-by-step processes of how to access, how to optimally configure them, and a full checklist to ensure you don't miss anything!
This eBook has two intended audiences – a small business owner / IT Pro who is managing their own tenant, and Managed Service Providers (MSPs) who are managing other businesses' tenants, but a lot of the content will be relevant to pretty much all M365 admins. And it includes Identity, Email, Teams, Applications, SharePoint, Endpoint Manager, Information Protection, Secure Score and Business Premium, and Microsoft 365 E5. So, your main bases will be covered.
Depending on what your business is and what sector you operate in, there might a minimum requirement of what should be in place to satisfy insurance policies, global data laws or general compliance. So, make sure you take the time to figure out what your business needs to be compliant with and protected.
Secure your data and business, work through the M365 security checklist today.
Quote:
Once upon a time we could manage all (Windows) devices on a corporate network using Active Directory, Group Policy and maybe Configuration Manager. Today you must handle personal smartphones, organization issued smartphones (iOS and Android), along with MacOS, Windows and maybe even Linux PCs.
Wrap Up
I think it's definitely worth the download. Almost a 100 pages ebook where you can find useful tips to configure and secure Microsoft 365 Environment.
****************************************************

Free Download Here – Microsoft 365 Security Checklist 

****************************************************
More posts from ESX Virtualization:
Stay tuned through RSS, and social media channels (Twitter, FB, YouTube)