Another batch of updates has been released for VMware infrastructures has been released today. It's vSphere 7.0.3 U3f that has been pushed out. This release is fixing the vCenter server as well as an ESXi hypervisor – vCenter 7.0U3f and ESXi 7.0U3f.
Mostly fixing vulnerabilities, but also bringing some increased scalability for HCI mesh or improves vSphere client inventory, Data Grid, Related objects and global inventory lists components.
In fact, those are rather "cosmetic" improvements where some spacing is fixed for better viewability by reducing excessive margins in an Action menu or related objects lists.
Here are the details:
ESXi 7.0 Update 3f | 12 JUL 2022 | ISO Build 20036589
vCenter Server 7.0 Update 3f | 12 JUL 2022 | ISO Build 20051473
VMware NSX Advanced Load Balancer avi-20.1.7-9154 | 12 JUL 2022
What's New in vCenter 7.0U3f and ESXi 7.0U3f
This release resolves CVE-2022-22982. For more information on this vulnerability and its impact on VMware products, see VMSA-2022-0018.
This release resolves CVE-2021-22048. For more information on this vulnerability and its impact on VMware products, see VMSA-2021-0025.
Increased scalability of VMware HCI Mesh: With vCenter Server 7.0 Update 3f, a vSAN cluster can serve its local datastore to up to ten client vSAN clusters.
Enhanced vSphere Client components: vCenter Server 7.0 Update 3f fixes important usability issues in the vSphere Client Inventory, Data Grid, Related Objects, and Global Inventory Lists components. The usability enhancements include:

setting item height to 25px in the Inventory tree to make the tree more compact
removing excessive margins from the Action menu
improved right-click selection for Data Grid
better handling of selected items in the Related Objects and Global Inventory Lists tabs
customizable page size, from 35 to 200 items, in Related Object lists.

For VMware vSphere with Tanzu updates, see VMware vSphere with Tanzu Release Notes.
For Photon OS updates, see VMware vCenter Server Appliance Photon OS Security Patches.
You can patch the vCenter server from the VAMI user interface: https://IP_of_VCSA:5480 and then navigate to the Update tab.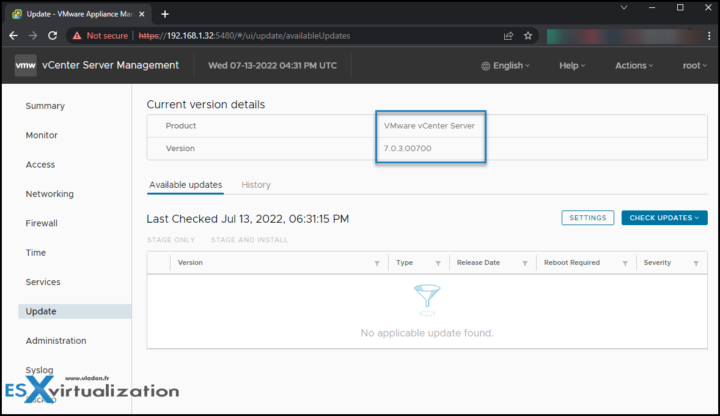 The hosts can be patched via the command line or via the vSphere Lifecycle manager. With lifecycle manager, you can take advantage of the pre-check feature which basicaly verifies what if scenario and shows you possible fails (if any).
The pre-check looks for problems that may prevent remediation from succeeding. Lifecycle Manager will automatically and temporarily correct some of the discovered issues such as: turning off DPM; turning off HA admission control; removing media devices; and, turning off FT. For a complete list please refer to the "Pre-Check Remediation Report" in vSphere Lifecycle Manager product documentation. Other issues may require user interaction.
Screenshot from the lab…

For offline and standalone patches downloads, just heads to the VMware Patch portal here.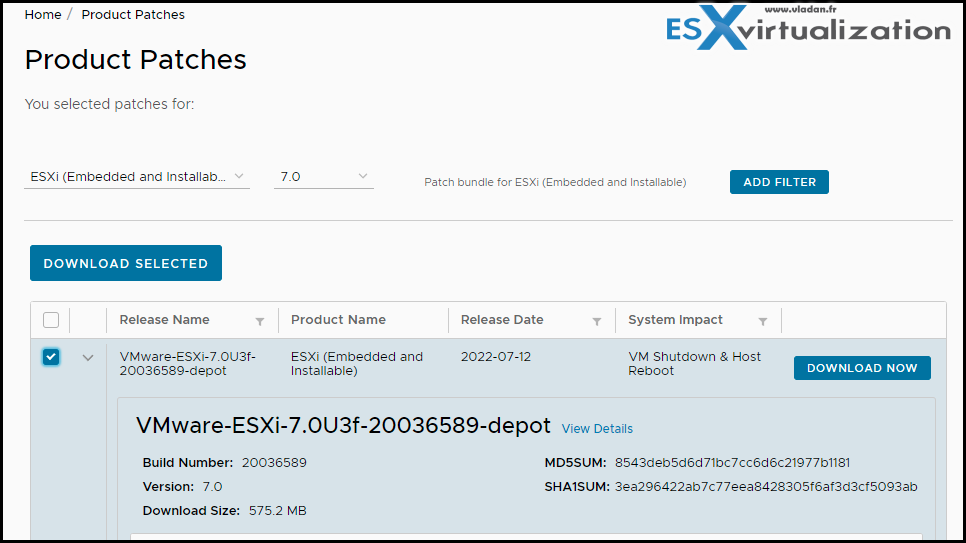 Check the release notes for fixed issues and new features here:
vCenter 7.0U3f and ESXi 7.0U3f
How to patch quickly your ESXi host?
*********************************************************************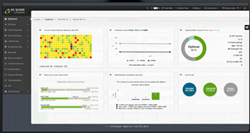 DC Scope for VMware vSphere – optimization, capacity planning, and cost management. Download FREE Trial Here.
Tracks the performance of VMs with a summary view of the resources and metrics in degradation.
Easily improve the performance of your infrastructure.
DC Scope is affordably priced per VM.
*********************************************************************
Connect via the Host client and put the host into maintenance mode. Then enable SSH and enter a single command when connecting via Putty SSH client:
esxcli software profile update -p ESXi-7.0U3f-20036589-standard -d https://hostupdate.vmware.com/software/VUM/PRODUCTION/main/vmw-depot-index.xml
Enjoy -:)
VMware Store:
More posts from ESX Virtualization:
Stay tuned through RSS, and social media channels (Twitter, FB, YouTube)