Paragon Hard Disk Manager 2010 Server Edition.
I was exploring the new Paragon Hard Disk Manager 2010 the user interfaces and played with some backups. So I thought, it'll be a good idea to shoot a video…. This time there is some background music with… I think it's a bit more convenient. Together with some call outs.
Paragon Hard Disk Manager 2010 is a very complete software which exists as a Server Edition or as a Workstation Edition. I present the Server Edition but the Workstation edition is exactly the same, but installs on a Workstation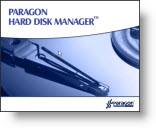 Operating Systems only (XP, Vista, Seven….). The server edition is fully compatible with Windows Server 2008 R2.
It's very easy to install and setup. You can protect your physical server's system and (or) partitions (disks) with an easy setup scheduling backup feature, which you'll see in action in my video. By scheduling system partition backups you protect your server in case of system failure.
As a destination you can setup local (local or USB hard drive) or remote (network, FTP server). In case you loose the whole server hardware (material failure, fire in your server room, you can restore from this backup (if stored Off site) onto a different hardware with an P2P ajust OS. This function can inject missing drivers while restoring backup image taken on different hardware.
Paragon Hard Disk Manager is bundled with PAT (Partition Alignment tool). The tool helps you automatically align partitions to physical disk sectors to boost performance. You can find a bit more in my article here .
What you'll see in this video?
– Exploring of User Interface
– Creating a Full system partition backup with as a destination another local disk.
– Creating an Incremental backup of System partition.
– Creating a scheduled daily backup and it's first execution.
To find out about the workstation edition you can have a look at Hard Disk Manager Workstation. You can also download free trial from there.
Paragon Hard Disk Manager 2010 Server Edition:
Support for Server 2008 R2
PAT (Paragon Alignment Tool)
Next Generation Adaptive Restore
Time-Proved Drive Partitioning
Set-and-Forget Backup Policy
WinPE 2.1 Recovery Environment
As usually, watch in HD and Full Screen… It's an 8:45 minutes video. Enjoy…
You can also get tr