Nakivo just released a public beta v 10.4 of their product – Backup and Replication for VMware vSphere and Microsoft Hyper-V. The latest beta which you can freely download and test has brought two major updates which allow you to secure the Nakivo product and secure your backup repository. There is more and more attacks, more and more ransomware. No wonder that backup vendors are reacting by reinforcing their products and providing ways to secure backups to the way that hackers can't reach and delete them.
That's why the latest Nakivo product brings an Immutable repository feature. A feature that we know exists in Amazon and Microsoft Azure, but with Nakivo you can also secure the local Linux-based repository.
What's New in v10.4 Beta?
Immutable Repository – Enable immutability for backups and backup copies sent to a Linux-based local repository. Even though immutable backups are protected from modification, deletion or encryption by malware, you can use them for recoveries when needed. Once set, the immutability period cannot be changed or lifted by anyone except superusers.
Two-Factor Authentication – Enable two-factor authentication (2FA) for NAKIVO Backup & Replication to prevent unauthorized access to your data protection activities. 2FA adds an additional layer of security with codes generated via Google Authenticator, making it impossible to log in to the solution with only a password.
Note:
Users without User management permission cannot enable Two-factor authentication.
Users without Administrator role or Configuration permission can only configure Two-factor authentication on the login screen of NAKIVO Backup & Replication.
It is possible to enable Two-factor authentication only after configuring Email Notifications.
Few screenshots from the lab, where I was able to activate the 2FA on my account (after configuring email notifications! If not, the checkbox is grayed out).
At first you must provide valid email.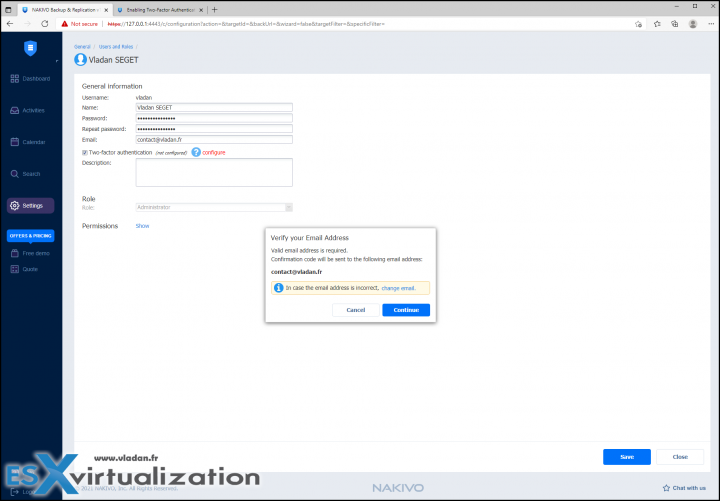 Then you're asked if you want to provide secondary email (optional). After that, you'll get a message asking you to install Google authenticator.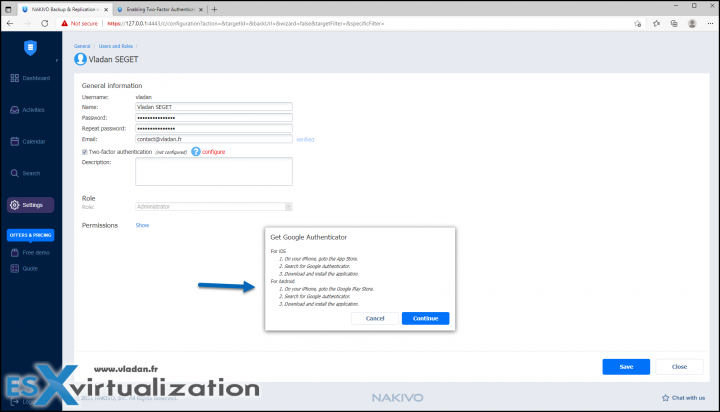 Once youve done that, you are asked to copy pairing key which is used when pairing multiple devices.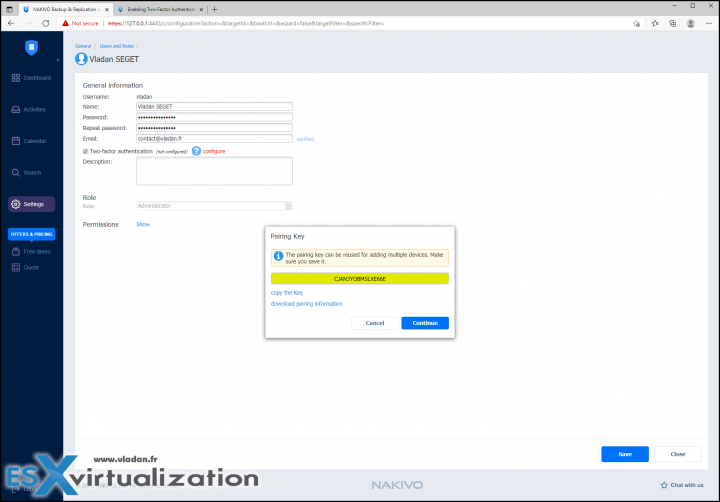 On the next screen you'll get another screen pop-up window that shows 4 other codes. Those codes are unique single-use backup codes that can be used only in case you're unable to provide your verification code. In case you lost your phone or your phone has been stolen.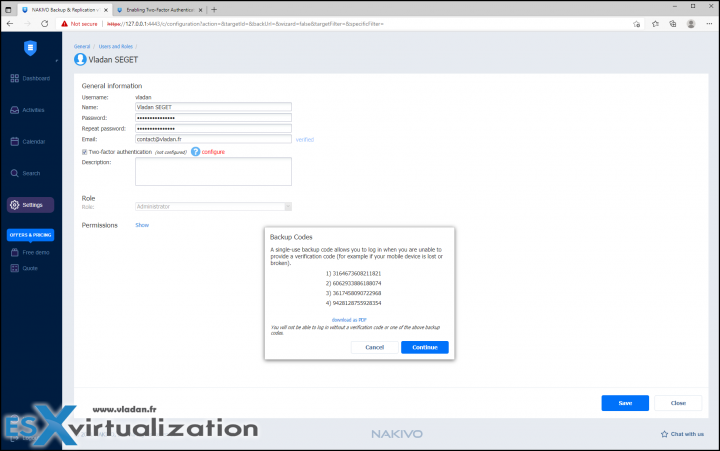 You have the option to download those codes as PDF too.
You're asked to confirm that you have those backup codes by entering one of them.
We're done.
Next time we want to log in to the Nakivo UI, we need to provide the authentication code from Google Authenticator.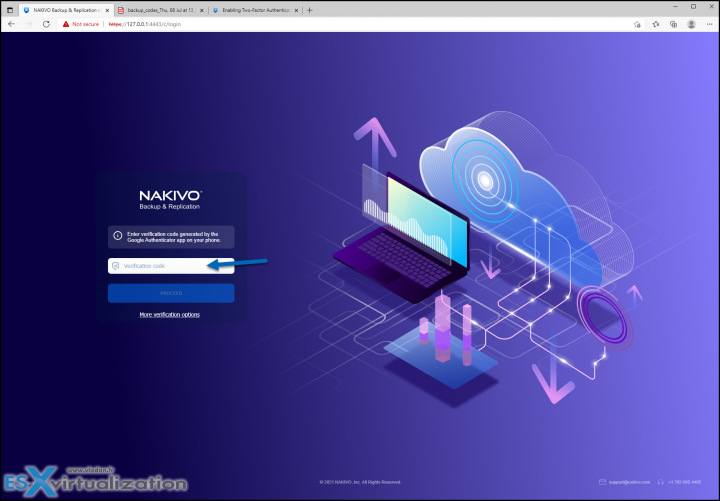 We're done.
The free beta can be tested freely. You can even make $200 by accomplishing certain tasks Nakivo want's you to do so. For example, you can test the Immutable repository or 2FA config and you're good to go for an Amazon $20.
The product changed over the last couple of releases. For the good, in my opinion. It's still the same Nakivo, the light-weight HTML UI which is fast and responsive, but it got many more features added over the last couple of months and years.
Our readers know that we follow Nakivo closely as they put a good effort into releasing new features which help IT admins to do their jobs. Keep them coming.
Download 10.4 beta:
Download trial:
You can download NAKIVO Backup & Replication v10.3
More about Nakivo on ESX Virtualization
More from ESX Virtualization
Stay tuned through RSS, and social media channels (Twitter, FB, YouTube)